Sound Tribe Sector Nine, better known as STS9, is always finding new ways to take it to the next level for their fans. From experimental music and side projects, to a tight-knit fan community and natural music venues: it's practically spiritual the way they throw down.
This is why their fans follow them so deeply. STS9 truly puts their heart into everything they do, and their upcoming New Year's Eve 5 night run in Atlanta is no different. In fact, this run is set to become the beginning of a new journey for STS9.
Visions Atlanta will be a 5 night run in Atlanta, Georgia: one of the founding birthplaces of STS9.
There are 4 nights at the Tabernacle – December 27, 28, 29, and 31st. STS9 announced their "secret show" for December 30 which is a first-ever "Rave Spell" set at the Ravine in Atlanta. Tickets for their Rave Spell event sold out extremely quickly, but there may be some extra tickets floating around the Sound Tribe fan pages on Facebook.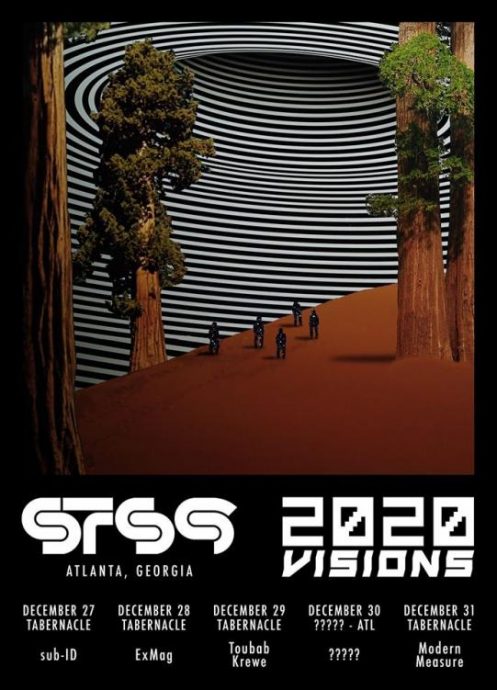 The band teased some new information regarding the Visions Atlanta homecoming run – a chance to get back to their Roots. Each night will symbolize a different aspect of a tree's growing process: Seed, Sprout, Root, Rise, Return.
Their messages to their fan community on Facebook have been very nature-centric and preludes a new beginning for STS9 and their surrounding fan community.
"2020 Visions is more than show, it's an ongoing concept we're going to carry over for the entirety of next year! The focus for 2020: nature preservation and environmental awareness."
Recently, STS9 played a spooky Halloween set in The Caverns near Nashville – a new plateau of accomplishment for the band and fans.
We predict their upcoming "seeds" and tour will be involving much more natural venues, new ways for fans to interact more deeply with the environment in the area. Expect to see fewer club venues and more natural stops on their upcoming tour and some more fan involved sets.
We're overjoyed to see what's next for Sound Tribe!  And cannot wait for their run back to Atlanta where STS9 has incredible roots and fan base.
Tickets are still available for the Tabernacle stops – find available tickets here.
STS9 has also just released some Visions related merchandise! Check out their new selection here – perfect for holiday gifts!
---
Featured image via artist Facebook page.