Written by Christine Miranda.
We are less than a couple weeks away from Shaky Beats Music Festival's FOURTH year comeback in Atlanta! Shaky Beats returns home to Atlanta's beloved Central Park this May 10 & 11th.
For the first time ever, Shaky is taking a leap of faith by condensing the festival into two days. A former three-day festival to a now two-day event, there's still plenty to be excited about! This year sees amazing headliners such as Martin Garrix, RUFUS DU SOL, Big Gigantic, Fisher, and many more.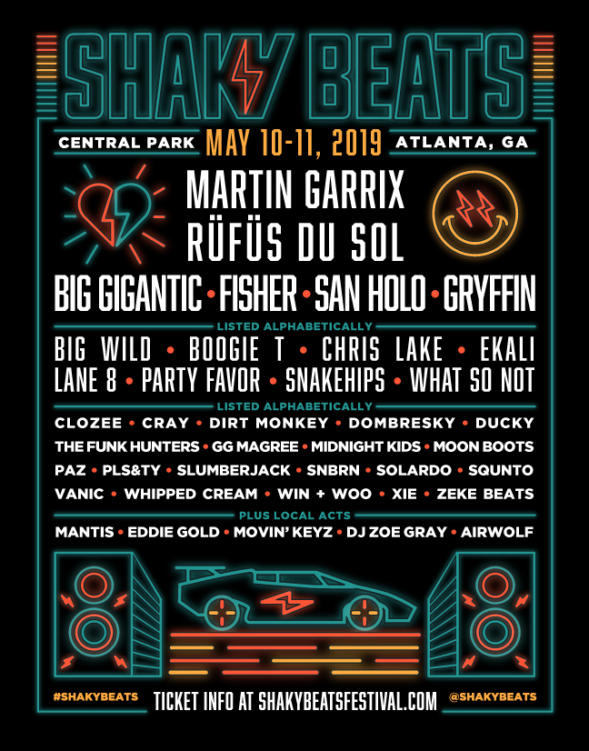 To make the most of your festival experience, here's some up-to-date shaky beats 2019 deets:
Earlier Set Times
Set times will be starting much earlier this year compared to past years. Gates open at 12pm sharp and performances begin at 1pm for both Friday and Saturday. Though it does begin earlier, the layout of the festival allows you to bounce from stage to stage, giving you the ability to (hopefully) see everyone you're there for.
Day one will see sets by Big Gigantic, What So Not, Lane 8, and returning Shaky Beats act San Holo. Meanwhile, day two incorporates a variety of performances by artists including Galantis, Fisher, Gryffin, Big Wild, and more.
A Variety of Late Night After-Parties
Should you run into any mid-day scheduling conflicts, here's some good news. There's plenty of after-parties to fulfill your music needs!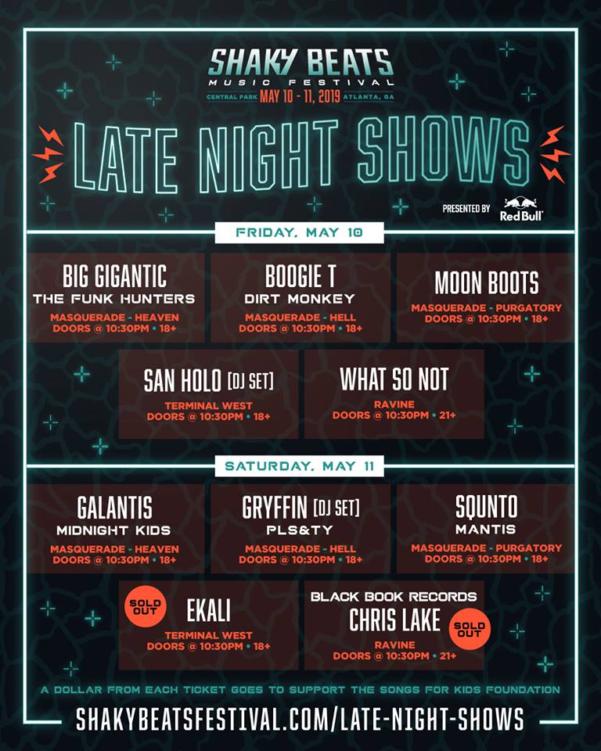 The Masquerade, located in Underground Atlanta (minutes away from the fest) once again presents a nice list of artists to satisfy your late night ear-gasms! The venue's three indoor stages, appropriately named Heaven, Hell, and Purgatory, host quite the lineup! Big Gigantic, Boogie T, Gryffin, and more will take the stage.
Terminal West, an old Atlanta favorite, welcomes San Holo and a DJ Set on Friday, along with more nighttime jams from Ekali on Saturday! Unfortunately, both of these shows are sold out. BUT, don't let that discourage you! Stay active on socials after the festival, many people tire out during the day and are unable to make it to the event, causing them to sell their ticket.
Lastly, The Ravine, a multi-platform venue in Midtown Atlanta brings Whats So Not on Friday, and Chris Lake (sold out) on Saturday! Doors open when the festival ends, so we suggest you act fast. Tickets have already begun to sell out, so get them or else its 2FKO!
Utilize Atlanta's Transportation System
In a large city like Atlanta, safety is key! Don't risk driving to the festival if you are partaking in extracurriculars. Instead, pre-plan a safe ride to and from the festival grounds. We encourage fest-goers to be responsible and use the city's public transit system or Uber/Lyft for the most efficient way of transportation.
Take Advantage of Atlanta on Sunday
Don't be afraid to take advantage of your free time on Sunday off to sleep in and recover from the weekend. Or, get out and enjoy the vibrant city of Atlanta! Here's a list of things to do in the city, including adventures at Little 5 Points, the Georgia Aquarium, Ponce City Market, and more.
Dive into the Lineup Before the Festival
The festival has curated an official Shaky Beats Spotify playlist. This gives you the opportunity to find some new artists and music that you may have never heard before! We recommend checking out Big Wild, CloZee, and Zeke Beats.