Born from a mutual love of exploratory sound design and imaginative engineering, Alix Perez and EPROM's Shades project has been somewhat of a novelty in the experimental bass realm.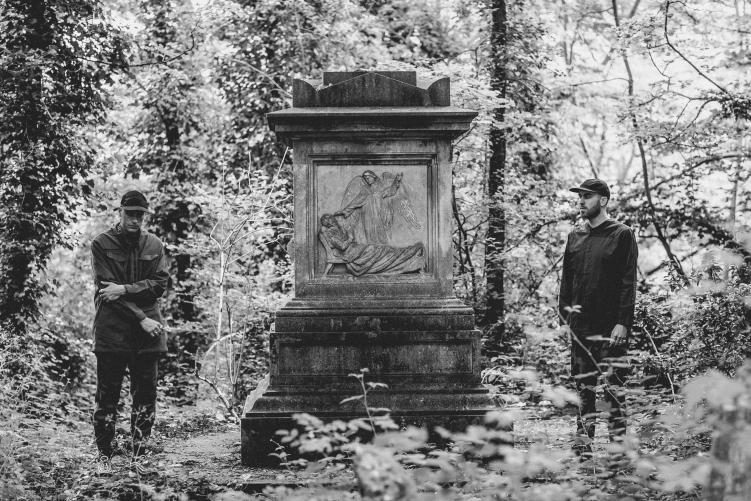 The two first started working together in 2015 following a session at Red Bull Studios LA when they were producing Foreign Beggars' Modus EP. Eventually, the Shades project was conceived, a collaboration that is trademarked by dark, cutting, and scattered basslines, oftentimes slung out in half-time. Shades' most recent EP, The Dance of Death, looks to serve as a statement of how far EPROM and Perez have pushed this experimentation of theirs.
The opening song, "The Creation," is just that – the creation of something – the awakening of some sort of beast slowly being brought to life by ominous synthesizers echoing through a cave. The track turns out to be the perfect introduction for an album that is entirely unpredictable and pleasantly surprising at all the right times.
Next on the four-song EP is "The Corruption," which gradually begins to show more and more elements native to the Shades' sound. Ominous noises, distorted hip-hop samples, and cutting basslines appear and disappear as listeners are guided, somewhat aimlessly, through a shadowed narrative. 
"We just push our machines to the edge and aim for the weirdest results."
The pace gets picked up in "Eternal Rain Descending" with a slew of DNB cuts that seem to be breathing life into the monster that was created in the first track. Perez and EPROM's UK roots are well exemplified in this track as listeners may begin to start wrapping their heads around this machine that Shades has manufactured. But only for a moment. 
It is in the final song, "The Last Judgement," where things really start to get animated. A gritty bassline pulsates throughout a track peppered with strange samples – screams, old-school rasta vocals – all of which progress like a coal train slowly rolling into a field with barrels of black smoke pluming from the chimney. 
In no way is The Dance of Death to be considered easy-listening music. The tracks are guttural and almost animalistic, yet they all combine to create this gritty narrative that envelopes you more and more as the album progresses.
What Shades has created in this 4 piece EP is a living, breathing creature. One that retains a mysterious presence throughout the course of the songs, only showing its scales at brief moments. It appears the duo has no intentions of following any rules or predetermined course of action for what their music is to become. Which is great for listeners who want to hear something new and off the beaten path.