Known for stepping outside of the norm, Ovoid is back with his latest EP, Apocryphal! Out now on all platforms, Apocryphal is a deeper look into the broad space in which he creates. Listen below!
As with his previous projects, the EP is paired with a vinyl release via Bandcamp, limited to 500 presses. Including artwork from the incredible Jake Amason, this is a must for bass music collectors. Make sure to grab yours as soon as possible, and be sure to check out the tracks that can only be heard when purchased!
Apocryphal
Over the past 15 years, Adam Westover, aka Ovoid, worked to perfect his craft as a musician. With education grounded in both songwriting and recording and experience as a guitarist and producer, he has a well-rounded base of fundamentals.
In recent years, he's honed his abilities and style to focus on immersive experiences. His knack for ambient psychedelia has garnered support and allowed him to perform on stage with artists such as Tipper and Shpongle.
He's separated himself from the crowd with a unique take on what is becoming a fast-growing niche in electronic music rooted in intricate sound design. Additionally, performances from the PNW all the way to Desert Bass in India present Ovoid as a shining light in the community with the influence of his travels making their way into production.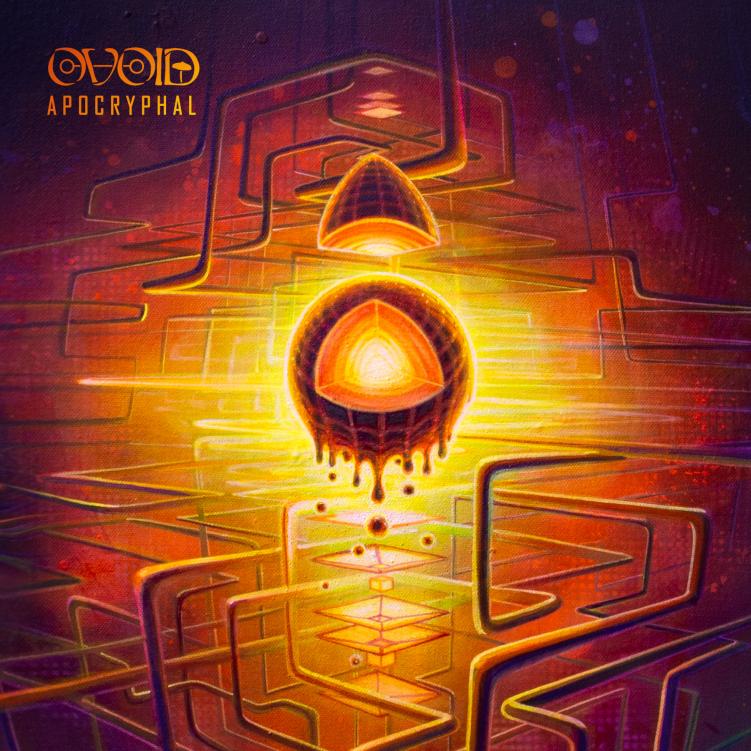 With Apocryphal, he's taken another step into the unknown. Reaching into the past, the guitar has been reintroduced on several tracks. That will sure to make the hair stand on fans of 90's and 00's metal. His expansive take on bass-driven sound design is ever-present.
Creating Space
Perhaps one of the first things to stand out in the title track 'Apocryphal' is the sheer amount of space created for sounds to exist. Intentional and dialed reverbs place a bubble around the listener, encapsulating bass lines, waves, drips, and drops.
Once the focus is completely on the sonic experience at hand, the guitar comes in to drive the track home with one momentous peak. While bringing a certain heaviness to the experience, the instrumentals feel right at home.
For 'Desert Planet,' debuted on The Rust Music, fans will find a very familiar feeling from previous Ovoid works. With a sense of adventure, another vast landscape is created for sounds to coexist. The cohesive nature of the track is contrasted by multiple channels standing on their own.
'Pepo' has signatures of modern bass music, combined with what feels like a level in some of our favorite retro video games. The unique mix creates a fun, energetic vibe perfect for bringing the crowd to life.
To close out the latest release, 'S T O N E D' is the yin to 'Pepo's yang. The guitar riffs return, with a guttural draw to match the tempo. Slow and slippery, the EP bookend is a perfect test of the sound system, creating room for each note to be heard in its truest form.
Rooted in an alternate realm of existence, Apocryphal has the ability to create a transcendental experience for a keen ear. Honing his abilities both in performance and in the studio are showing through in his best work yet.
For more info on releases, vinyl pressing, and upcoming performances, make sure to follow Ovoid on socials below!
Connect with Ovoid