Now a staple in Atlanta's music scene, it's hard to imagine a world where come spring, the city wasn't shakin'. It all started just four short years ago with Tim Sweetwood's vision to bring a proper indie-rock festival to Atlanta. With Music Midtown and Sweetwater 420 Fest covering the mainstream and jam spectrums respectively, there was certainly a need to be met, and Shaky Knees was born.
A humble two-day event at the late great Masquerade Music Park in 2013, expanded to three days, quadrupling in attendance in 2015 in it's Central Park location. Now Shaky Knees takes over Centennial Olympic Park in Downtown Atlanta each May, and we'll never look back.
With the success of Shaky Knees came opportunity for Sweetwood to expand his efforts into new genre markets. Naturally a country music festival made sense for Georgia, hence the beginning of Shaky Boots. Held outside the city in Kennesaw, Georgia, Boots failed to return after its inaugural year in 2015. The hiatus continues for now, but for the good of the Shaky legacy we hope to see more to come from this country counterpart.
The BPM heavy, headbanging sibling, Shaky Beats, however had a much more favorable turnout in its first year. Beats took off with full force in 2016, bringing in big name electronic artist like Odesza, Major Lazer, and Big Gigantic and impressing attendees overall with a freakishly well event for its first year. May 5 – 7, Shaky Beats will be back in action hosting GRiZ, Bonobo, Kaskade, Zeds Dead, Girl Talk, and more for what is sure to be another unforgettable weekend.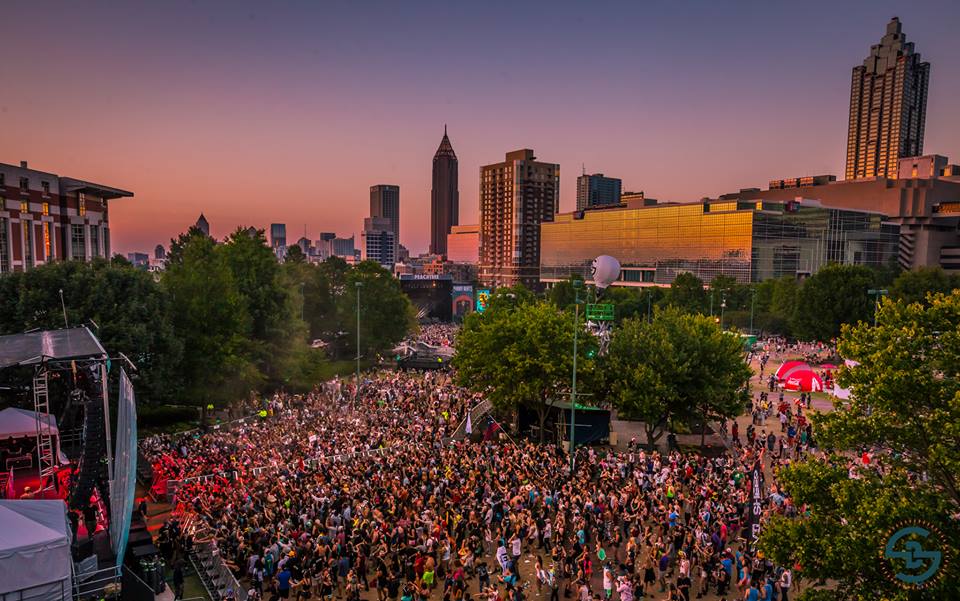 While Beats and Knees will host back to back weekends again this year, they'll swap order, with the more senior indie-rock event in the second weekend slot. It was Sweetwood's vision for his festivals to be purely focused on the music, so expect just the basics as far as stage design and decor, except for the trademark Shaky Beats Hollywood sign. Although the production may be lacking in extravagance, the quality is most certainly not.
The Peachtree, Piedmont, and Ponce De Leon stage names are an ode to major roads in Atlanta, the handful of which haven't imploded yet. Which brings us to the single most important thing you'll need to know about attending this weekend's event: don't drive if you don't have to. It's been a rough few weeks for Atlanta's infrastructure including the collapse of a portion of I-85 N, the buckling of I-20 W, and a spontaneous sinkhole in the middle of 5th St. So rather than playing the floor is lava with your vehicle and the city's roads, take MARTA if possible to Philips Arena/Dome/GWCC or Peachtree Center stations.
Now go impress your crew with your knowledge of all things Shaky. Full weekend and single day passes are still available for this weekend online and at the box office on-site!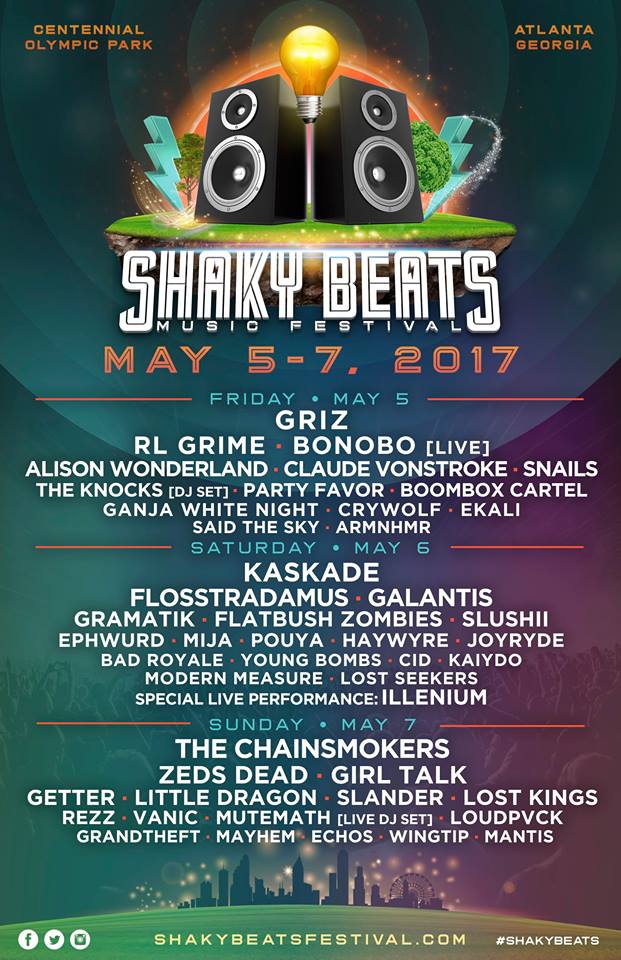 Connect with Shaky Beats:
Website | Facebook | Twitter | Instagram
Photo Cred: Shaky Beats Facebook