Chances are if you're an electronic music enthusiast in your mid to late twenties, a flood of nostalgia just hit you. (Insert impromptu dance party to "Feed the Animals".) If a dorm room party didn't include a Girl Talk soundtrack, then you were doing it wrong.
Yes, the king of sample-based mashups is still kicking, and maybe even spinning a festival near you in 2017. Gregg Michael Gillis is set to headline a handful of North American festivals so far this year including Panorama in NYC, Viva PHX in Arizona, and Shaky Beats in Downtown Atlanta.
Gillis' booking at Atlanta's newest electronic festival, Shaky Beats, first sparked the curiosity to dig into the depths of the interwebz to find out what this experimental producer has been up to for the past ten years. For starters…he may be the only artist still with an active Myspace page. The authenticity he's appeared to maintain is quite shocking actually. Gillis never signed to a major label and all his music is available for free/pay what you want via Illegal Art.
Today he is still best known for the success and controversy of his 2006 album, "Night Ripper." A dozen mega popular tracks from different genres packed into one seamlessly moving, upbeat banger…it was the first time music was being heard like this. Legality issues regarding copyright infringement often overshadowed conversation surrounding this innovative producer. His argument in defense of sampling other artist's original work has always been "Fair Use" and that his works did not negatively effect the artist's he's sampling in any way.
Per Gillis' prediction a decade ago, appropriation did become the norm. We see it from major artists today like Bassnectar, and while there are intelligent arguments from both sides, I think we can all agree that this concept of transformative artistic sharing is here to stay.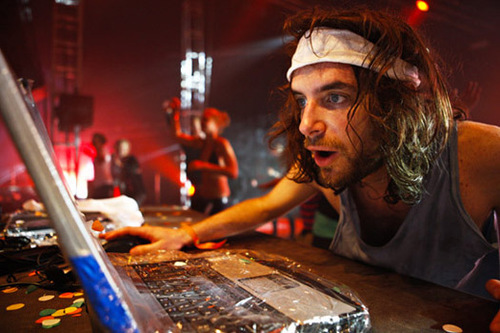 A touring frenzy ensued for Gillis through 2009. Looking back Girl Talk actually spun a school sponsored event my freshman year at the University of South Carolina. So if he was hitting stops as random as Columbia, SC then it truly must have been a wild schedule. Not too long after releasing "All Day" in 2010, via Illegal Art, the label went on an indefinite hiatus, a break that Gillis concurrently participated in.
The hiatus subsided in 2014, when Girl Talk and Freeway released "Broken Ankles" a hip-hop collaboration and continuous mix EP, made up of just 10 out of the 80 samples Gillis had produced for the album. Girl Talk was back in full force, just in a slightly different fashion.
His main stage Coachella set included special appearances by Busta Rhymes, and Juicy J, and he even put out his first-ever music video, "Tolerated" featuring Waka Flocka eating the limbs of his haters that Gregg and Freeway had dismantled for him. If Shaky Beats is an event on your festival calendar I would not be surprised if Waka Flocka was a special guest for Girl Talk's set. Based on their collaborative past and the fact that there is always a 75% chance of an Atlanta rapper making an appearance at a local hip-hop show, it's certainly a safe bet.
Since "Broken Ankles," Gillis produced three tracks off Freeway's newest album, "Free Will" in 2016, and continued hitting festivals like Voodoo in 2015, and Pemberton and Aukland City Limits last year. Gillis has always marched to the beat of his own drum. He could headline the festival circuit it he wanted to, but instead chooses to play a fairly obscure mix of events instead. His unpredictability is wildly refreshing, and we eagerly look forward to see what the future holds for Girl Talk.
Connect with Girl Talk:
Website | Facebook | Twitter | Spotify