With dozens of festival headline performances under their belt and over 1 billion streams, Hippie Sabotage is a force to be reckoned with.
They had a successful 2018 that included headlining sets at Lollapalooza, Bonnaroo, HARD, and Electric Zoo. This year, Hippie Sabotage is on a massive North American tour titled "The Beautiful Beyond." River Beats had the chance to see their sold-out stop at the Joy Theater in New Orleans earlier this month, and it did not disappoint. The show sold out almost 2 months in advance.
They effortlessly mixed in crowd favorites – "Stay High," "Your Soul," "Drifter," "Devil Eyes" – and some new hits, including the buzzy "FADING INTO FOG." The 90-minute set was a roller coaster filled session complete with crowd serving, amazing visuals, and some intense chill-wave meets trap.
View this post on Instagram
What makes Hippie Sabotage so unique
What is it about brothers Kevin and Jeff Saurer that keep attracting fans? Is it their California look? Their charismatic and hype performances?
While all of those are noteworthy, for me it's the obvious answer: their music continues to push the boundaries. When you push the boundaries in both your live shows and production, the results speak for themselves.
Their music feels both nostalgic and brand new at the same time. Featuring a dark Pacific Northwest vibe, heavy guitar riffs, and low-end bass synths, the duo appeals to a large demographic of music lovers.
The Beautiful Beyond
The Beautiful Beyond Tour kicked off this February in San Francisco and culminates to a massive final show at the Hollywood Palladium in Los Angeles on March 23. Jeff & Kevin are supported by producer and vocalist Sebastian Paul, whose Trojan Horse EP was released via Mad Decent last year. You can see the full tour below, including all the remaining stops!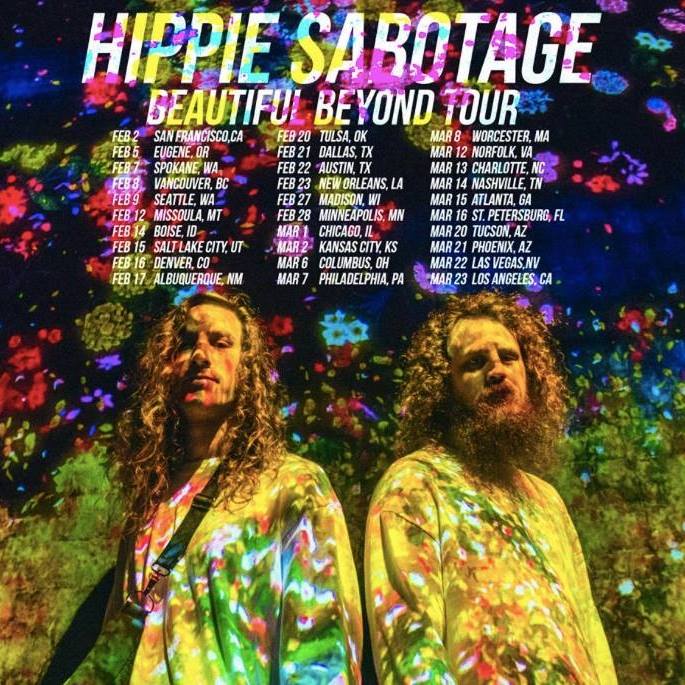 Featured image via Hippie Sabotage Instagram.