The duo of Hugh Cleal and Bryan Jones are the spirit of Detroit hustle personified. Through a combination of talent, experience, creative energy, charisma, and an all-of-the-above approach to promotion, they are seeing their efforts pay dividends.
Golf Clap is notorious for throwing the best after-parties around. Combine that with a packed schedule of bookings and an impressive repertoire of releases through a variety of labels (including their very own Country Club Disco), and you have an act that checks off all the boxes. DJing, producing, promoting.
Versatility seems to be key to their success. For example, you may see them on a placard opening for breakout EDM aritst Mija. You're also just as likely to see them on a placard opening for deep house legend Kerri Chandler. Fans know not to bat an eye because in either setting, Golf Clap will deliver and look completely in their element.
Rather than remain in the uncomfortable limbo between "local favorite" and "breakout act", Golf Clap has opted to adapt, innovate, and relentlessly create. For these reasons, they made our list of 6 can't-miss acts of Movement.
Leading up to the weekend of Movement Detroit, Golf Clap also took some time to answer some of our questions about their versatility, their approach to promotion, and more. Take a look at what they had to say.
---
As promoters and artists, how do you guys balance priorities between doing shows, putting in studio time, and having such an active media presence across all platforms?
"It takes both of us working full time and a team of people helping us. There's always way more to do. We have to delegate responsibilities to get things done the most efficient way. It's never ending, but it keeps us busy and we love doing it. All of us working together helps keep us motivated too."
https://www.instagram.com/p/BT7FJjlg1ln/?taken-by=golfclapdet
---
With so many music blogs and publications out there, what's your take on the state of music journalism in the dance music scene?
"It's great having all this exposure for the music and artists. We do lots of interviews and features to help get our name and our music out there. We want people to feel like they know us already when they meet us from reading interviews and seeing our Instagram stories, etc."
---
Golf Clap recently did a mix for 5 Magazine that incorporated old-school Chicago house. Is that a style you play very often during shows?
"We both started DJing around the same time and these are the songs that we heard everywhere at Chicago parties back then. We both used to play music like this all the time, but very rarely now. A little over a year ago we played a set just like this in Chicago at an after hours."
---
Back in March, you guys released the "Mind Control" EP with Jojo Angel and Matteo Rosolare. Any more releases in the lead-up to Movement Detroit?
"Yes we put our single with Eyes Everywhere "Bout That", out on Toolroom on May 12th. It was Pete Tong's Essential New Tune and he's played it 5 weeks in a row on BBC Radio 1."
"We have another song ["Own Myself"] with Eyes Everywhere out on May 19th on Big Beat Records. This summer we have a song with Sebb Junior coming on Eton Messy & we have a song coming out on Kerri Chandler's Madtech Records as well."
---
Golf Clap is known for its crazy work ethic when it comes to playing shows and putting in studio time. What's been the biggest motivator to keep moving forward?
"We are constantly inspired by all the shows we play and people we meet. We've been making music our whole lives and are doing everything we can to put it in front of as many people as we can. This is all we want to do. We are all in."
---
Golf Clap embarks on their "Blast Off" Tour this summer.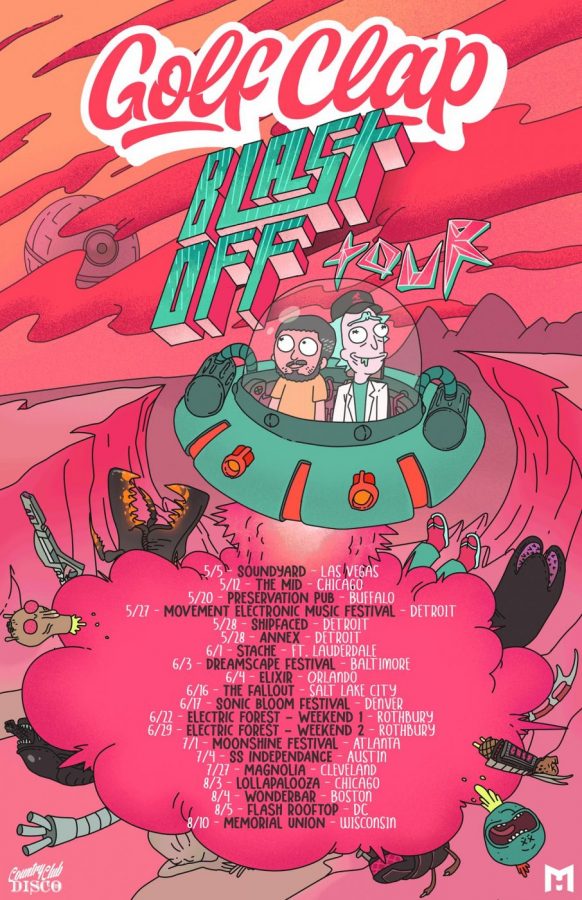 With so many opportunities to see the duo this summer, there's really no excuses left for anyone in town. Do yourself a favor – go party with Golf Clap.
And if you've done so already, go do it again. You won't regret it.
---
Follow Golf Clap:
SoundCloud | Facebook | Twitter | Instagram
Follow their label Country Club Disco:
Web Page | SoundCloud | Facebook | Twitter
---
Featured image courtesy of Movement Detroit.