Who loves free live-streamed music? Who loves free live stream music with an amazing cause attached to it? If you answered yes to either of these questions, you are in luck. Our friends at Hawk's Nest Music and Ravine Atlanta are hosting a live-streamed "Virtual Autonomous Zone" event titled Free Peachtree Project this Saturday, Aug. 1, 2020.
The event is shining a spotlight on social injustice while promoting positive change. With an impressive soundtrack, the event will include educational content from non-profit organizations, performances by a myriad of diverse musicians, links to register to vote through official partner HeadCount, an art auction featuring original pieces from renowned visual artists, an FPP x Yoyo Ferro exclusive collaborative art poster available for purchase, and a merch contest where all proceeds will benefit Fair Fight. Sounds pretty amazing right?
The festival will be streamed for free exclusively on Mixcloud, beginning at 12 p.m. EST on Sat., Aug. 1. You can head to the URL to watch HERE!
Musicians include Daily Bread, STLNDRMS, Ricky Raw, Pure Colors, Yamin Semali, Adam Deitch, Mayhem x Ziggy2Playa, Soul Food Cypher, Late Night Radio, Maddy O'Neal, Mux Mool, SLZRD, Midnite Panda, Perpetual Groove, Cherub, King Cooley, DRINKURWATER, Modern Measure, Obeah, DollarSine, Motifv, Niles and more! Many ATL local artists will safely gather to perform their set straight from Ravine, with visuals and production by Greg "Lazershark" Ellis, in a socially distant space.
Visual artists include Greg Mike (Atlanta, GA), Yoyo Ferro (Atlanta, GA), Berkvisual (Los Angeles, CA), ILL.Des (Denver, CO), Wolfdog (Atlanta, GA) , Angie Jerez (Atlanta, GA), and Thomas Turner (Atlanta, GA).
This amazing event is curated by Hawk's Nest Music founder, Whit Hawkins, alongside Greg "Lazershark" Ellis at Ravine.
"Being born and raised in Atlanta as part of the fabric of its music industry, an industry rich with the culture and history of people of color, I felt compelled to lend my voice to the chorus calling for meaningful change in the city. I couldn't be prouder of my team and our friends coming together to use our platform to do some good for ATL." – Whit Hawkins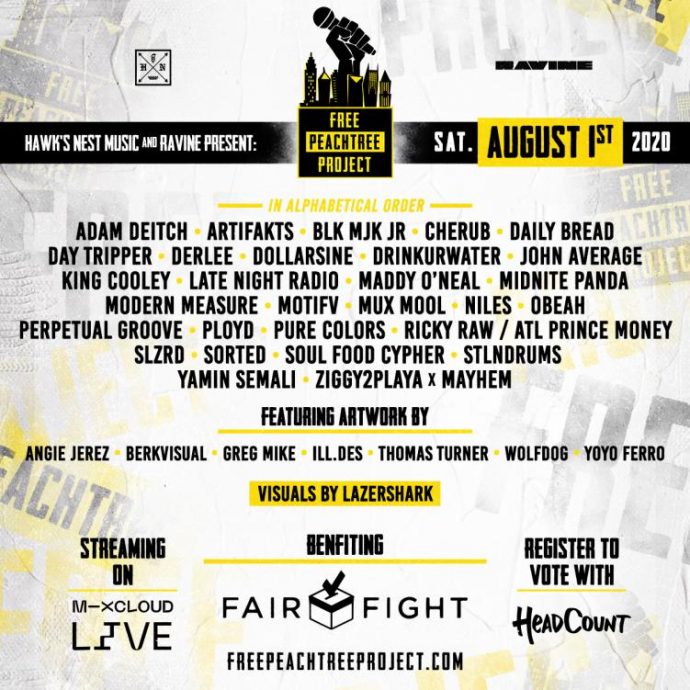 Free Peachtree Project hopes to help educate, inform, and spur people
to demand social justice in our Atlanta community, and around the world. FPP asks fans to do their part by listening, engaging, donating, and voting! Special thanks to all our partners: Fair Fight, HeadCount, Mixcloud, Philos Records, and Creature Comforts Brewing Co.
All proceeds raised from donations, purchasing the FPP x Yoyo Ferro collaborative poster, the art auction, and the merch contest will go to benefit Fair Fight, a non-profit organization founded by Stacey Abrams, which promotes fair elections in Georgia and around the country.
You can tune in beginning at 12 p.m. EST on Sat., Aug. 1. You can head to the URL to watch HERE!