Beyonce isn't the only artist to announce via Instagram that she's expecting twins in 2017.
Shortly before her 2017 Coachella performance, Anna Lunoe announced that she was pregnant with twins. Unlike the Queen Bey, Lunoe's pregnancy wasn't about to stop her from performing at the Sahara Tent in April. But this announcement was only the beginning of the surprises from the Australian DJ/producer. She later brought out Skrillex to surprise the Coachella crowd with a smashing set.(see featured image above).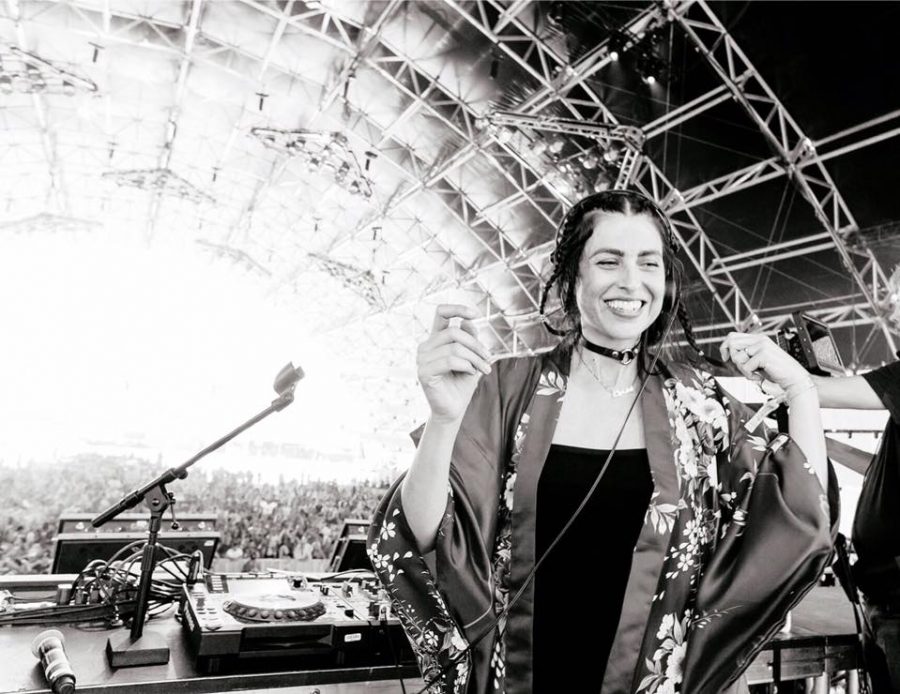 Actually, calling Anna Lunoe just a DJ/producer doesn't do her justice. The electronic juggernaut is much more than that.
She is a DJ, producer, vocalist, songwriter, performer, and mastermind behind her own Beats1 Radio show, HYPERHOUSE. In fewer words, she is a force to be reckoned with–so don't underestimate her.
Lunoe first appeared on the scene with the 2012 release of her debut EP, Anna Lunoe & Friends. This 4-track EP most-notably introduced her breakout hit, "I Met You," which was a collaboration with fellow Australian-superstar, Flume. The next couple years Lunoe remained relevant, playing clubs and festivals around the world.
However, it wasn't until 2015 when she officially hit her stride, and became the Anna Lunoe of today.
In 2015, Lunoe teamed up with Sleepy Tom to release their bangin' track, "Pusher," on Fool's Gold Records. This release was huge for her and Sleepy Tom, catapulting them both to a new level of success in the EDM world.
Another huge milestone in Lunoe's rise occured when she joined forces with another fierce female producer named Mija. Their b2b set for Mixmag Lab out in Los Angeles has amassed almost a million views on YouTube. Following such success, their collaborative effort was also booked for several festival dates around the country, like New Orleans-based BUKU Music + Art Project back in 2016.
Anna Lunoe is one of few leading ladies represented in mainstream EDM.
Along with other female powerhouses like Mija and Alison Wonderland, Lunoe has made a conscious effort to make strides towards equality in the scene. In 2016, she made history by becoming the first woman to ever perform on the main stage at Electric Daisy Carnival in Las Vegas. And, this was no small feat.
Trailblazing efforts, like her EDC performance, are a huge piece of what qualified Lunoe to work with Zane Lowe on Beats 1. Alongside artists like HAIM and Dr. Dre, she has her own weekly program called "Anna Lunoe Presents: HYPERHOUSE," which is broadcast worldwide.
In late 2016, she launched a music platform by the same name–HYPERHOUSE–that focuses on touring and curating festival experiences. It was on this imprint that she released her most recent hit, "Godzilla."
This bass-heavy tune actually makes a hardstyle beat bearable. Increasing the accessibility of an entire bpm is the mark of a true artist. It should be of little surprise to anyone that Anna Lunoe has amassed the following and built the career that she has now.
If you missed her at Coachella, don't worry, she still has a number of tour dates left this year.
While it is safe to assume Lunoe will be taking some time off surrounding the birth of her children, she's yet to show any signs of slowing down just yet. Just around the corner, Lunoe will be traveling to Houston for Free Press Summer Festival in early June. If you've never seen Anna Lunoe before, or you want another chance to see her soon, then FPSF might be the perfect fit.
Check out other artists booked for FPSF 2017 here. FPSF will be held at Eleanor Tinsley Park, June 3-4, 2017. Tickets are still available online so don't miss out. Anna Lunoe certainly won't disappoint you.