Flume has finally ended his hiatus and has done so in stunning fashion. On Wednesday afternoon February 2nd, Flume streamed a live premiere of his song "Say Nothing" ft. MAY-A alongside a music video that will leave you scratching your head.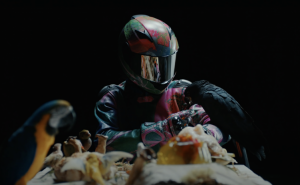 The song is incredibly ethereal with the vocal stylings of MAY-A pairing perfectly with the warm sonic environments that Flume is known for creating. It treads the line of pop and electronica but rests comfortably in a genre of its own. 
Given his last collaboration with Toro y Moi, it appears Flume has a direction in mind that he wants to take his music. Although you never know with the Australian-native who is known for switching things up in a blink of an eye.
As for the music video, it complements the track in an odd but impressionable way. It carries on almost like a funeral procession, with images of both Flume and MAY-A laying down cross-armed as if they were about to be buried. The imagery both juxtaposes and compares to the opening scene in which a shrine is built with the attire (motorcycle helmet, gloves, etc.) that Flume later adorns. 
It appears the A/V experience may symbolize a rebirth of sorts for Flume. One that fans will see him continue with his album, Palaces, set to release later this year.
Check out the music video for yourself below.