Presented by Edinboro Volunteer Fire Department, Fire Lights Music & Arts Festival comes to Edinboro, PA this 9-11 weekend. 100% of festival proceeds will benefit the Edinboro Volunteer Fire Department. This 3-day music and camping festival includes 2 separate stages with a capacity of 2,500 people.
Patrons will be allowed to enter the Fire Lights festival site on Thursday, September 9th for early access and musical performances on the side stages. Attendees can camp, enjoy great food, local beverages and participate in education and entertaining activities throughout the weekend. There will also be guest speakers and a variety of organized activities.
It's our Turn!
Over the weekend, Fire Lights will feature over 30 electronic artists on two stages including headliners Manic Focus, Mersiv, and Jimkata! The team has done an incredible job highlighting a range of producers. Alongside the main acts, Zebbler Encanti Experience, Tripp St, NotLö and more will keep the energy up all weekend.
In addition, Takeovers by Electric Hawk, Sub.Mission, and Spicy Bois must not be missed! Upcoming artists Vide, Ovoid, Molokai, Common Creation, Fryar, and more will be sure to impress. Josh Teed will be a special treat for those who love incorporation of strings in electronic production and performance.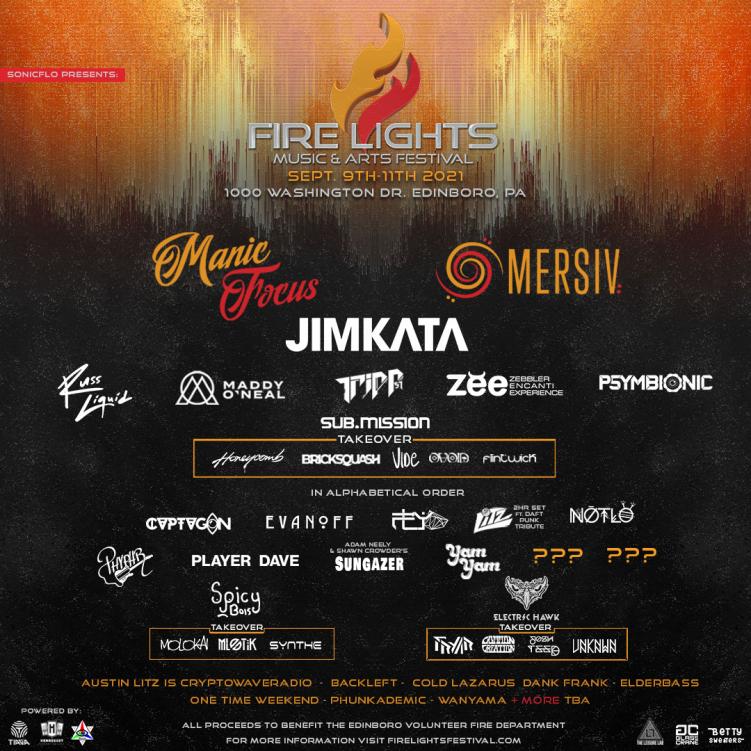 For the Risk Takers
The event, taking place over the 9-11 weekend, will recognize all first responders in a midday ceremony. Fire Lights will be recognizing all of the efforts of the first responders in our area and the vital role they play in keeping our community safe.
"We couldn't have put together such a great event without the support of the Washington Township Council and all of the members and volunteers of the volunteer fire department. It's such a great way to honor and celebrate all those who risk their lives everyday."
– Andrew Lehr, Festival Director
Limited discounted early bird tickets are on sale now! Grab them for just $79 before prices increase to the next tiers. For information on vending or participating, visit the website and complete the information request form or the vendor form and the Firelights Festival Staff will get in contact with you as soon as possible.
FESTIVAL INFORMATION
September 9-11, 2021
Fire Lights Music & Arts Festival
Wainer Park – 1000 Washington Dr, Edinboro, PA 16412
Tickets and more: www.firelightsfestival.com
Festival Director – Andrew Lehr – AndrewL@firelightsfestival.com
---
Featured image via 📸: @_johnverwey.