As snow piled outside his window in Kingston, New York, Matt Weishaupt AKA Father Figure felt a wave of clarity come over him. A wave of clarity that was complemented by a sense of cleansing all brought on by the quiet and calm of the ensuing snowstorm outside. 
While basking in his newfound serenity, Weishaupt became inspired and took to his Zoom H4 recorder to see if he might be able to bring the emotions swirling in his head to life. What resulted was a masterfully curated 5-piece EP Tape titled The Cardigan Cuts that contains an impressive demonstration of sampling, beat making, and production prowess.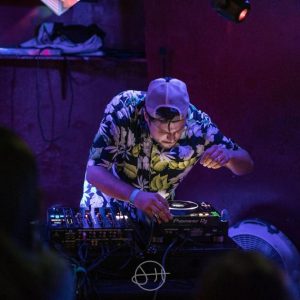 As the listener makes their way through the collection they are greeted by everything from Big L and Lenny Bruce samples to dreamy piano keys and minimalist drum patterns. Each song retains a certain level of elegance that you might not immediately expect from a beat-tape while toeing and crossing the line into lo-fi at several points.
Inspired by the likes of hip-hop hall of famers like J Dilla and DJ Premier, Father Figure had always wanted to create a beat tape. Not only as an homage to some of the artists who inspired him but to challenge himself as a producer.
"One thing I have always admired about Dilla and Premier is their abilities to do more with less. That was the approach I took with this collection of beats. I tried to limit myself to just a few instruments and samples and essentially make something out of nothing. Many of these tracks share drum samples that have been repurposed to live on their own in a unique way in each track." 
The aptly named outro, "melt," is perhaps the perfect way to end the 5-piece ensemble. The slow-rolling and delicacy of the piano keys over a drum break that's not overly complex seem to accomplish exactly what Father Figure set out to do in his attempt to do "more with less." Striking yet simplistic.
If this EP is your first introduction into the stylings of Father Figure do yourself a favor and go check out the rest of his hard-hitting discography. You will soon see/hear that his tranquil beat-making abilities are just one feather on a cap filled with electro-funk bass bangers and energetic crowd-pleasers. Look for the New York native to be rinsing said tracks at any of his upcoming gigs like his debut at The Black Box on 3/11 or The Circus of Life Festival in June.
Cover photo: Chuck Kwok
Connect with Father Figure
Website | Spotify | SoundCloud | FB | IG