Subsidia label boss and bass music icon Excision is making yet another contribution to the world of music. This time, in the form of a $100,000 music initiative to help underrepresented and underprivileged musicians thrive. 
As he recounts in his recent post, Excision, real name Jeff Abel, talks about how an accident he suffered as a child led to him receiving a sum of money that helped him get to where he is today. He was able to buy new equipment, a better computer, and fully commit his time to music and building his brand which served as a "major boost" for his career.
Abel goes on to discuss how, through his interactions with fellow artists, "it's become clear that there are others whose careers would massively benefit from receiving a similar boost."
Thus, the Excision Bass Music Initiative was born.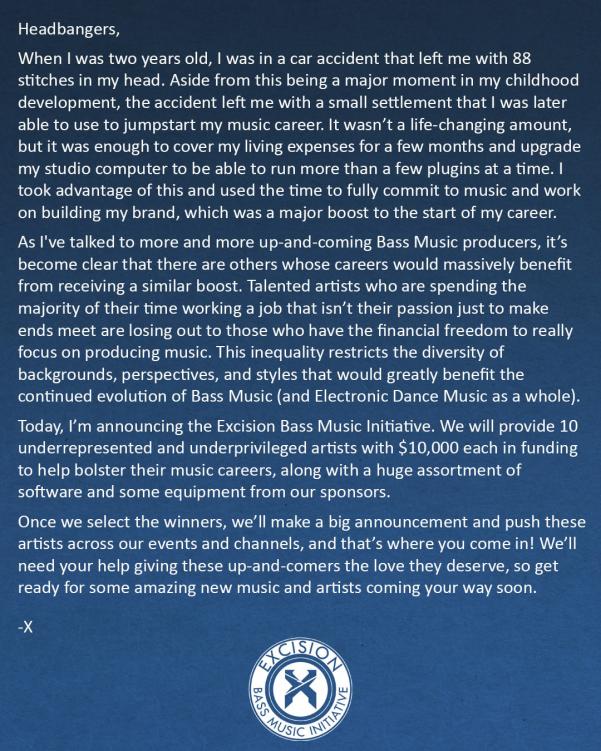 What we know so far about the initiative is that 10 "underrepresented and underprivileged" producers will receive $10,000 each along with an assortment of software and equipment from sponsors. Sponsors, that include Ableton, Audeze, SUBPAC, Eventide, and more.
The post does specifically say "bass" music initiative for up-and-coming "bass" music producers so unfortunately, artists who reside in other genres will most likely be excluded. Specificities have not been given surrounding what constitutes an underrepresented or underprivileged musician, but Excision did make an allusion to the struggling artist who still works a day job that they don't love in order to support their craft. 
No other information on how winners will be selected or how to enter has been given at the moment, but expect more instructions to be announced very soon. Keep up with Excision in the links below so you don't miss a beat.