What began in 2010 has now grown to one of America's most beloved festivals; Hangout Music Festival has hung in there with the top dogs for almost seven years and shows no signs of slowing down. The fest held in Gulf Shores, Alabama books some of the hottest, and most diverse, names in music today. Gradually through Hangout's 7 years, there is a noticeable evolution from lineup to lineup.
We thought it might be interesting to break it down and see the level of the Hangout lineup today.
Back in 2010, the headliners included Trey Anastasio Band, Zac Brown Band, and John Legend. In small print, you'll notice names like Matishayu, Michael Franti, and The Whigs. The lineup had almost no EDM. The genre just wasn't as prevalent yet and didn't satisfy Hangout's main demographic when the festival first began.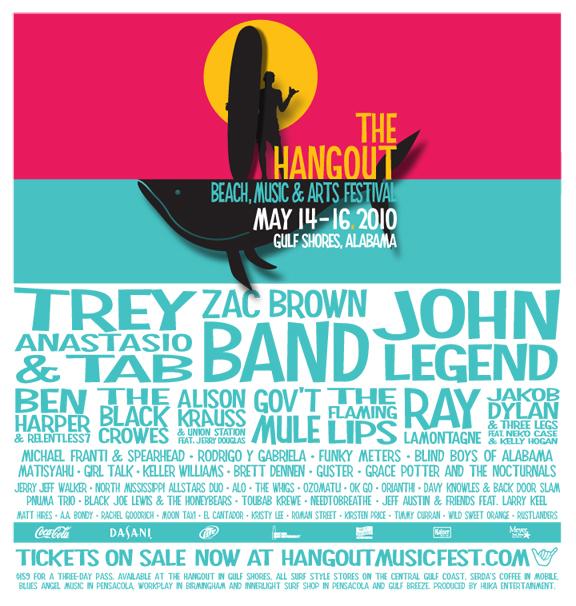 Fast forward to 2011. This lineup was LEGENDARY, the lineup of all lineups.
Following its debut, Hangout added a few major EDM (and "livetronica") artists: Bassnectar, Pretty Lights, and STS9. The eclectic mix pleased a larger, older crowd, but also brought the younger generation that was following the EDM boom. To please those electronic lovers, other lineups included the beloved Skrillex, Adventure Club, GRiZ, and more.
Throughout the next few years, Hangout stayed along the path of bringing alternative rock bands plus a sprinkle or two of EDM.
Electronic music just was not the main focus, and relying on fans of the alternative rock bands they brought – huge bands such as Red Hot Chili Peppers, Tom Petty & the Heartbreakers, The Black Keys, Foo Fighters, and more.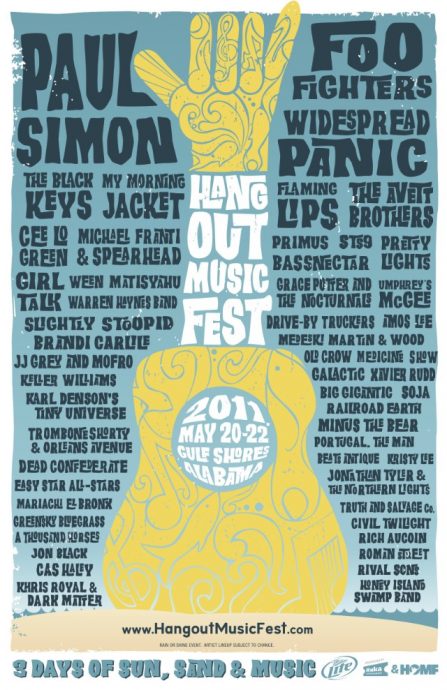 The 2016 lineup is when things started to make a noticeable shift.
Headlining the fest was one of electronic music's hottest producers: Calvin Harris. In 2015, Harris took over the scene with his hit song, "Summer," which blew up on the Top 40 charts. But, keep things interesting–other headliners for 2015 were of different genres: r&b (The Weeknd) and indie-rock (Florence and the Machine).
Granted, Calvin Harris did end up cancelling, but the weekend was an overall success and a change in the ages of attendees compared to previous years was noticeable. 
That leads us to 2017…
This year's lineup features FOUR headliners: Mumford & Sons, Twenty One Pilots, Frank Ocean, and Chance the Rapper. It's definitely refreshing to have headlining acts that span across the indie/rock, R&B, and hip-hop genres.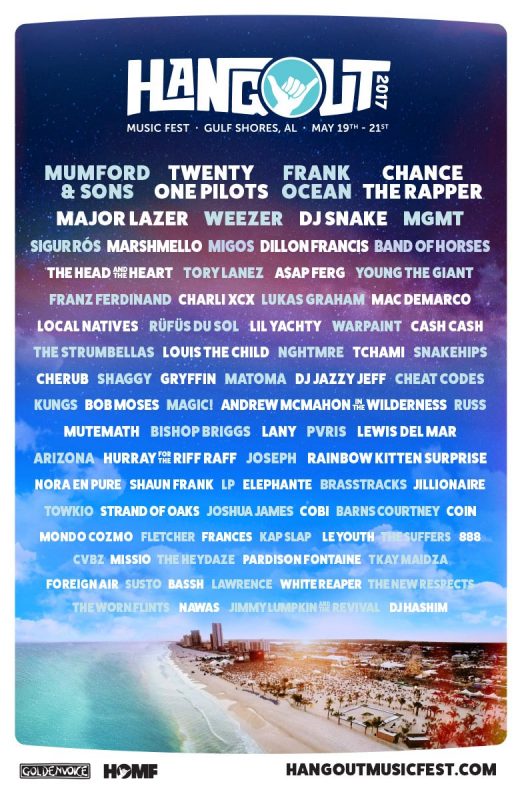 While completely stacked from top to bottom with talent, there aren't many traditional rock bands on the lineup. Festival organizers booked 90's nostalgia-inducing band Weezer (best known for "Beverly Hills" and "Buddy Holly"), as well as alt-rock bands, Young the Giant and Band of Horses.
Hangout has turned a new leaf by booking a more eclectic lineup–including electronic producers, alternative/indie bands, and rappers.
In doing so, the festival has completely shifted focus to latch onto "millennials"–the festival-goers that travel across the world for their favorite DJ/producer. This could be for a number of reasons: rock bands not touring as much anymore being the major reason.
Indie/electronic has grown massively in the past few years. Taking notice, Hangout successfully booked popular acts like MGMT and RÜFÜS DU SOL. Booking MGMT is huge news. The band has not performed at an American festival anytime in the past few years and their psychedelic sound is going to be a blast to experience on the beach.
Key to raising Hangout's appeal this year is hidden in the under-cards: NGHTMRE, Le Youth, Bob Moses, Russ, and more.
The lineup truly explores all of electronic music and gives exposure to some of the lesser-known sub-genres.
If you are attending Hangout, or just interested, but are unfamiliar with the lineup, that's completely okay! We have created an entire playlist dedicated to all the different EDM featured on the lineup.
We are currently making a playlist highlighting the alternative/rap on the lineup. Don't completely knock a festival just because you don't know the lineup! There are plenty of diamonds in the rough 🙂