Hangout Music Festival is notorious for booking the hottest acts of the summer for a weekend at the beach, jam-packed with musical talent.
Returning to Gulf Shores, Alabama for its 8th year, a feat that few festivals have been able to achieve, is the perfect fest to kick off your summer. Whether you have never been to a festival, you're a seasoned pro, or you simply don't like camping, Hangout Fest is a great choice for families, college students, anyone and everyone.
The fest will be taking place on May 19-21 and tickets are still available for purchase online. The festival has a variety of ticket options (GA, VIP, and super VIP), ranging from $309-$1,599. Each ticket comes with its perks and benefits and more info that comes with each purchase can be found via the Hangout website.
In addition to the 3 days offered by the festival, a Thursday Kick-Off party is available for purchase online. Performances include Migos, Cherub, Tchami, Basstracks, Nawas, and DJ Jazzy Jeff.
None of these artists are on the official festival lineup! So, don't miss out on the opportunity to see 6 more amazing talents and extend your weekend an extra day while visiting Alabama.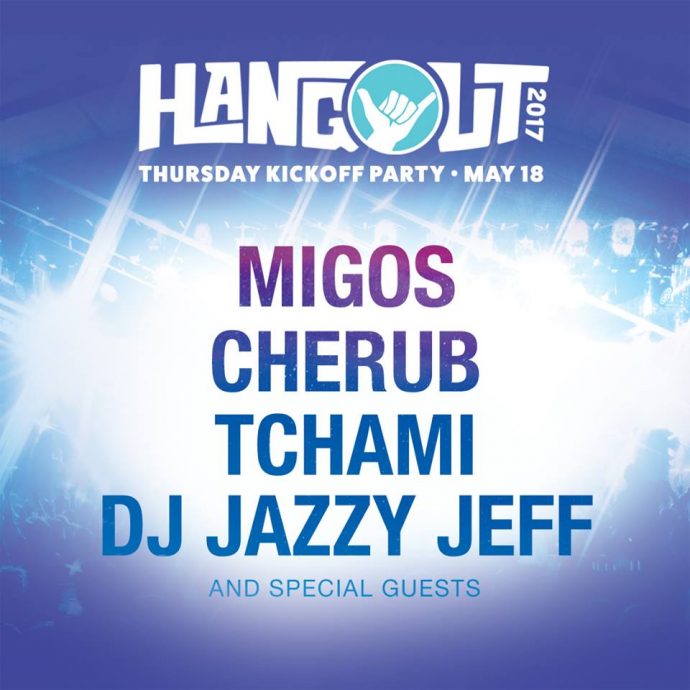 Who is on the lineup?
The lineup is spread out through three massive days with artists/bands of all genres. Beginning the fest on Friday is Russ, Elephante, Dillon Francis, MGMT, Cash Cash, and more. Headliners Frank Ocean and Weezer will be sure to draw a large crowd as neither have performed in quite a while.
Saturday is perfect for indie lovers with Louis the Child, Snakehips, and Rufus Du Sol. With headliners Major Lazer and Twenty One Pilots, the diversity continues to intensify as attendees will be broadening beyond the typical EDM sound and expand to alternative and moombahton.
Closing out the festival with a killer day is Matoma, Shaggy, NGHTMRE, Marshmello, Chance the Rapper, Mumford and Sons, and more. Overall, the festival's solid lineup with the chance to discover new and underrated artists during the day is enough to please anyone! Hangout 2017 will be one you don't want to miss.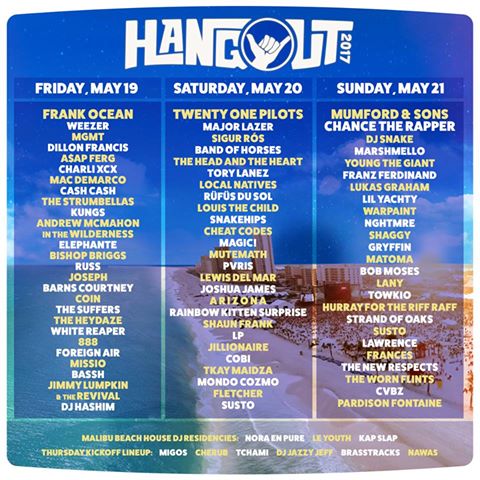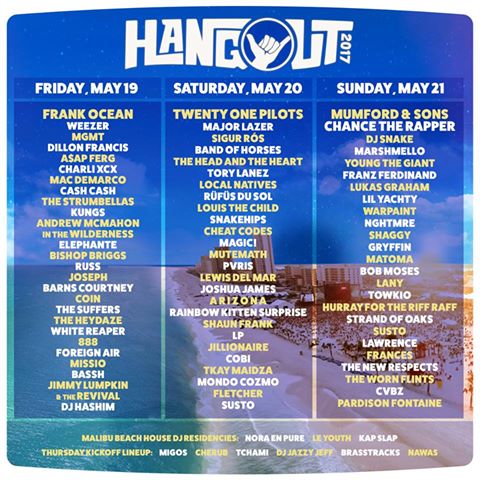 Good things to know:
The grounds open at 11AM each day and close at 11PM, so getting there right at open is beneficial to maximize your ticket.
Shuttles are offered for those in condos down the strip, as parking near the festival is extremely limited.
This festival is 18+ event; 17 and under must be accompanied by an adult. They are SUPER strict on ID's for those who are 21 and older…. just FYI.
Last year, security was not allowing opened containers of sunscreen bottles, which is rough when the sun is blasting all day. Leave one of those bottles unopened to bring inside without any security troubles.
Water stations are abundantly located through the grounds. Bringing a camel-back is allowed and encouraged.
Pace yourself. Stay hydrated. It is very easy to forget the two when at a festival; but even if you have been to a festival before, I can guarantee you have never experienced the heat like you will at Hangout.
Check out some music of featured artists playing at this years Hangout Music Festival.