Lightning in a Bottle is so much More than a music festival.
With so many festivals taking place every year, it's easy to pick over a lineup with a fine tooth comb to decide which to attend. But what you should be looking at is what lies beyond the music. This is where Lightning in a Bottle truly shines, and what made it one of our favorite festivals last year.
From a dedicated yoga and movement stage to a plethora of workshops, activities, and art installations, you could go hours without hearing music and still have the time of your life at LiB. Read on for our guide to Lightning in a Bottle, beyond the music.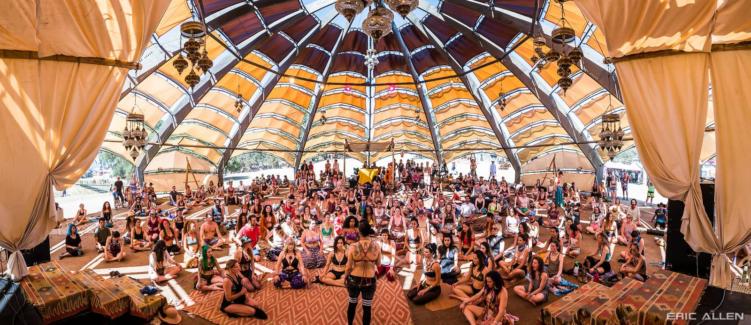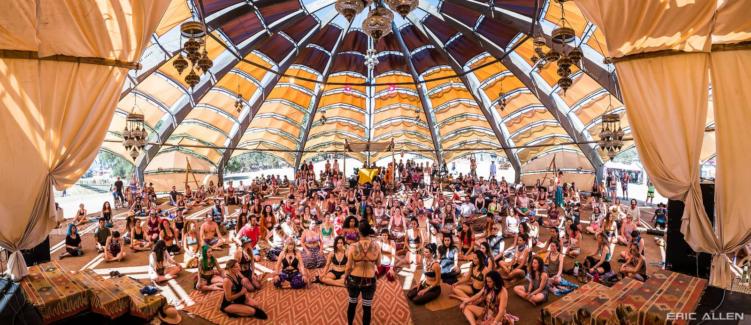 Yoga & Movement
There's nothing more invigorating than starting your day with a healthy shake and a yoga session. But when you've been out dancing until 4 am, waking up for those morning yoga classes can be a lofty goal. That's why Lightning in a Bottle offers yoga and movement classes all day long.
No matter what time you find yourself dragging your tired, sore body out of your tent, yoga mats will be waiting for you. And with two dedicated tents on opposite sides of the festival grounds, you won't have to crawl very far.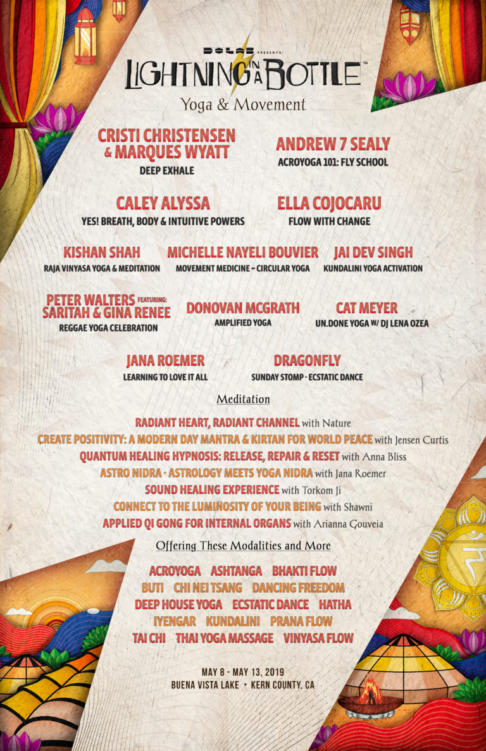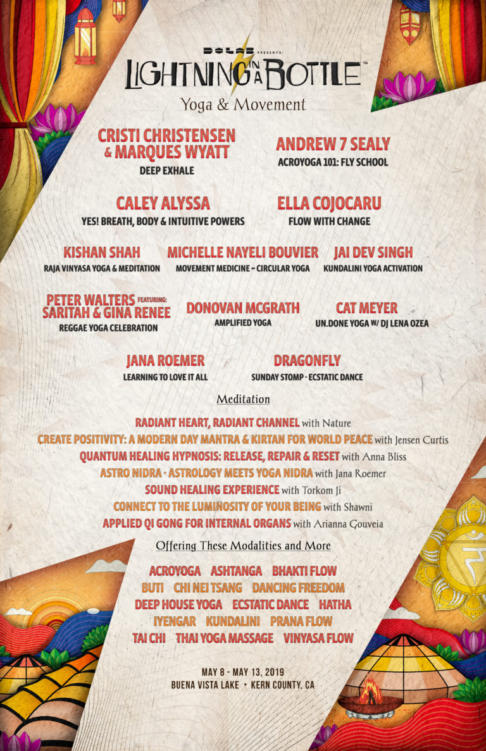 ---
Interactive Environments & Activities
There's plenty of fun to be had at Lightning in a Bottle that doesn't involve dancing the night away. The activities and environments outside of the stages encourage you to be present in every moment, meet new people, and get creative.
No matter the time of day or how you're feeling, there's something for you here. Need to zen out during the day? Head to the Gong Sanctuary or Meditation Grove. Feeling active? Register for the MustDash 5K Run (or just cheer people on), or hit the Rink-A-Dink Roller Rink. Yes, there's a full-blown disco roller rink at LiB, and we're just as excited as you.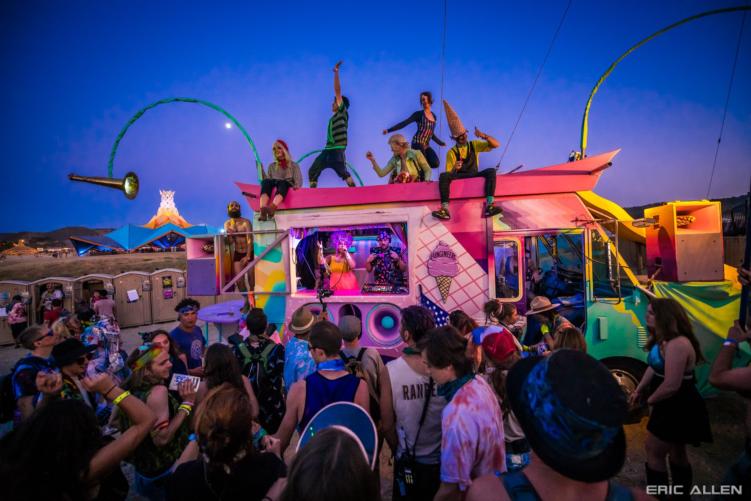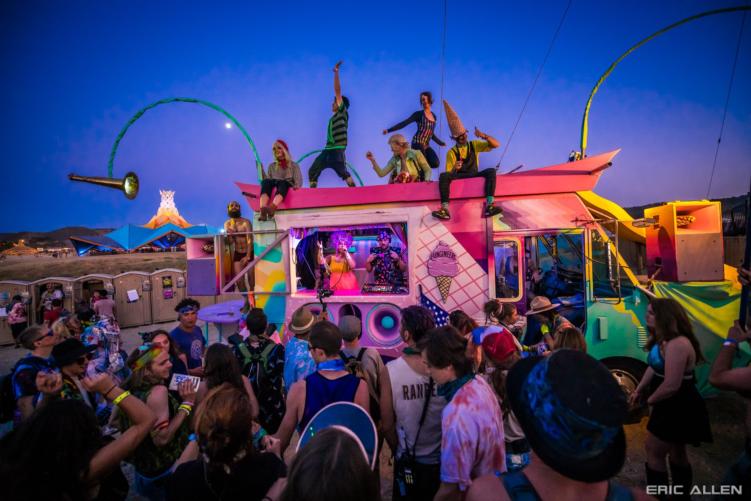 If you're in the mood for some late-night shenanigans that don't involve dancing, sit down for a wild interactive show at The Jive Joint. Chill out and get lost at the aptly named Lost? space, which hosts live performances and secret areas to hide out from the madness.
Whether you're playing an energetic game of bingo at The Great Bingo Revival or hiding from the sun in Boogaloo City, there's no shortage of activities at Lightning in a Bottle. Check out the full interactive environments and activities lineup here.
---
Eat Your Heart Out
Festivals aren't always the healthiest weekends of the year, but at LiB you can eat to your heart's content, and even learn how to cook!
The Learning Kitchen is one of the most unique places we've seen at any music festival. Drop in during the day to learn about everything from fermentation to detoxing, to food as foreplay. Check out the full Learning Kitchen lineup below.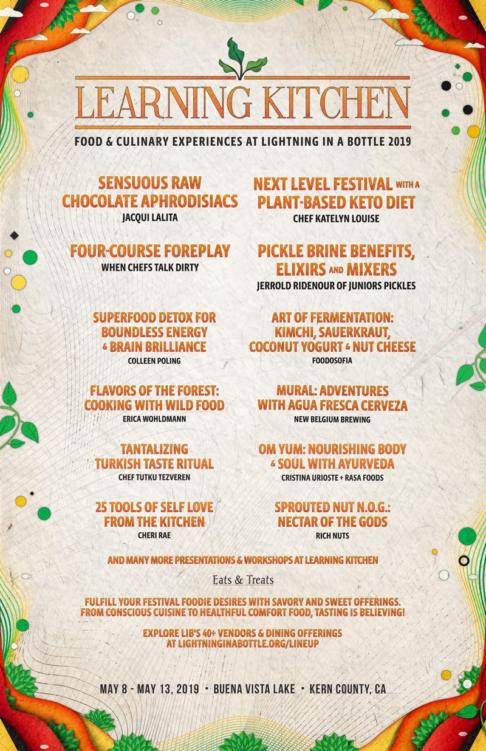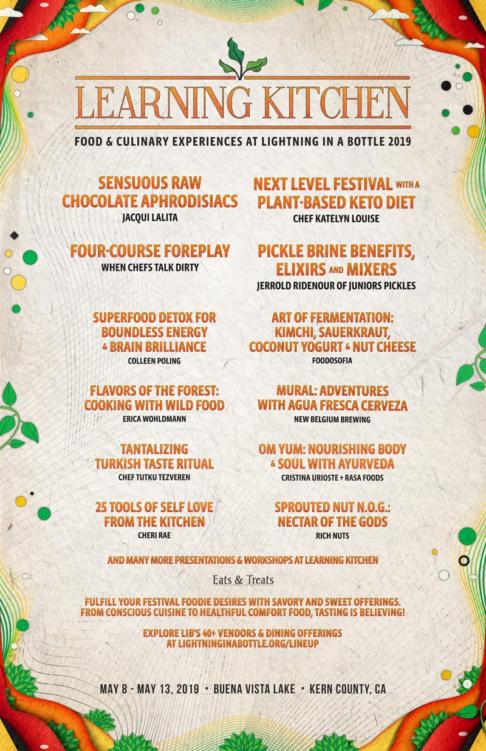 If you love eating food but not making it, LiB still has you covered. Some of the best food vendors in the country flock to the festival to serve you everything from a healthy vegan breakfast to late night dumplings, and everything in between. Check out the full food vendor lineup here.
---
Enlightening in a Bottle
See what I did there? If you're trying to leave Lightning in a Bottle a more enlightened person than when you entered, you're in luck. LiB has speakers, discussions, and workshops galore.
Whether you're trying to get active and learn about Persian dancing or engage in a discussion on wildlife awareness, you can be a part of the learning process at The Compass. Or if you'd rather sit down and listen, there's a whole lineup of incredible speakers. Check out the Learning & Culture lineup below.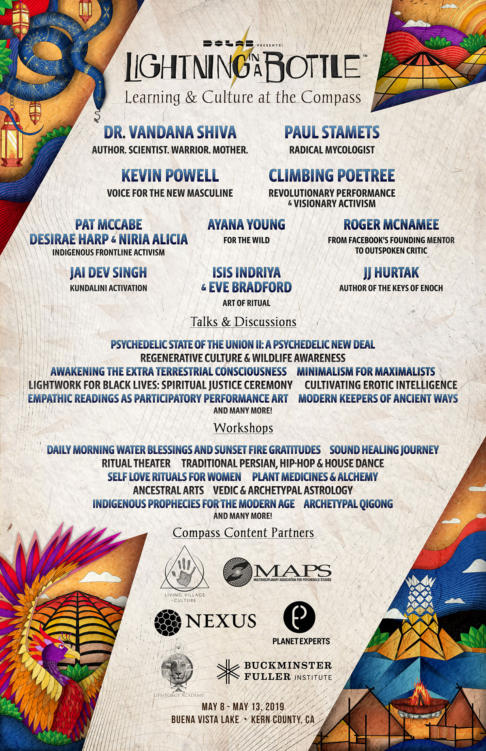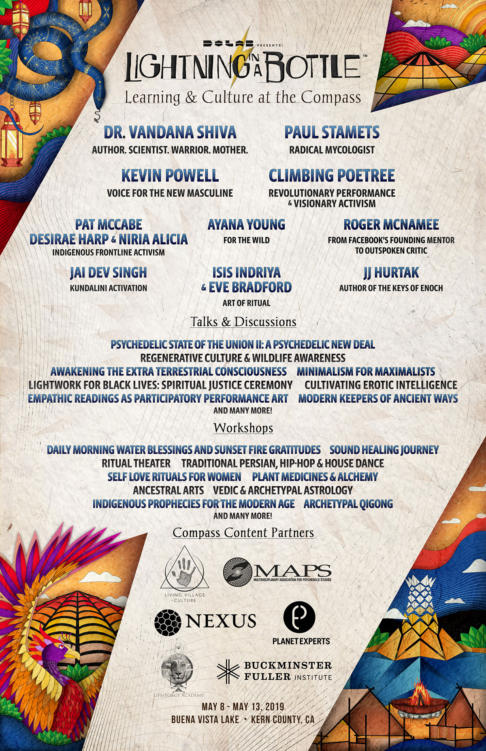 ---
We know the music is important too, but don't worry, we already covered the music and location. If you're looking for an all-encompassing festival experience, you'll find it here. Tickets are still available but don't procrastinate. The festival sold out last year, and this year is an even more intimate experience. Get your tickets now, and I'll see you there, dancing at the Woogie Stage, stretching out with some yoga, and cooking up a storm at the Learning Kitchen.
---
All photos by Eric Allen via Lightning in a Bottle's Facebook Page