Dreamers Delight is taking over our airwaves this Sunday for our Livestream series Brunch & Beats. You can tune in at 10:00 am CST for the start of the event. Watch here!
---
Dreamers Delight has been on the River Beats radar for almost 4 years now. The melodic producer has created dreamy soundscapes since he first debuted on Gramatik's Lowtemp label in 2016.
His 2019 Wondering Souls Ep was one of our top 50 Albums or Ep's of the year and the lead single "Crimson Dreams" was easily one of our top tracks of 2019.
In an age where producers tend to follow trends, there is something refreshing about Dreamers Delight sound design. This is evident once again on "Cascade." The single showcases melodic melodies while highlighting his ability to stay true to his unique sound.
"Cascade was started in the fall of 2019 when I was recovering from being very sick. You could say there was a "Cascade" of emotion that was put into this track. At the time, working on music was the only thing that was making me feel better. Really happy to finally be releasing it!" – Dreamers Delight
If you are looking for a little Livestream action this weekend, Dreamers Delight is taking over our airwaves this Sunday morning for Brunch & Beats. Our Sunday brunch series has been a huge hit over the past two months, and we can't wait to continue this Sunday. Suppor for this one includes Australian producer Zeal, and the rising French duo Saavan.
You can tune into our Twitch channel here to join us for a dreamy brunch this Sunday. The set times are below!

9:00 MT / 10:00 CT – Zeal (Australia)
10:00 MT / 11:00 CT – Saavan (France)
11:00 MT / 12:00 CT – Dreamers Delight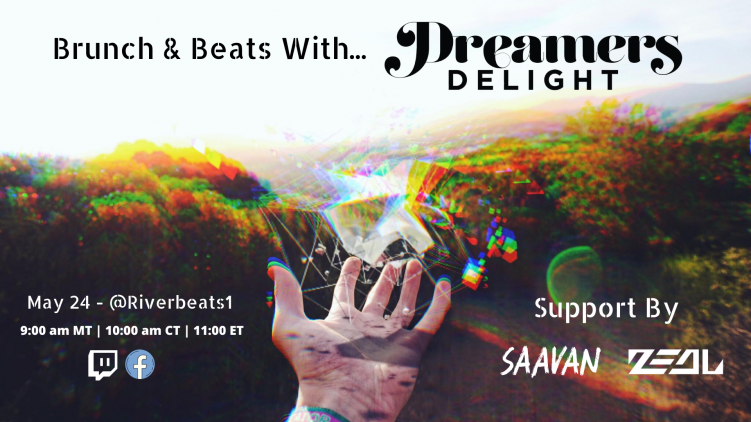 ---