Chance has done it again!
It seems that his vibrant performance and three trophies won at The 59th Grammy Awards were not enough for Chance the Rapper to conquer this week. Less than 48 hours after making history at Sunday's awards ceremony, he announced a surprise spring tour for 2017!
Spanning more than 30 dates across the United States and Canada, this tour is absolutely massive. Even if a date doesn't work for you, there's bound to be another location or festival appearance (e.g. Governor's Ball, Hangout Fest) nearby to attend. Maybe this is a great opportunity for a weekend road-trip? Talk it over with your fellow Chance-loving friends and make it happen!
Tickets go on sale at 7 P.M. EST on February 14th. Check out the tour's website for all your information. Here's another look at those dates: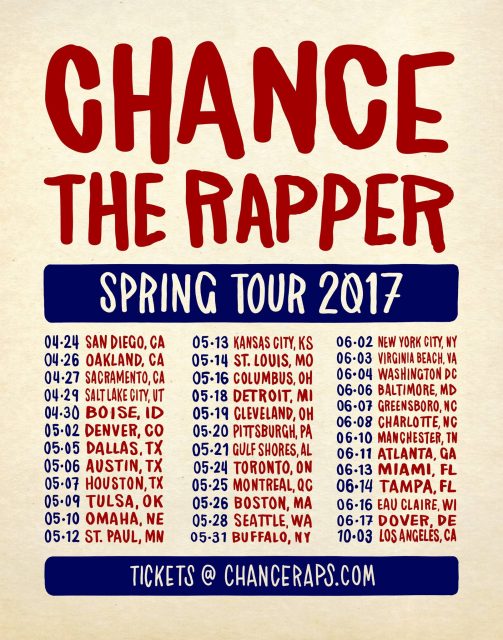 Images from Chance the Rapper.
CONNECT WITH CHANCE THE RAPPER:
Website | Facebook | Soundcloud
CONNECT WITH RIVER BEATS:
Facebook | Twitter | Instagram | Youtube | Soundcloud