Last year, we shared a video of Space Jesus leveling EDC Orlando with a huge unreleased tune from Wakaan's Champagne Drip.
Today, Champagne Drip's new "Starman" release has brought that punishing track, "Soundboy Dead," to our subwoofers, along with three other songs, unlike anything we've heard from the artist.
"Starman" delights in translating the intensity of 2010-era dubstep from the likes of Doctor P and Flux Pavilion through pristine, intricate sound production. This isn't devilish and tangled like so many Wakaan releases of late, it's refreshingly bold, direct, and devastating. Fans of LSDream's lively futuristic sounds will find plenty to enjoy here.
That's not to say these tracks aren't ferocious where it counts. Opener "Sentinel" carries a mutant, walloping chop anchored by a menacing drum click. We can't stress enough how skilled Champagne Drip is in all his releases with his percussion sounds, and they are front and center here.
The aforementioned "Soundboy Dead" is an early contender for heaviest song of the year. DMVU, Peekaboo, and only a few others can make bass drops so punchy. A distant voice hails the song's title before layers and layers of white-hot sustain and attack just fucking pulse. It's one of those drops that tickles the sweet spot in your jaw, immediately goosebump-inducing.
There's a shift away from the heavy low-end assault to some beautiful melodies, giving us a chance to catch our breath. "Kaleidoscope" and "Satellite" follow closely with Liquid Stranger's "Burn Like Sun," or Rusko's "High," with a sparkling sense of space.
Bouncy synths cascade off Crystalline's shimmering vocals in a delicate call-and-response on "Kaleidoscope." The rippling current of sub-bass underneath provides impressive scope for Champagne Drip to play off of.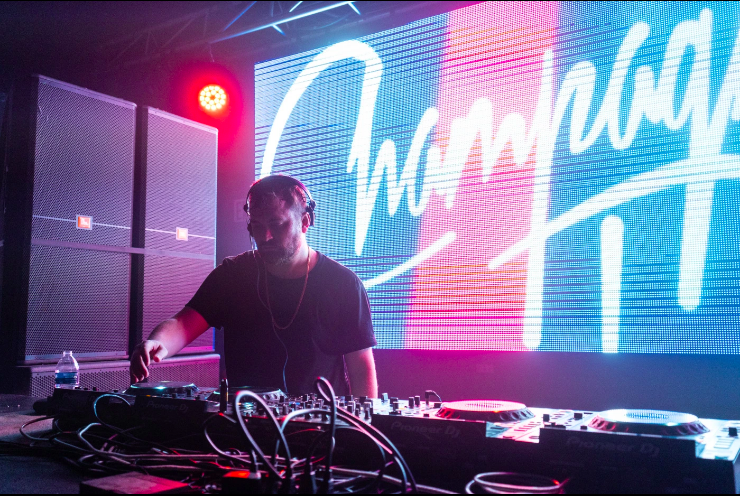 The EP comes to a head on "Satellite" a rippling, melodic closer. The sheer range of sounds weaved around Len X's blissful voice is immense. Navi's "hey!" from the Legend of Zelda is pitched in at high speeds, subtle hi-hats drift lazily like comet trails. the bass lines nosedive freely and right themselves just in time.
In an EP of two halves, it's impressive how seamlessly Champagne Drip blends ferocity with melody on "Starman." He successfully takes the major-key maximalism of old-school dubstep tunes and filters them through space-age sound design.
Dive into the brand new Starman EP below!
---