Editors Note: This is a staff sourced article. We feel this list is extremely tough to calculate as there are too many factors at play. We allow our staff the opportunity to submit their favorite choices and voice their opinion on why they selected these choices.
---
One of the most exciting parts about being a music fan is watching an artist you love begin getting the recognition they deserve. When you watch a musician you're drawn to go from playing basements for a group of 10 people to selling out stadiums, it is an incredibly gratifying feeling.
The past several years have seen more and more names surface and make a name for themselves in the scene, playing bigger and bigger venues and making more impressive music. The proving grounds in electronic music can be savage and brutal but also rewarding and fulfilling. When these creatives step to the plate and release music, they put a piece of themselves out to the public to be judged, something that is never easy.
So we would like to honor these musicians for constantly innovating sound and the scene itself while also pushing boundaries of their own. Although there was a lot to choose from, these are the 10 artists who we believe had the biggest breakout year in 2021.

Tripp St
The anonymous producer Tripp St is an act that emerged on the scene in 2020 with a debut live stream that captured the attention of quarantined audiences everywhere. Shortly after, he dropped a remix of CloZee's "Long Live the Chill" which really made people start looking in his direction, including CloZee herself.
One year later, he's touring with the french native while pouring out track after track after track. 2021 alone saw him produce two full-length albums on top of a handful of speaker-crushing mixes.
While Tripp St may be on our "Breakout" Artists of the Year list, his performance during 2021 was more like an explosion. We look forward to seeing more of this John Doe disc jockey kill it in 2022 and beyond.
Written By Staff Writer Max Vanegas
---

Supertask
Perhaps one of the hardest working artists in bass music, Supertask is undoubtedly making an impact on the community. Just before the pandemic, we believe he was already set on the path for success.
As we made our best attempts to push through an incredibly difficult time, Supertask aka Kyle Bischoff was hard at work creating an audiovisual masterpiece that viewers will likely never forget. With the debut on the famed bicycle day, there could be no better time to unveil the 'Create Your Own Adventure' story driven by the audience providing an illusion of choice.
Many streams would follow featuring live production, unannounced performances, and this year's sequel took things a step further. The DEV Team was born, and dedicated fans were provided physical membership cards with QR codes for interacting with streams and events alike in the future.
As live performances returned, Supertask wasted no time returning to the stage at Terry Byson Ranch for one of the most memorable performances of the year. As the sunset into the mountain peaks in the distance, 'Healing' felt medicinal in a time of uncertainty. His biggest release to date, Connection, is a clear window into the range of emotions Supertask shares with listeners.
Written By Staff Writer Devin Dees
---

TVBOO
Merging both his humor and electronic music, TVBOO has kept us entertained in 2021 with hilarious podcasts, tweets with PBR, and even a satirical EP titled Songs Your Wife Leaves You To. Throughout this year, he accompanied Peekaboo's headlining tour, played Decadence Arizona, Lost Lands, and in 2022, you can catch him on Liquid Stranger's tour, BUKU Music + Art Project, with more to come.
Releasing earlier this year on WAKAAN with another EP, Right Field Bass, his production skills combined with his relatable and lovable presence – not just on social media, but in real life, too! – makes TVBOO one of our breakout artists of the year.
Written By Staff Writer Kelsey James
---

Notlö
Notlö is fresh off a banging year in 2021! Her recognition this past year is beyond deserved and only just getting started. If you listen to deep dark dubstep, Notlö is a staple name in the game.
She released tracks on WAKAAN, Gravitas, and Deep Dark & Dangerous all this year (just to name a few!) On top of that, she took the stage at many festivals this year including Suwannee Hulaween, Firefly, and Infrasound.
Be sure to check out her latest single "Catnip" linked down below. This deep dub track is sure to melt your mind with its creative textural elements.
Written By Staff Writer Bailie Posten
---

Zingara
Eclectic space bass artist, Zingara is hot off another successful year! If you don't know this rising star's name yet, don't sleep any longer.
Best known for her TikTok mashups and fresh mixes, this manifestation queen is truly one of the most eclectic new creators in the scene. If you're looking for a spiritual mind trip, with some hard-hitting wubs, look no further.
Written By Staff Writer Bailie Posten
---

Mize
Fresh off a series of heavy-hitting sets to round out the year, MIZE is riding high going into 2022 with an incredible amount of momentum. Performances at Lost Lands, Resonance Music Festival, and more set social media ablaze.
He's built an incredibly dedicated fanbase through SoundCloud mixes loaded with unreleased IDs blended perfectly with timeless vocals, and a social media presence many try to emulate.
His latest EP, Balancing Act, is a view into the massive catalog yet to come. Larger-than-life synth melodies combined with a signature crystallized finish create the foundation for an expansive sonic experience. He also teamed up with a good friend and the incredibly talented DATA_BYTE for a seamless audiovisual experience you can watch below!
Written By Staff Writer Devin Dees
---

kLL sMTH
Sought out for his intricate sound design and loved for his comical and friendly nature, kLL sMTH is an artist who has been scorching in all of his recent work. The Colorado-based musician is nothing short of side projects with collaborations such as Ultrasloth with Duffrey and bioLuMigen and kLL Bill with Australian producer Mr. Bill.
Aside from his collaboration projects, kLL sMTH has dedicated plenty of time to original work such as the lo-fi album he released this year – cHLL sMTH Vol.2 – in which he flexes his instrumentation skills and ability to sample anything and everything including his cat Kiwi and dog Karlos.
Some of his most acclaimed sets from the year include his cHLL sMTH sunrise set at Sound Haven and his 4th of July gRLL sMTH performance at the Black Box in Denver which consisted of him and some producer friends making breakfast while cooking up beats and drinking down some brews. Although he hasn't released any EPs or full-lengths officially under the kLL sMTH name in quite some time (besides the lo-fi album which is considered a side project), expect 2022 to be the year he harnesses all this momentum and drops something that stuns audiences beyond belief.
Written By Staff Writer Max Vanegas
---

CHEE
The stylings of and appreciation for the South-African lightning rod known as CHEE have spread like wildfire across the industry. Combining with notable talents such as Of the Trees, Tsuruda, and more, CHEE's ability to create amazing work with fellow producers is only underscored by his talents as a solo act. 2021 saw CHEE release the Paralysis Analysis EP under the Deadbeats label where he has continued to establish himself as a dominant force. The album features the highly-anticipated "Fight Club" collab with Mr. Carmack and serves as a milestone for how far he has come as an engineer of sound.
Getting booked at several major festivals such as Elements, Holy Ship, Space Camp, and also headlining a North American tour alongside Tsuruda, 2021 was certainly a busy year for CHEE. As we look to the new year, expect CHEE to continue finding his way onto lineups and playlists everywhere.
Written By Staff Writer Max Vanegas
---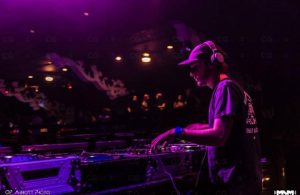 Notixx
"Bass music from the unknown" – We couldn't think of a better way to describe Notixx in this list. With a strong caliber of release in 2021, including his Entity EP and full-length album Netherworld, Notixx is the perfect match for our breakout artists of 2021.
Written By Staff Writer Sean Schmidt
---

Moore Kismet
This young breakout star has been making their way though headlines and tour dates the last year. Kismet, a nonbinary Los Angeles native, has been making a big impact on the scene not just because of their age, but through the sheer talent of their music.
Only 17 years old, they have already played some of the biggest stages in the world such as EDC Vegas (where they became the youngest DJ in history to perform on such an iconic stage), Beyond Wonderland, and Lollapalooza. This young star has only begun to shine and will continue to burn bright for years to come. Expect them to go down in EDM history.
Written By Staff Writer Robert Blue
---
Aside from the names on this list, 2021 saw a number of producers start to catch fire and breakout in their own unique and inspiring ways. We are constantly humbled by these acts that continue to grow themselves in such magnificent fashion, and can't wait to see how these impassioned players shake up the scene.