San Holo's bitbird imprint just released their latest installment of the groundbreaking collaborative series Gouldian Finch 3.
Since releasing the last Gouldian Finch compilation, San Holo and co. continued to manifest their "create forever" mantra in countless extraordinary ways. Looking back to late 2017, the team launched their bitbird radio series, featuring captivating guest mixes from tomorrow's top talent. The label boasts an ever-growing rollcall of innovative artists, pumping out dozens of beloved projects over the past year. Today, the bitbird crew debuts Gouldian Finch 3, featuring 15 thrilling tracks from bitbird mainstays and newcomers alike.
Gouldian Finch 3 (GF) brings together over 20 artists from a wide array of musical styles. In addition to familiar names like DROELOE, Taska Black, and Analogue Dear, the collection invites listeners to newcomers like prolific Chicago producer Knapsack, to the glitzy return of neon future bass pioneer Lindsay Lowend after a five-year hiatus. Among stellar prerelease collabs from Taska Black & Sem, Duskus & Arizsi, the latest single from Flaws and ILIVEHERE., "morning might turn things around", stands out as one of the compilation's most beautiful tracks.
San Holo himself contributes three tracks on the compilation, including a sensational stereo track under his Casilofi moniker. Bitbird's boundless reach stretches across the planet, pulling in artists like Brazilian producer Marcioz and New Zealand producer Ian Munro. The album also features the first solo track from Los Angeles-based violinist YAS and a mysterious single from producer RIBB[]N. Speaking on the release, the bitbird team added,
"Gouldian Finch 3 is the third iteration of what happens when a group of talented creatives work together to capture a real moment in time, with the goal of preserving that moment forever. Here is our heart and souls, poured into one of the most exciting projects we have been working on. Your ears will take a trip through a diverse and thrilling musical landscape, one that runs abundant with the sounds of violin strings and slinky bass drops, heartbreaking melodies and everything in between. Here, you will truly understand what bitbird is all about."

-Bitbird
The carefully curated GF3 exhibits bitbird's commitment to unapologetically forward-thinking sounds. Now, the dominant dance label looks ahead to San Holo's Red Rocks headline debut this June and a showcase at the Brooklyn Mirage on May 24th. With GF3 out the door, we couldn't be more excited for what bitbird has in store next.
Check out the full track list and stream Gouldian Finch 3 below!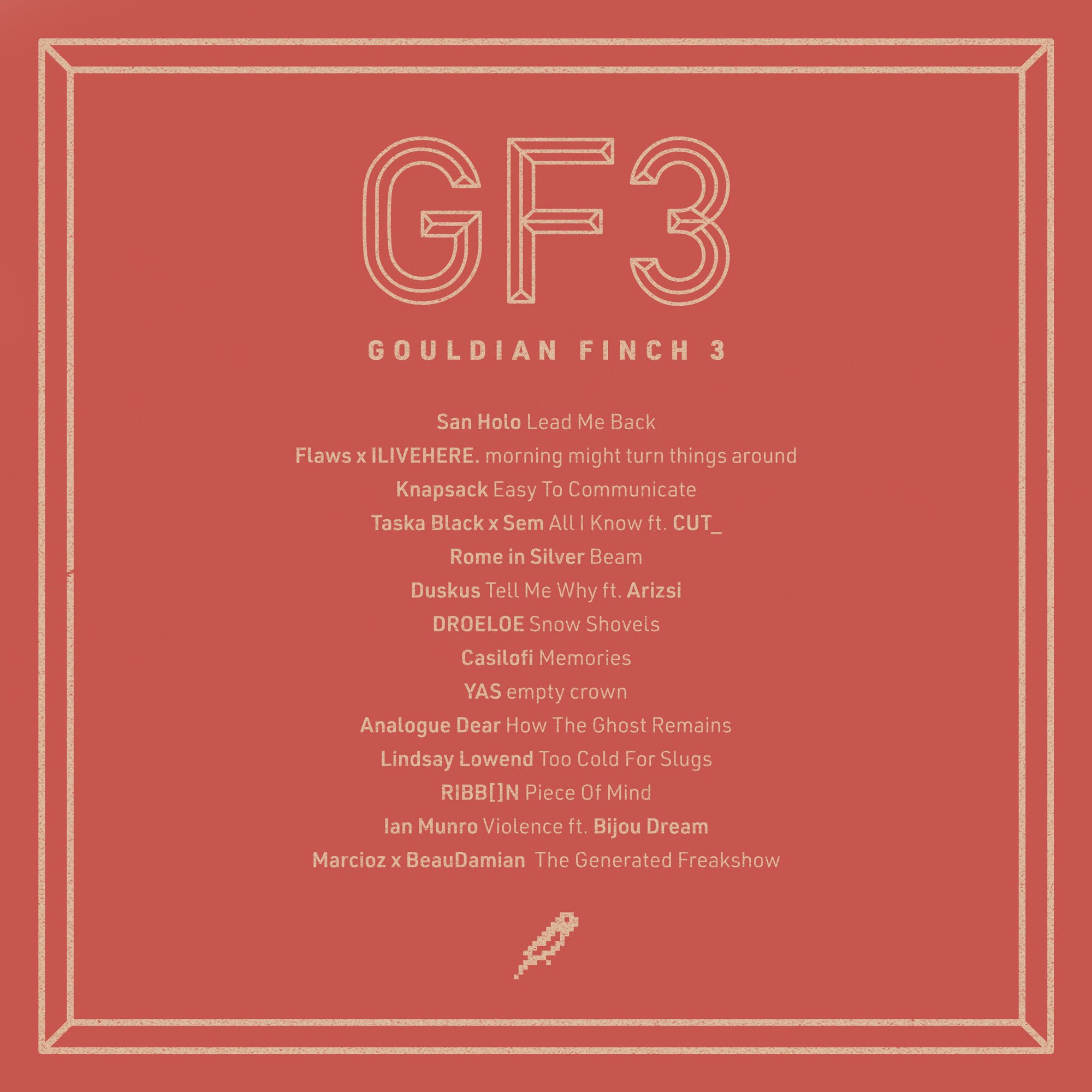 ---
Connect with bitbird: SoundCloud | Facebook | Instagram | Twitter