Align has been a River Beats favorite for quite some time. RB Writer Danny G. introduced us to him in 2018, and we have been fans ever since. His future beat-oriented soundscapes continue to evolve release after release, supported by "bright arpeggiators and guitar riffs," occasionally with twinkling vocals interspersed. ALIGN's melodic beats are memorable and quite distinguishable, especially in his latest release: a 5-track EP titled Vista. Give the EP a listen below. 
Vista features 3 previously released singles – California Coast, I'm Searching, and Close – plus 2 other tracks to round out the EP. Prior to the EP, he returned on Lowly Palace to drop "When I'm With You" featuring Martina Lynn. Vista is a journey made for soaking up the Summer sun, and the perfect blend of upbeat pop and indie dance.
In alignment with this release, River Beats got to ask Align a few questions as he gears up for a busy rest of the year! 
1. In 2020 & 2021 (so far!), you have shared a lot of amazing releases and music that makes you feel. How do you find inspiration for your tracks, specifically the releases you shared during COVID?
"I normally gather inspiration from outside sources. Things like going to the beach, going for a hike, going for a long drive, or being in a fun/energetic atmosphere all leave me with a certain feeling after I re-center. I usually take that feeling and pour it into my songwriting process. During COVID, I couldn't do a lot of these things, but longing for them might be what allowed me to write even more."
2. Of your collaborations from the past year with vocalists/singers including Jenni Potts, Becca Krueger, Martina Lynn and a few others, do you have anyone else on your list you'd like to work with? So much talent out there!
"I'd love to change it up and collaborate with a band! I've had my eye on a band called Wake The Wild, and I'm in love with Mansionair's music, so hopefully something involving one of those 2 projects is on the horizon."
3. I have put so many of my friends on your music, my favorite from your last few releases being "Washing Away" and "I'm Searching." Do you have any favorite releases that you hold near and dear?
"The 2 that [you] listed are 2 that I hold near and dear. One that I will always love is Daydreaming, I think it really shows what I'm aiming for with my project and music. I feel the same way with my new track Close, it shows a lot of where I think the future of the project is going."

4) How do you feel about getting back into shows with a year? What kind of emotions are you feeling?
"Jumping back into shows has brought a crazy range of emotions for me. The come up and comedown of adrenaline is something that I forgot about. I love playing shows and it feels absolutely amazing to be back. This last weekend I played with my friend INZO, and then with Big Gigantic, and both shows were incredibly fun, and I'm really looking forward to the next ones on my tour."
Catch Align this summer + fall!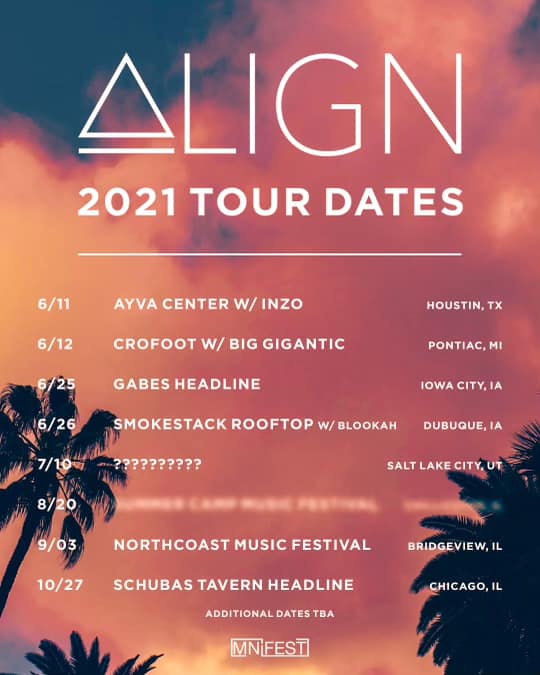 In addition to the above… 
7/10 – Blaqvoid – Salt Lake City, UT (Headline)
8/20 – Summercamp Music Festival – Chillicothe, IL
+ more TBA
---
Featured image via Zack Davis