The deadbeats brand founded BY Zeds Dead has had massive success the past year.
The Deadbeats label was introduced in 2016 with the debut of a Zeds Dead sponsored stage at various festivals/shows, plus events at Miami Music Week for 2016 and 2017. The Toronto duo has made waves in bass scene, and the increased presence has proven that Dylan Mamid (DC) and Zach Rapp-Rovan (Hooks) have no plans on stopping this journey.
To add to the growing Deadbeats brand, the duo recently announced the creation of a radio, plus a jaw-dropping tour announcement with diverse names in electronic music.
The announcement states that the lineup will vary by city, which will probably be announced as the dates get closer. The tour has stops in Denver, Colorado; Salt Lake City, Utah; Chicago, Illinois; Nashville, Tennessee, and more. Check out the tour announcement and see if they are coming to a city near you!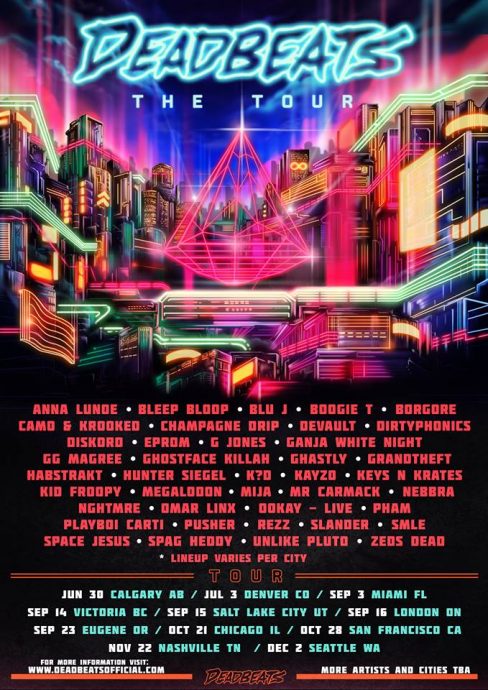 In addition to their huge tour announcement, Deadbeats Radio #001 has already made waves in Soundcloud which will help to grow the Deadbeats brand and label. The first episode includes tracks by Champagne Drip, Noisia, Skrillex & Habstrakt, and more. You can view the whole tracklist and listen below.
Tracklist:
Zeds Dead – Lights Out (Feat. Atlas) (Delta Heavy Remix
Party Favor – WAWA
Noisia – Get Deaded (Moody Remix)
DJ Limited – Your Love
Champagne Drip – Blue Science
Alix Perez & Eprom – Chiron
DC Breaks – Hustle
Mind Vortex – The Day After
Zeds Dead – Slow Down (Zeds Dead Remix)
Skrillex & Habstrakt – Chicken Soup
BLU J – Light ft. Nevve
Hydraulix – Head bang
L 33 – Clublife (Prolix Remix)
What So Not – Divide & Conquer (Noisia Remix)
DNMO x Sub Urban – Broken
Tapiosky & VovKING – Etude No. 5
Louis the Child – It's Strange (Whethan Remix)
Virtual Riot – Part of Me
Dustycloud – Sometimes
Bellecour – Le Coq
Hoverboots – Warping
Tropkillaz – Try Me
Mobb Deep – Trife Life
Kenny Segal – Worlds to Run (VIP Dub)
Zeds Dead has taken it slow the beginning months of 2017, but have abruptly gained a slew of excitement revolving around them and Deadbeats.