After a year-long hiatus, Chub Rub label owner Zach Eser (zacheser) is set to release his first full length album next Friday. And trust us when we say: it was worth the wait.
While the entire Phases album is impressive, especially for an up and comer, one single in particular stood out. Number 10 on a 12-track list, "Memory Foam" is a deep cut of melodic house that features harmonic synths and squishy bass.
A bit groovier than the tracks that precede it, this single takes the listener into the final 'phase' of Eser's musical journey. Seamlessly shifting between different genres, he has truly captured a special vibe through this album.
Read what Eser had to say about writing his first full-length album below.
"Writing Phases got me through a really difficult period in my life. The catharsis of digging deep into my influences and sharing those sides of my personality – trying to tell a story of a specific feeling or perception at this time in my life – got me out of an emotional rut no person should ever have to face."
Although you have to wait until April 26 to stream all 12-tracks of Phases, you can listen to "Memory Foam" exclusively on River Beats today. Listen below and let us know what you think!
Listen:
Pre-order the entire Phases album here.
---
Full Tracklist: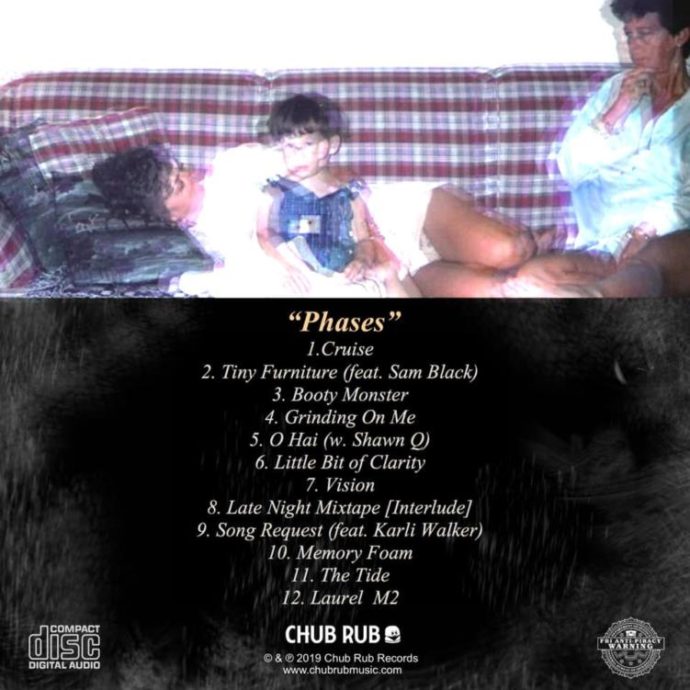 ---
This year is shaping up to be a big one for this D.C label boss. In just one short month, Eser will be making his return to Elements Lakewood with his Chub Rub family to co-host a takeover at the Fire Stage.
Eser will also be embarking on a Phases tour, which includes a stop at the legendary Space Yacht in L.A. All of this comes on the heels of a monstrous first year with Chub Rub. The label saw 1 million streams on Spotify and received plays on Sirius XM.
---
Connect with zacheser:
Facebook | Twitter | Instagram | Soundcloud
Connect with Chub Rub:
Facebook | Twitter | Instagram | Soundcloud
Featured image via artist.