LIGHTNING IN A BOTTLE 2022 IS JUST ONE WEEK AWAY! Whether you're a seasoned LIB alum or a newbie, we've got you covered when it comes to packing, schedules, LIB lingo & more. We cannot wait to head out to Buena Vista Lake, but it's always a good idea to make sure your extra prepared. Check out our packing guide down below & then read up on the week's schedule.
---
Packing Guide
---
Wristband, Vehicle Stickers + Gov Issued ID
Earplugs ~ for safety and sleep
Headlamp or Flashlight (plus a set of backup batteries)
Refillable Water Bottle
Heavy Duty Trash Bags
Sturdy, Reliable Footwear + extra socks & bandaids
Tent & Shade Structure
Mirror (for getting ready at your campsite!)
Narcan or Test Strips
Enclosed Propane Stove
Backpack or Camelbak
Camera
A Reasonable Amount of Alcohol for Personal Consumption in Campgrounds Only
Cooler for Campsite
Floaties, Inflatable Rafts, or Paddle Boards
Good Vibes!
---
Schedules
---
As if the stacked lineup wasn't enough, Lightning in a Bottle also has TONS of art, flow, & educational offerings. Music starts on Friday and goes through Sunday night. Yoga, sound healing, lectures & art all kickoff on Thursday. You can scope out all of the day to day schedules here!
Here is the day by day lineup: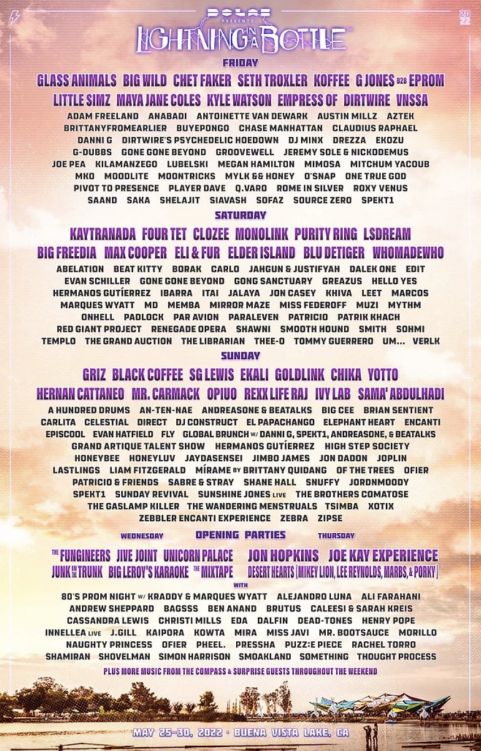 ---
LIB Glossary
​Here are some key words to know that are sure to make your fest experience a bit more seamless.
The Compass
– The learning hub of the festival, the Compass is made up of 6 programmed areas offering talks, workshops, and classes.
​Learning Kitchen – An educational area dedicated to food-focused workshops and culinary classes in a variety of both ancient and modern kitchen traditions.
​ArtClave– LIB's interactive creative learning space, offering art classes, hands-on workshops, and LIB art tours.
​Lightning in a Paintcan – Also known as LIP. Over 50 live painters transform blank canvases into incredible murals and paintings throughout the festival, concluding with an art walk and silent auction Sunday evening.
​Interactive Areas – Micro-environments within the festival offering unique programming, games, shenanigans and more.
​The Marketplace – Your go-to destination within the festival for community crafted goods made by some of the best local and international artisans.
Atlaswyld Campground – Ideal for out of state travelers or camping newbies, Atlaswyld Campground offers onsite camping services that include pre-pitched luxury tents for an extra special LIB experience. Click here to view tent and trailer packages.
---
You can always check out the official Lightning in a Bottle website for any other info. Find that here. See y'all next week at Buena Vista Lake!