Every festival has its main stages. What separates a truly unique festival from the pack is what lies deep beneath the bright lights and big names. Electric Forest has The Observatory, Coachella has The Do Lab Stage, and Bonnaroo has Kalliope.
Okeechobee has established itself as a can't-miss festival, and they have a hidden gem of their own. Deep in the heart of the portal, tucked away from headliners and the crowds, lies an all-night sanctuary of techno.
Welcome to Jungle 51.
Many of these artists are unknown to the casual music fan, but it doesn't mean that you should sleep on the stage that never sleeps. I'm here to guide you through our can't-miss artists gracing the Jungle 51 stage. Check out the lineup below, along with our selections.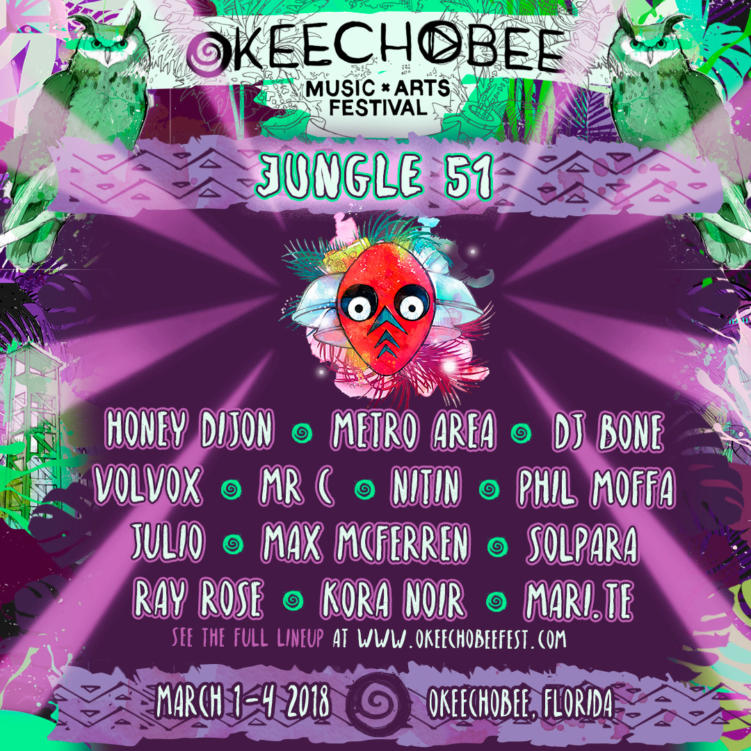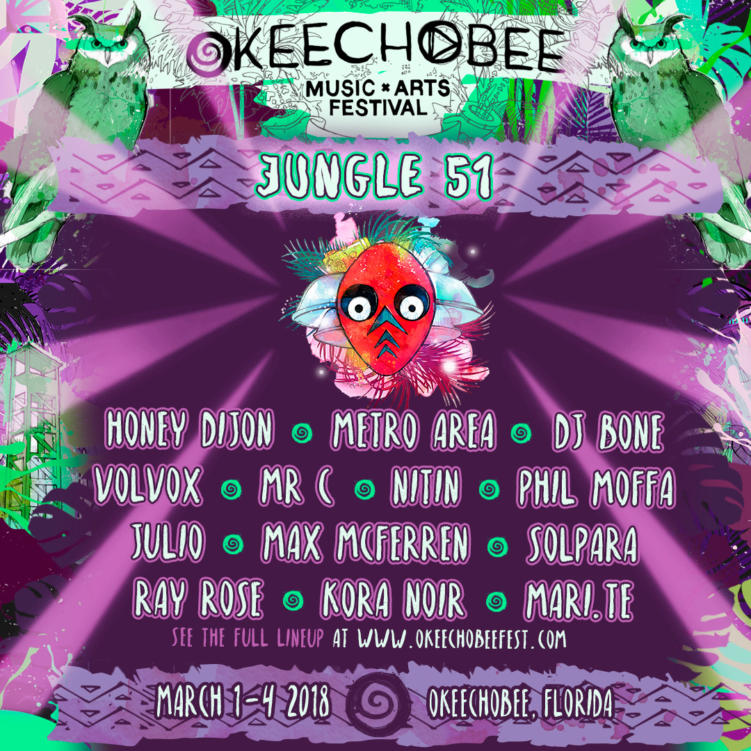 Honey Dijon
Chicago native and New York City's reigning queen of house and techno Honey Dijon is bringing much-needed diversity to the scene. Her sets are a work of art, and if you scour her Soundcloud you won't find single tracks. Instead, you'll find a collection of her masterful mixes for BBC Radio 1, Resident Advisor, Mixmag, and numerous other established tastemakers. You won't know what you're in for until you're there, and once she lures you in, there's no telling how long you'll be lost in the music.
Volvox
It's 2AM on Saturday, and you want techno as dirty as you are after three nights of dancing. Lucky for you, Volvox has got you covered. Part of Brooklyn's all-female Discowoman collective, Volvox was recently named one of Mixmag's Top 20 Breathrough DJs of the Year. Her sets are as evocative as they are imaginative. It's music that's meant to be experienced in a dark, sweaty setting, whether it's a NYC Warehouse or Okeechobee's humid jungle.
DJ Bone
All good things must come to an end, and for Jungle 51, it's going to be one hell of a closing party. Detroit techno legend DJ Bone will be manning the decks until the sun rises on Sunday morning, bringing an end to the raging in the jungle, and ushering in one last day of music in the portal.
Don't miss this magical experience. Grab tickets while you still can, and we'll see you in the jungle.
Featured Image by Jorg Photo via Okeechobee Official Photos