Vans Warped Tour, the popular festival known for its cross-country tours, announced 2018 will be its final year. Since the festival's founding in 1995, more and more festivals have continued to come out of the woodworks. In turn, this caused the unfortunate pop-punk bubble for the exclusive tour to pop. Vans will conclude their 24 year run next year for 2018.
With over 40,000 shares via the Vans Warped Tour Facebook page, fans are not taking the farewell easy. Warped Tour proved to be a summer tradition for many.
A statement provided by festival founder Kevin Lyman confirmed the news to fans:
"Today, with many mixed feelings, I am here to announce that next year will be the final, full cross-country run of the Vans Warped Tour," he wrote. "I sit here reflecting on the tour's incredible history, what the final run means for our community, and look forward to what's to come as we commemorate the tour's historic 25th anniversary in 2019."
Over the course of its 20+ year history, Warped Tour attracted more than 500,000 attendees. The festival helped launch the careers of hundreds of bands in the United States. Such names that graced the stages include Blink-182, Fallout Boy, Paramore, and even known others such as Eminem and Katy Perry.
"The enduring spirit of the Vans Warped Tour remains as bright as ever, continuing to inspire creativity and ambition in new and exciting ways as we prepare for a 25th anniversary celebration in 2019." – Kevin Lyman
With the buzz of 2018 in the air, increased curiosity over who will play is the center of attention. No artists are confirmed quite yet. According to Billboard, "Lyman is still filling the bill, hoping some Warped icons will hop on to make the last hurrah extra special."
This is a sad day for all music lovers alike.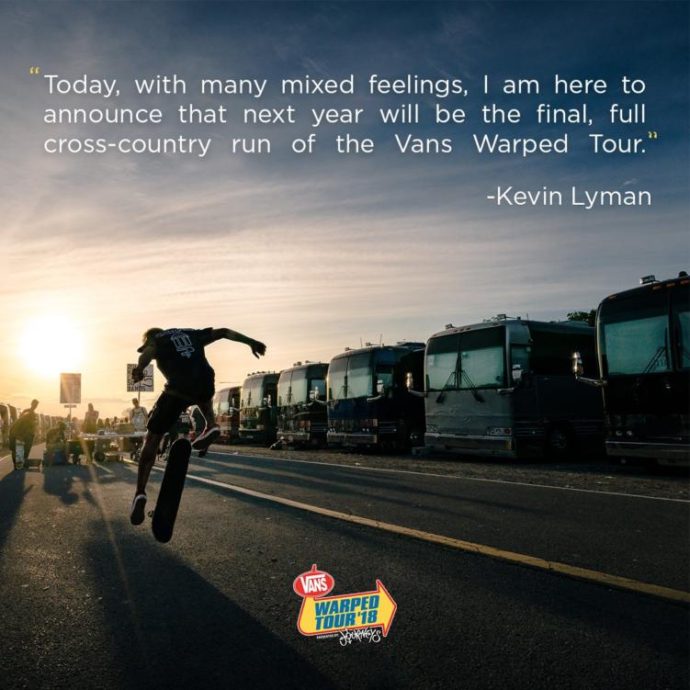 ---
Featured image via Warped Tour Facebook.