On Memorial Day 2017, the young, Michigan festival revealed its lineup of performers for August 18-20. After its 2016 debut, UpNorth Music & Arts Festival has really left its mark as one of the most unique festivals on the market. In fact, Huffington Post dubbed UpNorth as one of the best "Under-the-Radar Music Festivals in North America," last year.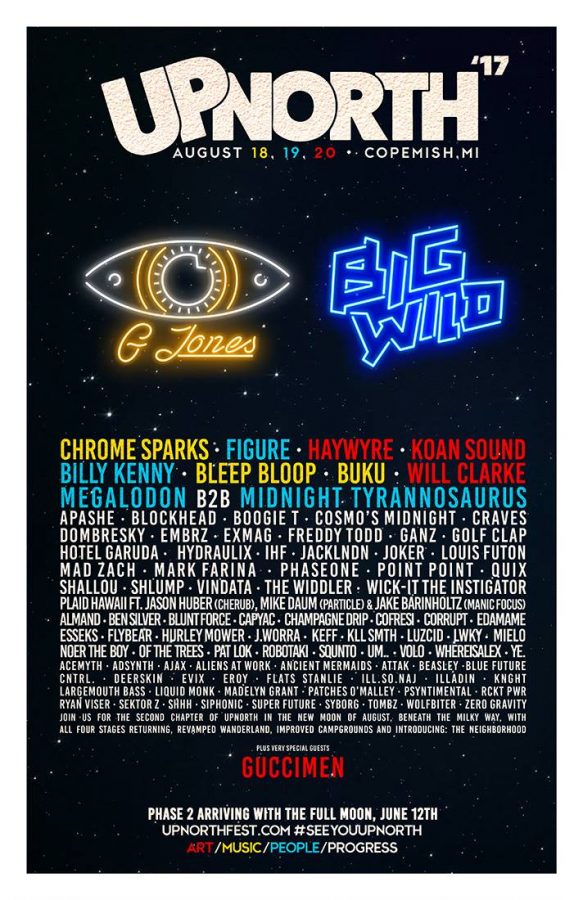 UpNorth's sophomore lineup certainly did not disappoint.
Headliners will include heavy-hitters G Jones and Big Wild. Quickly followed by Chrome Sparks, Figure, Haywire, and Koan Sound. Honestly, this lineup only gets better as you work your way down.
Bleep Bloop, Billy Kenny, Buku, and Will Clarke already embody the eclectic sounds fan can expect to hear in Copemish this year. Then, festival organizers book the guaranteed FILTH of Megalodon b2b Midnight Tyrannosaurus–this set, alone, is reason to attend UpNorth. Everything else is just icing on the cake.
Insanely talented and filthy icing, that is…Boogie T., Golf Clap, and Hotel Garuda will also be performing. Attendees can also expect killer sets from Joker, Louis Futon, Point Point, The Widdler, & so many more!
Right when you think its over, the small font reveals even more insane talent on the lineup.
Plaid Hawaii is such a special booking, as it features Jason Huber of Cherub, Mike Daum of Particle, and Jake Barinholtz of Manic Focus. Insanity!
Also on the lineup are up-and-coming stars like Champagne Drip, J. Worra, Robotaki, and so many more acts on this Phase 1 lineup.
If this is only the beginning, I can't even imagine what Phase 2 has in store for us!
Fans of UpNorth should be stoked to return to the rural and beautiful Copemish, Michigan this August.
With 3-day GA passes priced at as little as $125 + fees, UpNorth is one of the most affordable festivals on the circuit. Tickets are available for purchase online here.
Remember that this is just Phase 1!
For more info and the full lineup announcement, be sure to stay tuned on UpNorth's official Facebook page here.
We hope to see some familiar faces on the journey to Michigan this August!
---