Tourist has just unveiled his latest single, 'EST,' marking the third release of 2024 on his own label, Monday Records. Simultaneously, Tourist is thrilled to announce an extensive headline tour spanning the US, UK, and EU in 2024, with a noteworthy co-headlining stint alongside Amtrac during the US leg.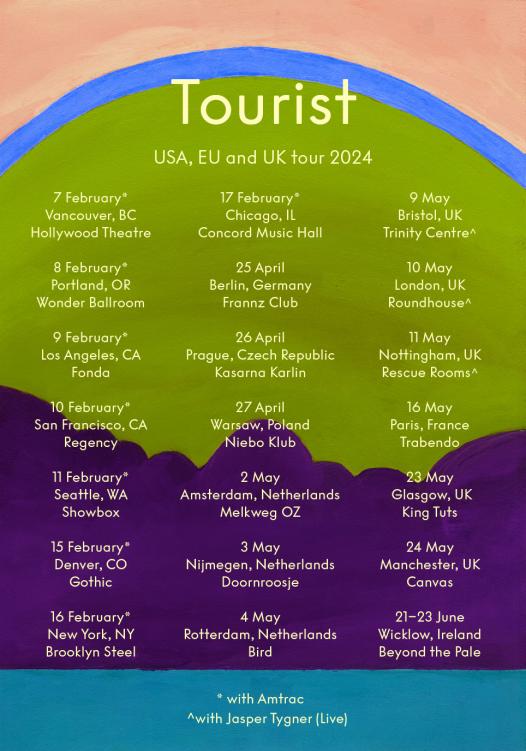 Pushing the boundaries of atmospheric house, 'EST' joins the ranks of Tourist's recent tracks, 'A Little Bit Further' and 'Second Nature.' Recognized for his unmatched ability to blend ethereal soundscapes with down-tempo electronic beats.
Reflecting on 'EST', he shares…
"This is my attempt to write something that feels beautiful but also confrontational at the same time. I wanted the new album to be enjoyably disorientating, and 'EST' truly encapsulates that intention." – Tourist
Following the immense success of his previous album, 'Inside Out,' which garnered widespread acclaim from global music media outlets such as Clash, Bandcamp, This Song Is Sick, Stoney Roads, and more, the UK-based producer embarked on a world tour, captivating audiences with his live performances. Crafted during the challenging times of the pandemic, 'Inside Out' encapsulates Tourist's journey through the death of a close friend and the birth of his daughter, resulting in a tender, uplifting album characterized by swinging garage grooves, robust basslines, and French filter house melodies.
chat
Entering his eleventh year as Tourist, the artist remains prolific, contributing remixes for acclaimed acts such as Flume, Christine and The Queens, Wolf Alice, Deftones, CHVRCHES, Sophia Koutesis, Swedish House Mafia, and The Weeknd. With a Grammy under his belt, co-writing credits for 'Stay With Me' by Sam Smith, sold-out performances, and festival appearances, Tourist exhibits an unwavering trajectory of growth. In an era witnessing the evolution of electronic music, Tourist stands out as a visionary artist, navigating the electronic landscape with innovative soundscapes and soulful melodies that resonate with fans and critics alike.