Exciting news for Totally Enormous Extinct Dinosaurs fans. The Grammy-nominated artist announced his first album in a decade, as well as his first original release of 2022, "Blood in the Snow." The album titled When the Lights Go will be released later this year on his own label imprint Nice Age.
"Blood in the Snow" is Totally Enormous Extinct Dinosaurs first original release of the year, and is a melodically instrumental tune showcasing double bass and keyboards, plus T.E.E.D's own vocals and lyricism. Paying close attention to the lyrics, this release is a look inside a "deeply personal journey across a ten year period in time."
"This song is about melting glaciers and wanting a daughter, where to put love in this tailspin." – Totally Enormous Extinct Dinosaurs
When the Lights Go is a substantial body of work, containing 17 tracks, recorded in T.E.E.D's studio in Los Angeles. This will be his first album since 2012's critically acclaimed Trouble. When the Lights Go also marks a shift into the pop domain, his vocals take center stage with arrangements that complement the sadness in the songwriting.
Catch Totally Enormous Extinct Dinosaurs on tour now. The 22 date tour will include iconic venues such as Chicago's Spybar and DC's Flash, plus additional stops include Red Rocks Amphitheater, the DoLab Stage at Coachella, and more.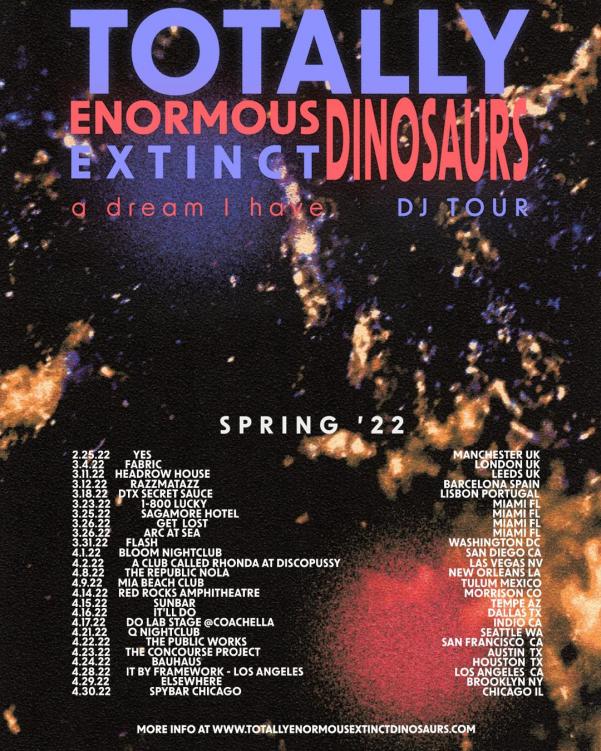 4/14/2022 – Red Rocks Amphitheater, Morrison, Colorado
4/15/2022 – Sunbar. Tempe, AZ
4/16/2022 – It'll Do. Dallas, TX
4/17/2022 – DoLab Stage @ Coachella. Indio,
4/21/2022 – Q Nightclub. Seattle, WA
4/22/2022 – The Public Works. San Francisco, CA
4/23/2022 – The Concourse Project. Austin, TX
4/24/2022 – Bauhaus. Houston, TX
4/28/2022 – It by Framework. Los Angeles, CA
4/29/2022 – Elsewhere. Brooklyn, New York USA