Central Texas will host a celestial celebration of epic proportions as award-winning global promoter Disco Donnie Presents (DDP) and experiential event company Probably Nothing unveil the inaugural Texas Eclipse Festival. From April 5 to 9, an anticipated crowd of over 50,000 attendees, comprised of festival aficionados and eclipse enthusiasts from across the globe, will descend upon Reveille Peak Ranch for five days of artistic expression, consciousness exploration, and cosmic curiosity.
The First Contact: Musical Lineup
The festival's first wave of artists brings excitement to music lovers of all genres. With six distinct stages, Texas Eclipse Festival promises a musical odyssey like no other. Among the standout acts, jam band STS9, known for forging universal connections through transcendent performances, will take the stage. Trance-fusion pioneers Disco Biscuits will bring their futuristic sound, blending emerging tech with otherworldly beats. The funkadelic vibes of R&B soul maestros Vulfpeck and the funk-tronic sounds of Big Gigantic, champions of the "Better Future" ethos, will keep the groove alive.
Exploring the world music and bass realm, CloZee will conjure her spiritual sound, while Grammy-nominated artist Tycho will merge ambient electronic music with mesmerizing visuals. Auditory genius Tipper will deliver a glitchy, trip-hop experience, and Billboard-charting artist Subtronics will offer a mind-bending psychedelic DJ set. House and techno enthusiasts can look forward to Desert Hearts and femme house icon LP Giobbi, as well as bass and cutting-edge sounds from Zeds Dead, Boogie T, and Barclay Crenshaw.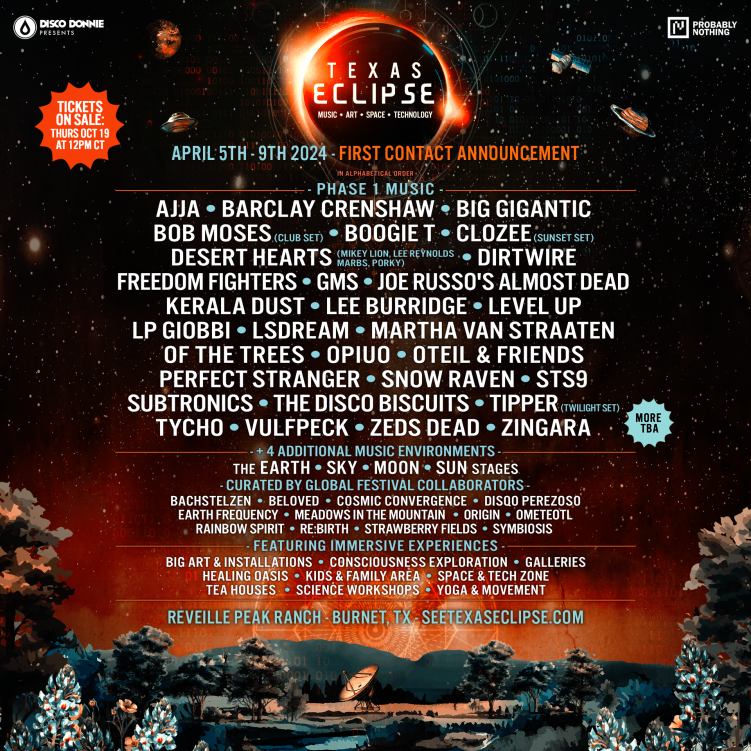 Immersive Experiences
At Texas Eclipse Festival, attendees can expect a multifaceted experience that goes far beyond the music. The festival offers a diverse range of immersive encounters that awaken consciousness and delve into the frontiers of science, wellness, sustainability, and Indigenous wisdom. From the Family & Kids Education Area, where young explorers and their families can interact with astrophysicists and AI scientists, to the enlightening Science Workshops led by thought leaders from across the globe, this event provides a unique platform for intellectual exploration.
Sustainability Sessions explore regenerative agriculture, circular economies, renewable energy, and even the potential role of mushrooms in saving the world. The Indigenous Elders Space offers a nurturing environment for learning and reconciliation, guided by Indigenous leaders from collaborating countries, providing profound insights into the significance of eclipses in Indigenous cultures.
Attendees are also encouraged to nurture their bodies and minds through a diverse range of yoga and movement practices led by top instructors and find holistic rejuvenation in the Consciousness Zone and Healing Oasis. These immersive experiences promise to transform the festival into a journey of growth, insight, and personal development, enriching the overall Texas Eclipse experience.
A Celestial Venue
Reveille Peak Ranch, situated within a short drive of San Antonio and Austin, will host the Texas Eclipse Festival. This 1,300+ acre venue in the heart of the Texas Hill Country provides wooded forests for camping, 60 miles of trails to explore, and hilltops for elevated viewing. As the 2024 total solar eclipse approaches, attendees will enjoy over 4 minutes and 20 seconds of totality, making this a rare celestial spectacle.
The festival will transform the raw land into a thriving Global Eclipse Village, where captivating art installations, mesmerizing music performances, space exploration, cutting-edge technology, and the wonders of nature converge to create a unique and inspiring experience.
As the countdown to April 5, 2024, begins, the Texas Eclipse Festival promises to be an extraordinary and unforgettable celebration of music, art, and technology, uniting people from around the world to honor the awe-inspiring total solar eclipse.
---