The 6th Annual Pass The Good Benefit boasts a 2017 lineup filled with a wide-range of musical artists across genres. Around 100 names listed, this year's roster can seem overwhelming at first glance–especially if you don't recognize a lot of the names. This, however, is part of the charm of smaller festivals, like Pass The Good. At these smaller festivals, attendees have a unique opportunity to completely step away from the mainstream and jump headfirst into a world of brand new music.
To help familiarize you with the lineup, we have compiled a list of ten acts that we recommend at Pass The Good. Check 'em out here…
---
Better known on the music scene as Moglee, Tyler Hogue was inspired to begin producing music by listening to metal music. He has spent the past three years studying production, paying his dues in the industry, and establishing some professional stability as a musician. Now, Hogue spends most of his time developing new material as Moglee, and co-managing The Bear Necessitiez Collective with a handful of artists. Based in Birmingham, AL, Hogue puts out "big bass tunes" that garner instant popularity but freshens it up with his own low frequency, deep and heavy dubstep. He gets wonky.
---
Involved in the music scene since age 13, The Galactic Effect didn't actually focus on producing music until age 16. Clearly a seasoned veteran, TGE has grown to prefer crafting a complete, cohesive album during an era driven by radio singles. The music is heavily inspired by space mysteries and science fiction. And, the influence is obvious when listening–and, that's meant in the best way possible. The Galactic Effect's music has a certain cinematic quality to them that has the potential to transport the listener to another world entirely.
---
Only 21 years old, Cosmic Anarchy has already amassed a wealth of experience throughout his journey in music. Already a classically trained violinist, cellist, and singer, this young talent began making his own hip-hop beats, rapping and producing. Almost ten years later, Cosmic Anarchy is working to cultivate a unique sound within the dubstep world, with success. The lower, somewhat darker tones that are shown throughout his music are unique and filled with tasty vibes.
---
Playing around with beats for years, Chark finally decided to get serious about the music. As the hurdles of music production arose, Chark quickly learned that sharing his musical creations would ultimately be the hardest part for him. But, his fans are certainly glad this hurdle was conquered.
In creating his experimental sound, Chark drew inspiration from older doom metal music, like Electric Wizard, Sleep, and Black Sabbath, just to name a few. The live performance aspect of his music is a constant consideration with this artist. So, his performance at Pass The Good is not one to be missed.
---
Ludge is another artist introduced to music at a very young age. Transitioning from just a drum kit at age 6, to finally getting a computer at  12–this musician's maturation has just continued to skyrocket ever since. The amount of work that he has put into his sound is clear, with futuristic wobbly combinations and alluring build ups. He's also not afraid to take things back to his old school dub roots. From his Outdated EP in 2015, to his most recent release, 28 Grams Later, this artist is continually exploring the growing electronic soundscape.
---
Time to take it down a couple notches. Afro Monk has made it his personal mission to bring some romance back to the dance floor through chilled out, future beats. He is quite the jack-of-all-trades as well, as a beat producer, DJ, music journalist and events promoter. He's become a huge part of what is proving to be a rapidly growing community in Miami. His blog, also titled Afro Monk, has become a great source for new sounds and commentary on them as well.
---
Hailing from sunny Miami, Trill Bill is one that has that happy go lucky sound brightening things up in a lot of their music. This happy sound is quite the juxtapose to some of the darker leaning artists on the roster. Trill Bill has remixed quite a number of hits in their short time, with great response; their first post on SoundCloud was just about a year ago and they've grown quite a bit since then.
---
As he makes a name for himself in the Southeast, Devann Bencon–better known as D3V–is also making some great music. Inspired heavily by melodic bass music, he is also one of the resident artists at The Ritz Ybor in Tampa Bay, FL. He has supported great artists such as Flux Pavilion, Blunts and Blondes, Trampa, &  many more.
---
Nocturnal Status is actually a duo, up-and-coming out of Miami. Comprised of Rohan Bhatia-Newman and Benjamin Rickette–both originally from Maryland–the darker influence that is present in their music is largely what influenced the name. They have played at Pass The Good in the past, as well as Great North and Zen Awakening. They have also recently released tunes with WUMP Collective and Aspire Higher, respectively.
---
Rohan Prakish, Alex Etheridge, and Thomas Garret make up this Atlanta-based trio. Together, they have created a mighty groovy set of sounds. A great addition to the jamtronica sphere, Space Kadet's sound caters to a wide variety of music lovers with their eclectic range of sounds. From downtempo dubs, funk, electro jazz and more, they'll get you dancing one way or another.
---
Pass The Good is only six years old and still growing, but they have brought some amazing talent to the table with this year's lineup.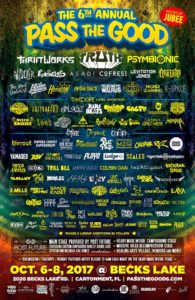 The festival at Beck's Lake will also feature workshops, art installations and more! Scoop tickets and get more information at the festival's official website here.
---