Canadian DJ/producer Rezz has amassed a cult following. Literally, her international fanbase's Facebook group is affectionately named "The Cult of Rezz." This past weekend, she closed the final night of her Spiral Tour to a sold-out audience at the Portland Expo Center.
It's been a three-month stint of sold-out performances across the country for Isabelle Rezazadeh (better known as Rezz, or the affectionate "Space Mom" by her fans.) She's been quoted saying her Spiral Tour would feature the biggest production she's ever had. The tour was a victorious parade of some of the producer's best hits. From the now-viral social media hit "Edge" to fan favorites like "Relax," she wasn't lying when she said this tour would be "the most Rezz thing you've ever seen."
Over the last seven years, her spell-binding brand has blossomed from moody, basement techno into a full-blown, hypnotic, alternate reality. Beyond the music, the Spiral Tour showed Rezz bravely stepping forward in both creative and personal ways.
The Spiral Tour
In support of her newest LP Spiral, her North American tour was the perfect articulation of Rezz's music and brand. DJ Mag quoted her saying this new album "…reflects an evolved version of my music with new sounds, more vocals, and more collaborations while still maintaining the origin that captivated my audience." 
Captivating is a great way to describe the Spiral Tour. Her set opened with the massive Deathpact collab "Chemical Bond." While her signature LED glasses illuminated the darkness, the enticingly heavy bass track rumbled through the room. Standing center stage, she's encircled by rotating spotlights, the center of a vortex. It's alien and other-worldly. It's totally Rezz.
The evening continued to showcase Rezz's recent artistic evolution. Remixes of The Weeknd's "Blinding Lights," her set staple "Killing in the Name" and the soon-to-be-released "Sweet Dreams (Are Made of This)" all show the producer's blooming appreciation for more vocal-centric tracks.
The ominous, mid-tempo bass she's known and loved for is still there, but this new tour shows the award-winning artist stepping confidently forward with her music. Everything about this tour was dripping in Rezz's distinctive, dark-hued style. It was meticulous and grand, a deep plunge into the netherworld of her creation. 

From a production standpoint, The Spiral Tour is the most elaborate setup we've seen from the 27-year-old. During the statically-charged banger "H E X, " pentagrams and sigils swirled on-screen while dizzying strobes pierced the crowd and pumped-up fans thrashed on the rail. Layers of lasers blanketed the top of the crowd during the trance-inducing "Orbit" and "Hypnocurrency," her 2021 collab with deadmau5.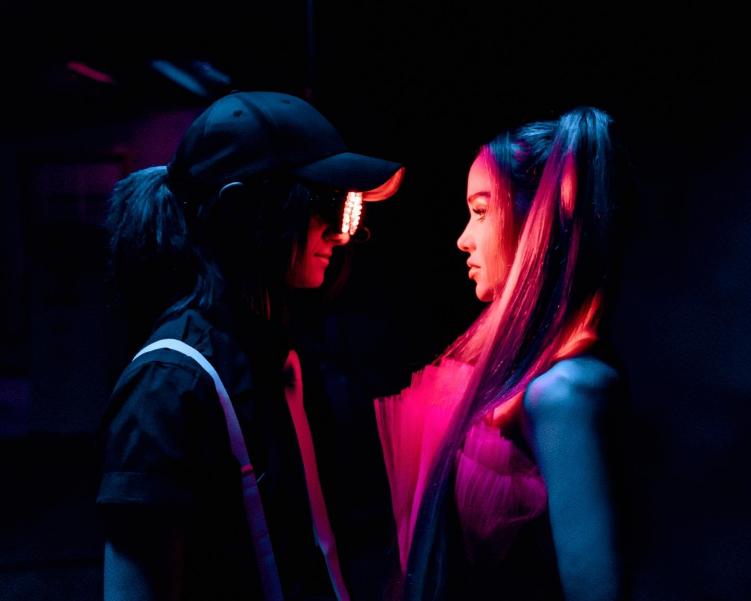 During the pop-tinged track "Taste Of You," track collaborator Dove Cameron sings the titillating lyrics "I starve without you on my lips // I die without the taste of it" on the back screen. The music video, which features Cameron and Rezz sharing an on-screen kiss, is a major moment. When the video was released last summer, it was the first time Rezz publicly acknowledged her being gay to her fans. 

"Taste Of You" is just one example of Rezz's new mantra of celebration & authenticity. On stage, she doesn't say much. Just as she's always done, she lets her music do most of the talking. Recently, however, she's begun to step forward and claim her power.
Rezz's Personal Evolution through Spiral

For Rezazadeh, this Spiral era is one of both creative evolution and self-actualization. These days, we see an artist who's become unshakably confident and she sees no reason to keep it a secret.

For this tour, she's openly talked about the importance of setting boundaries and taking care of herself. With what may seem like a measly 17 tour dates, she's learning to prioritize her mental well-being at all costs.

"I'm a lot more clear about knowing I can't be around [certain] types of energy," she said to Billboard. "I can't do this many shows. I can't do this much work. I know the lines now."
From Space Mom to EDM Icon

On a personal note, this was the seventh Rezz performance I've seen for myself. The first was at a winter festival in 2015. With only a single EP to her name, she played a mid-afternoon set to an unsuspecting crowd in Chicago. I had no idea who she was, but I was instantly hooked. 
Since then, I've watched her crowds grow to the thousands. I've watched her rise on festival bills into headlining slots. I've heard her music bridge from grungy warehouses to TikTok trends and Macbook commercials. Maybe it's an ascent some fans will find unsettling, as she moves out of the fringes of EDM and into pop culture, but Rezz is in a place where she knows without a doubt who she is and what she wants. 

While she acknowledges the potential pinings for "the old Rezz," she now says confidently that she's no longer easily swayed by other people's opinions of her. And with new music teased for release later this month, her stance as a dance music icon is only growing.

The North American Spiral Tour featured Rezz at her absolute finest. With sold-out performances in some of the country's best venues, she's shown that her unique creative vision is one of power and independence.
---