SoundCloud, the popular audio streaming site whose content is mostly based on uploads from its 175 million users in over 180 countries, has recently received some rough news.
On July 7th, 2017, the company announced that they are laying off 173 employees and closing their San Francisco and London offices in hopes "to ensure our path to long-term, independent success," said the co-founder and CEO Alex Ljung.
The news was poorly timed considering that SoundCloud recently failed to close two potential acquisitions with Twitter and Spotify. Also, they had to arrange a $70 million credit line in March of this year to remain in operation as they worked to close a round of funding that was rumored to be in the region of $100 million.
Ultimately, the news could mean one of two things: either the funding failed to close and/or investors who are on the fence about it have given some cost-cutting restraints. One thing is for sure, there is no funding round being announced today which alludes to the fact that nothing has yet to close.
Co-founded by Ljung and Eric Wahlforss, SoundCloud has raised around $193 million. It's investors are currently Universal, Sony and Warner Music, who all joined to helpSoundCloudd in efforts to solve the pressing issue in regards to licensing for tracks uploaded to its platform.
At the time of the credit line, the company made a statement that it was expecting 2.5x year-on-year growth at the company:
"We are pleased to have secured a flexible $70 million credit line from Ares Capital, Kreos Capital and Davidson Technology that is ideally structured for a company with our strong credit rating and in our stage of growth," a spokesperson for the company said.
"This new funding will enable SoundCloud to strategically grow our technology and personnel resources to fuel our expected 2.5 times year-over-year growth in 2017, while building a financially sustainable platform on which our connected community of creators, listeners and curators can thrive for years to come."
In a blog post by Ljung, he stated that revenue has "more than doubled" (notably leaving out the 2.5x figure). Although that sounds like a lot, those revenues are not significant: in the company's last UK filings, a condition of operating in the UK, it noted that 2015 revenues were at €21.1 million, or $24 million, implying fiscal year 2016 revenues of about €50 million.
But at the same time, SoundCloud's losses have continued to grow: 2015's net loss was just over €51 million.
On top of funding and financial issues, questions are starting to be asked about the direction that the business is taking. SoundCloud has put a lot of effort into creating revenue-generating services that focus mainly on subscriptions tiers for premium content users; special tiers for content creators; and advertising. The company has never disclosed any numbers in regards to how many users it has acquired in these areas so it is very unclear as to how these approaches are working.
Although SoundCloud seems to be going through a regrouping stage, they should not be given up on just yet. The company has a very large user base and occupies a special place in the market as a platform for audio creators while the main focus at the moment seems to be video. SoundCloud just needs to figure out the secret formula for making money out of this still-popular format.
The full blog post from Alexander Ljung can be read below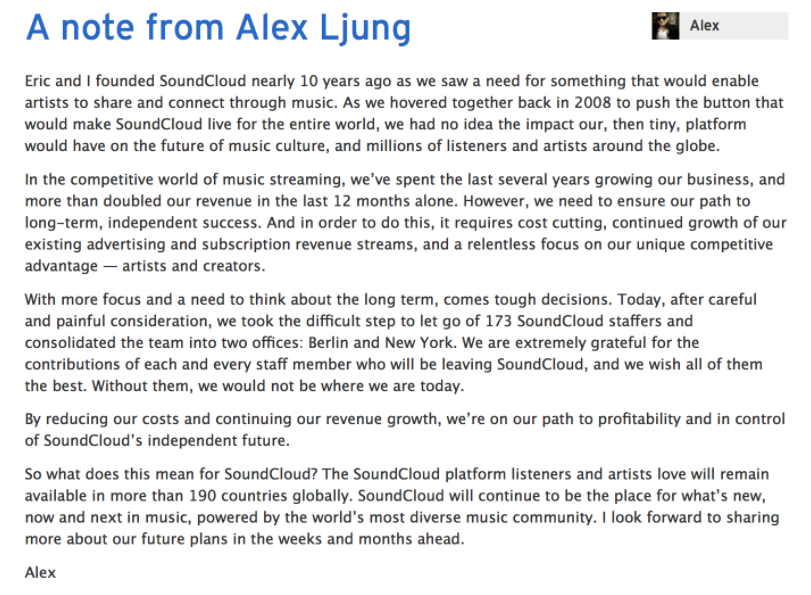 Featured Image: Alexander Ljung / Photography by Jefferson Graham
Sources:
– TechCrunch: SoundCloud, the 'YouTube for audio', cuts 173 jobs, closes San Francisco, London offices