Unfortunately, this isn't an April Fools joke. Over the years Shady Park in Tempe, Arizona made a name for itself locally and nationally as an oasis for the electronic community in the barren state.
As of yesterday, they face potential closure at no fault of their own. In 2020, Arizona State University built a retirement community, Mirabella at ASU, across the street from the storied venue and downtown area.
Because COVID-19 was still rampant, Shady Park was not operating at the opening of Mirabella. As restrictions relaxed and the venue found ways to open safely in May 2021, the complaints began to roll in.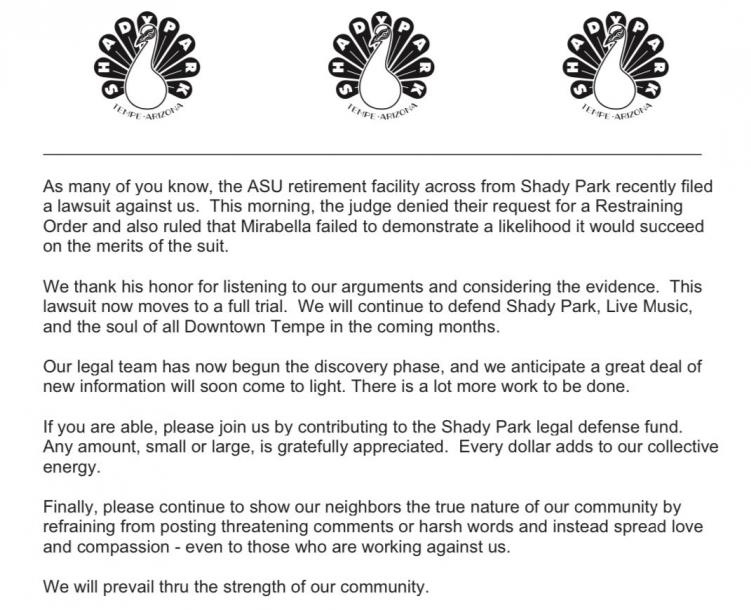 Struggles to Come
After months of legal battles, a judge has now ruled that the venue must not exceed 97 dB at the stage, and can only operate from the hours of 7-11 PM. Now, the historic location faces an impossible task that could result in its doors closing forever.
"With a heavy heart, we have surprising and devastating news to report: The Judge in our February trial against ASU retirement home has just ruled in their favor. This ruling will force Shady Park to cease all live music operations immediately, as the restrictions mandated make it impossible for us to hold live music events. We strongly disagree with the findings, and we will be appealing. "
Read the full statement below:
Please read. We love you Shady Fam 💚🦚 pic.twitter.com/5DPDJqgPW2

— Shady Park Tempe (@ShadyParkTempe) April 13, 2022
We have reached out to the team for further comment, to keep up to date on this developing story, follow Shady Park below.