in experimental bass music you often hear DJ's running themselves into well-worn wonky templates. Naturally then, it's relieving to hear producers with a sound very much their own.
sfam's Michael Pearson and Jacob Hoerner have found that unpredictable edge, paying a swampy low-end tribute to their New Orleans home on The Fam Bam EP. Visual artist Kooz illustrates the duo as crawfish in the cover art, and several of the collaborations on these songs feature some of Louisiana's finest.
Like Florida's Eazybaked, I can hear an sfam track these days without knowing it's them. Their dark, skittering production style is devious before psychedelic, frantic over space-age. That seething sound is knitted tightly with whoever their collaborating with.
"Out of My Face" with the swamp monster, Boogie T, sets the mood at a fierce sneer. You can hear Brock Thornton's vocals pitched up through the mean, rumbling rhythm. It's interesting to hear elements of both producers' styles woven so evenly. sfam's percussion and Boogie's trademark sassy voice samples are perfect together.
Colorado's DMVU is next up to bat, coming in on "Push Gas" with a furious, walloping strut that explodes on the backbeat. The song clears away the chaos towards the end with an airy, peaceful synth that's unsettling over the anxious drums.
"What it Is" with BOARCROK drips with the bottom-feeding menace that makes you unsure what to do with your hands, frankly. Some of the low-end phrases here are overwhelmingly queasy and impossibly thick, like falling into the bayou.
A personal favorite is "Wait for Em" with Bawldy, which delves even further into murky plumes of sub-bass and tight, tense percussion. The closing moments are nervous enough to make you glance over your shoulder.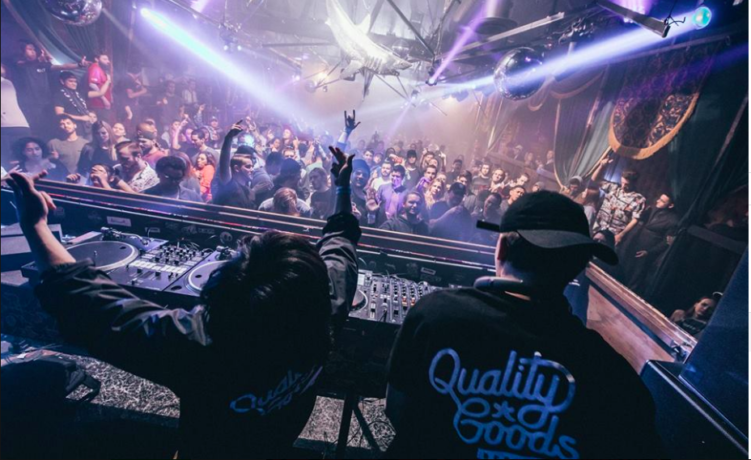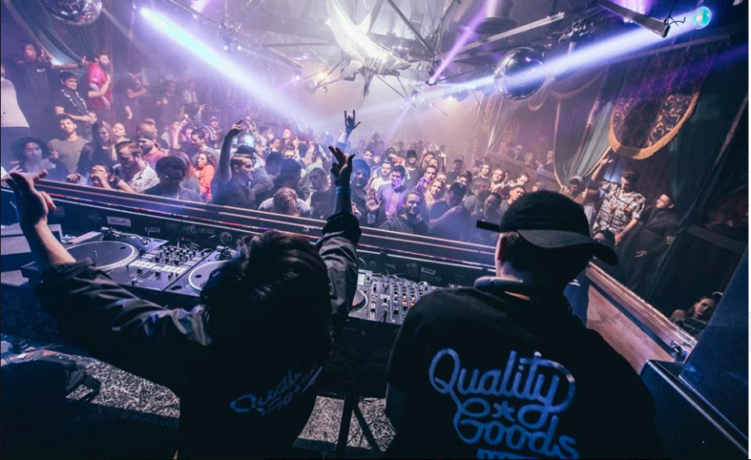 Lost Dogz' vide couldn't have been a better pick for the last collab "Roux." Coming from a label of sound design madmen, vide lends his rippling style on the closing track, titled after every proper gumbo cook's flavorful foundation. The banger is dark and bristling, stuck under a net of shady clicks and plunging basslines.
sfam is nothing if not unique, and hearing their sound evolve on this EP after an impressive output of songs the past few years has us starved for more. This fitting homage to New Orleans served up by the duo and their bass music accomplices is a resounding high point.
Listen to "The Fam Bam EP" below!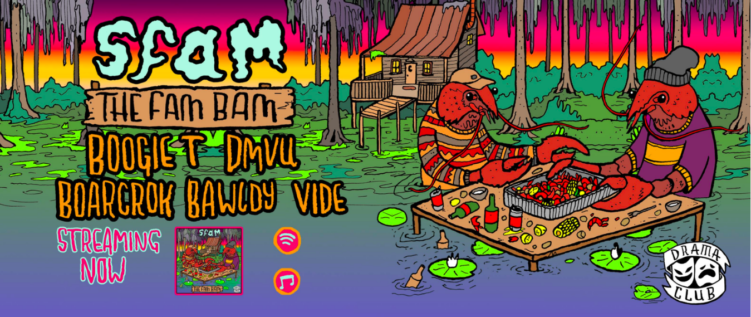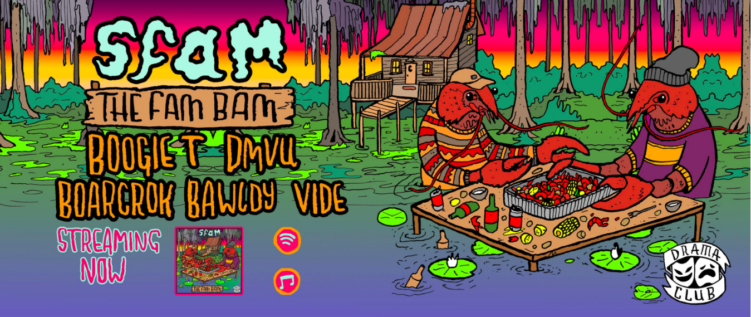 ---
Featured image by: Becca Wilbee