In an on-air interview today with Your EDM, Rusko, one of Dubstep's longest standing producers, announced that he is cancer-free. He nonchalantly posted that he would be doing an interview with the news outlet after months of silence on all of his social media accounts.
This interview was the first time he has posted on his Facebook page since May.

Host Mark begins the interview with asking beloved Chris Banton about his battle with cancer. Rusko begins by telling fans he first had issues eating, and eventually ended up in the emergency room after not being able to eat or drink for almost five days.

Once he ended up in the hospital, Chris assumed he had severe kidney stones or a serious stomach virus. However, he was eventually delivered the terrible news after a CAT scan. After slowly accepting and dealing with the news Rusko then had to figure a way back to the UK to properly treat his illness.
Here in the United States, he was unable to receive proper treatment because he didn't have health insurance. After focusing on getting himself healthy enough to go back to the UK, Rusko was optimistic, considering the fact that his lymphoma was one of the more curable and survivable types of cancer. Although he admitted to the experience to being obviously extremely scary, he stayed focus on the positive outcomes.

After going into details about his chemotherapy, Rusko wraps up the interview with mentioning that although the chemo was rough, he could feel it working. Saying that week by week he felt the illness leaving his body.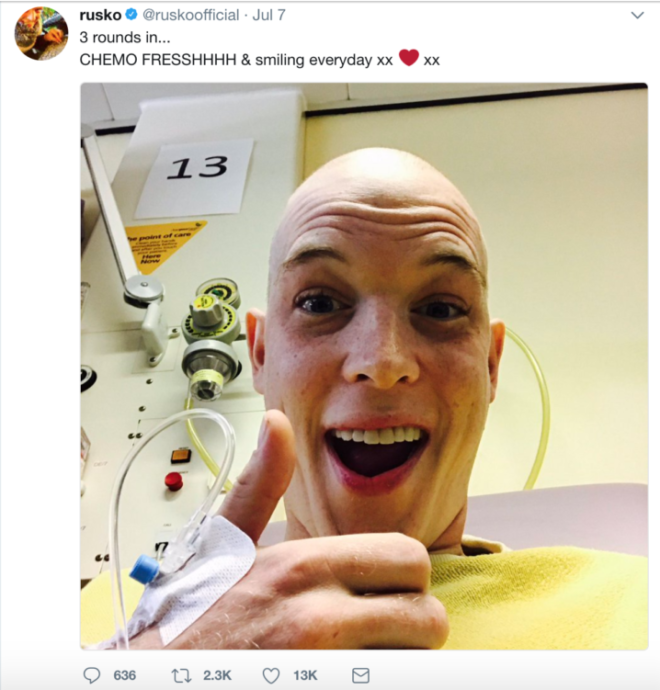 We are more than excited to know that one of dubstep's most beloved musicians is here to stay, and we can not wait to see what Rusko does on his comeback.

Watch the full video below: