RÜFÜS DU SOL is heading to the beautiful beaches in Tulum, Mexico next year: March 10 – 13, 2022 for Sundream Tulum. The indie-electronica trio continue to feel the momentum after the release of their latest album Surrender, and are keeping the excitement going with a thrilling announcement for those that love the beach, love Rufus, and want to get out of the United States! Joined by Bob Moses, Monolink, Adam Port, and more, Sundream is a four-day destination event that will take place on and around the grounds of Papaya Place Project in Tulum, MX.
Enjoy music Thursday, Friday, and Saturday, with recovery and wellness activities on Sunday. Event passes do not include accommodation, however, packages which include event passes and accommodation at Papaya Playa Project are available.
Your 4-day event pass includes access to the Thursday, Friday, Saturday music events in the main venues + the Sunday daytime wellness day. The Sunday activities will have limited capacity and spots will be offered on a first-come first-served basis. Transportation, food, and drinks are additional.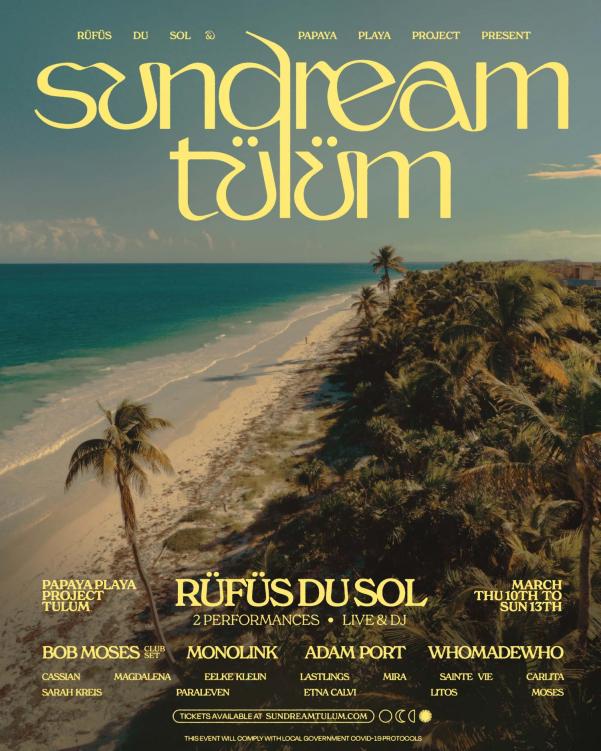 ABOUT PAPAYA PLAYA PROJECT
Dotted along the beach and nestled in the jungle, the simplicity of the rooms is what lends them their special charm. The project consists of 87 rooms and 800 meters of beach, in Tulum, Mexico. The resort's restaurant overlooks the azure waters, where diners can enjoy locally sourced specialties; along the beach, drinks and snacks are served from late morning until late evening at the resort's beach club. Cocooned by the jungle on a pristine stretch of the Caribbean coast lies a communal playground for the creative community. Being linked to the best DJs in the world, Papaya Playa makes music a key component of the experience.
Featured image via Derek Fallon.