Another day, another controversial tweet. Last night, Tariq Cherif, the co-founder of rap festival Rolling Loud, threw some shade at electronic music with a pretty awful tweet. Before reading this, let's keep in mind that Insomniac, one of the top company's in electronic music, owns Rolling Loud. 
Tariq, the co-founder, shared a quote tweet of photos with Tomorrowland, EDC, Lost Lands, and Electric Forest. The original tweet itself said "Regular people: Rolling Loud and Coachella are the best festivals in the world. Ravers: Hold my beer," with the corresponding images. He then said "Lol. They need all that production bcause the DJ's just push play and fake a "performance." Also, Rolling Loud is 5 years old. Find pictures of EDC, Tomorrowland, or Ultra in their 5th year and put those up against Rolling Loud. And then, hold my joint."
Rolling Loud began in Miami, Florida 5 years ago and it definitely has grown since then, now also in Los Angeles and New York, and claims to be "the largest hip-hop festival in the world." But, to try and compare the festival to an electronic festival is pretty ridiculous; after all, we all know who would win (hint: not Rolling Loud).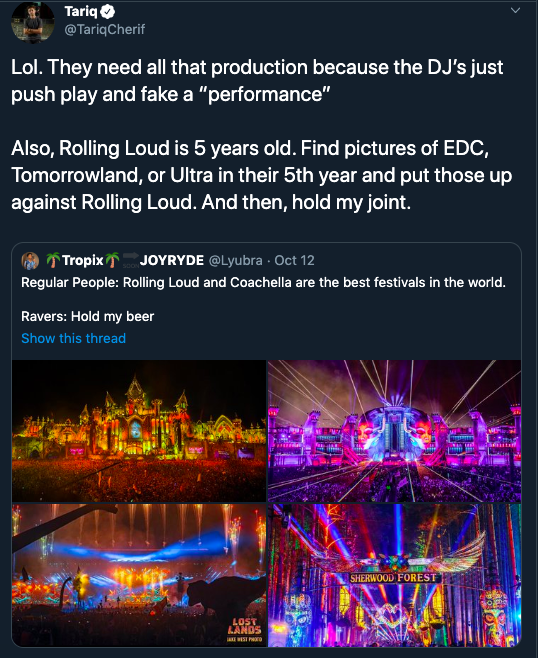 Let's just see what the people have to say….
I've never seen a more ignorant tweet in my fuckin life hold my acid tab https://t.co/G7dduJB1na

— ALISON WONDERLAND (@awonderland) October 15, 2019
lol he has no clue what he's talking about. But hey let's not mention the fact that rappers legit have their songs pre-recorded and playing during their shows so they can rap like 10% of the song and then just run around and scream in the mic. 🐸☕️

— Skurt Reynolds (@Scarppp1) October 15, 2019
Here's Tomorrowland and Electric Forest in their 5th year pic.twitter.com/kYapUz3qKd

— Spooky Ace🕸👻 (@Wub_Tang_Clan) October 15, 2019
But our lord and savior @PasqualeRotella owns your festival. The guy who throws those silly edm festivals with the dorky button pushing DJs bankrolls your party so maybe put some respect on the name 🤡🤡🤡

— idkanymore (@FilthLordB) October 15, 2019
i'm really upset about this. a lot of people who attend edm events also attend your event. not to belittle the event, but it's relevantly new. edm events like tomorrowland and edc have been happening for awhile so you can't compare production then when tech is more advanced now.

— JUNE¢🔜 ESCAPE🎪 (@rachhbye) October 14, 2019