River Beats TV is available for download on iOS, Android, Roku, Apple TV, Android TV, Amazon Fire & RiverBeatsTv.Com. You Can Download or visit HERE.
---
The platform launches with an extensive library of on-demand, archival content, including sets from Wreckno, Late Night Radio, Jantsen, Ravenscoon, Artifakts, Adam Deitch (drummer for Lettuce/Break Science), and Michal Menert. River Beats TV unveils its forthcoming streaming partnership with Colorado's Sonic Bloom Festival
"River Beats TV provides alternative avenues for extending the value of any artist's live experience, allowing both present and absent fans to witness the music in real-time, on demand. Our vision is to offer artists, creators, and live events a platform that expands their audience reach and grants them control over monetizing their creative content. With River Beats TV, we empower every fan by putting the power of on-demand live concerts in the palm of their hands." – Sean Schmidt & Ben Dills, Founders of River Beats TV
How River Beats TV Was Born
When the pandemic halted the concert industry in 2020, River Beats Digital Group launched multiple livestream fundraisers to support independent venues and musicians. Notable fundraisers included the three-day BAS3 CAMP, which raised money for Denver's historic Cervantes Masterpiece Ballroom and showcased performances by 35 artists from around the globe. Over the span of 10 months, River Beats hosted more than 400 hours of livestreams and raised $150,000 while paving a new path for digital events in the dance music space.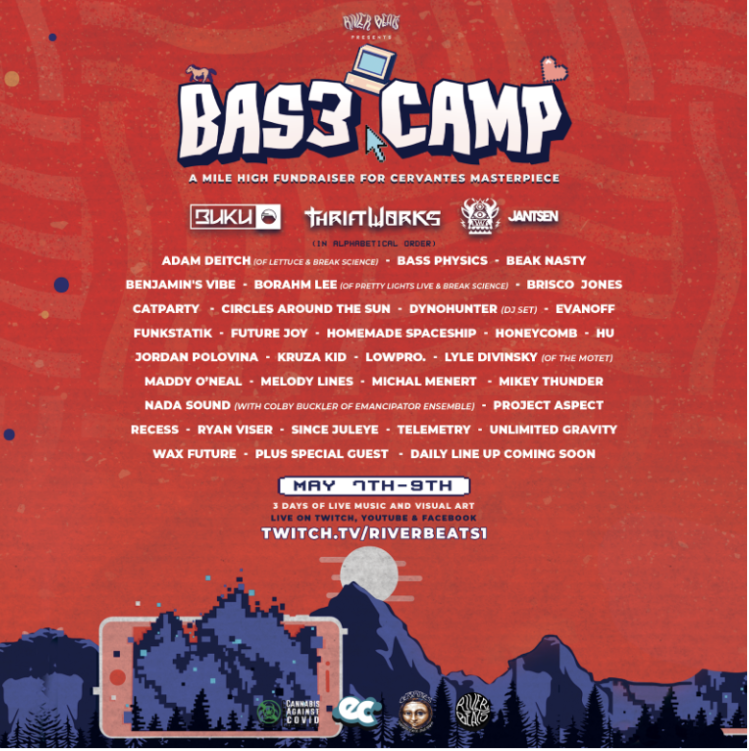 These streaming success stories sparked the idea for River Beats TV, which founders Ben Dills and Sean Schmidt are launching as the first electronic music-focused, direct-to-fan live-music distribution platform and mobile app.
How Much Does River Beats TV Cost?
River Beats TV provides electronic music fans with virtual access to concerts from anywhere in the world, offering a combination of livestreams and on-demand archival content. The platform offers subscriptions for $9.99 per month or $99 annually, as well as pay-per-view starting at $12.99, and rental and purchase options ranging from $5.99 to $9.99. River Beats TV transports viewers from their living rooms to the dance floor by using high-fidelity audio and video gear (including 4k & 6k cameras) to produce broadcast-level content.
River Beats To Stream All Sets From The DEEP Summer Series at X Denver
River Beats TV boasts an extensive streaming schedule, kicking off with Colorado's celebrated Sonic Bloom Festival, as well as River Beats' own rooftop pool party event series THE DEEP. Taking place at the X Denver and offering sprawling views of the city's landscape, THE DEEP will welcome headliners including Ardalan, Goldfish, Chet Porter, Marvel Years, VCTRE, and il:lo.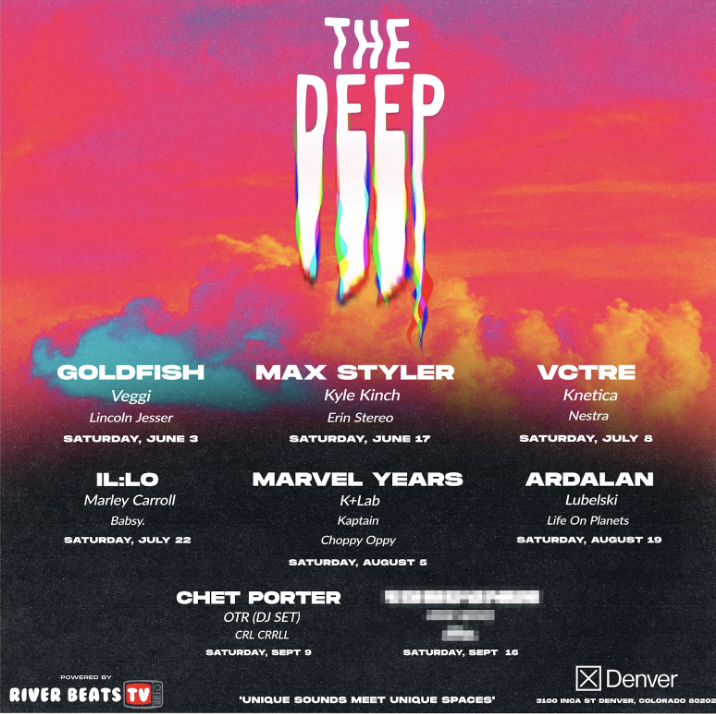 In addition to the upcoming wave of THE DEEP events, fans will also be able to watch archival sets from acts like Late Night Radio, Wreckno, Jantsen, Ravenscoon, Artifakts, Adam Deitch, Michal Menert, Motifv, DRRTYWULVZ, THE WIDDLER, BUKU, Freddy Todd, and more.
How River Beats TV Works With Creators
River Beats TV works alongside artists and brands alike to broadcast their content to a broader audience, with various options for monetization that provide additional revenue streams for performers and events. As opposed to other major on-demand video platforms like YouTube, River Beats TV doesn't run in-video programmatic ads, giving the platform the unique ability to avoid ad-related video takedowns.
A true champion of creatives and curators, River Beats TV offers a distinct approach to monetization for all parties involved. Instead of simply paying for total plays, River Beats TV offers a variety of payout options for content creators, including; a flat rate for its partners as a booking fee; providing a revenue share from the rentals or purchases made; or both a flat fee and revenue share. River Beats TV also offers bespoke packages to fit the needs of its artist and event partners.
River Beats TV is dedicated to providing cinema-quality concert content to electronic music fans around the globe. From fans who can't make it to a show, to attendees who yearn to relive the magic, River Beats TV is democratizing access to dance music experiences.
---
Fans can download the app on iOS, Android, Roku, Apple TV, Android TV, and Amazon Fire
here.
Learn more about the subscription options and upcoming calendar of events via
https://www.riverbeatstv.com/