The Periphery Tour is set to push the boundaries of electronic music performance across more than 35 cities. General Onsale: Friday, July 21st @ 10 AM Local Time. Grab tickets HERE. 
---
RAVENSCOON is thrilled to announce his debut headline tour, The Periphery Tour. With over 35 cities on the itinerary, this electrifying journey promises to redefine electronic music performance.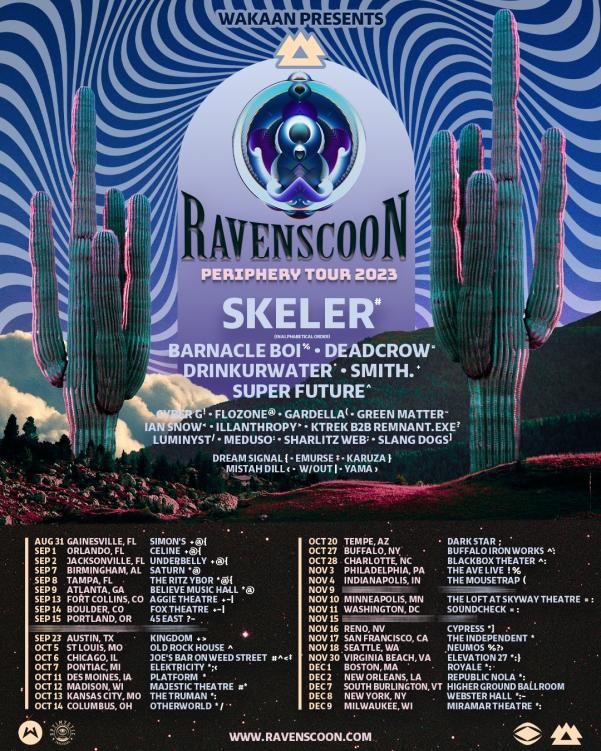 RAVENSCOON has meticulously curated a diverse lineup of supporting artists, including Skeler, Eazybaked, Deadcrow, and many more, guaranteeing a captivating and diverse musical experience.
The tour serves as a platform to introduce RAVENSCOON's forthcoming album, 'Periphery.' Unveiled in a cascading release strategy, the album unfolds through four interconnected EPs, each showcasing a different theme.
Audiences can expect unforgettable nights of immersive bass music at iconic venues like Webster Hall and The Fox Theater, as RAVENSCOON showcases his unique blend of pulsating rhythms and psychedelic melodies.
The Periphery Tour Schedule
AUG 31: Simon's, Gainesville, FL
SEP 1: Celine, Orlando, FL
SEP 2: Underbelly, Jacksonville, FL
SEP 7: Saturn, Birmingham, AL
SEP 8: The Ritz Ybor, Tampa, FL
SEP 9: Believe Music Hall, Atlanta, GA
SEP 13: Aggie Theatre, Fort Collins, CO
SEP 14: Fox Theatre, Boulder, CO
SEP 15: 45 East, Portland, OR
SEP 16: The Yost, Santa Ana, CA
SEP 23: Kingdom, Austin, TX
OCT 5: Old Rock House, St Louis, MO
OCT 6: Joe's Bar on Weed Street, Chicago, IL
OCT 7: Elektricity, Pontiac, MI
OCT 11: Platform, Des Moines, IA
OCT 12: Majestic Theatre, Madison, WI
OCT 13: The Truman, Kansas City, MO
OCT 14: Otherworld, Columbus, OH
OCT 20: Dark Star, Tempe, AZ
OCT 27: Buffalo Iron Works, Buffalo, NY
OCT 28: Blackbox Theater, Charlotte, NC
NOV 3: The Ave Live, Philadelphia, PA
NOV 4: The Mousetrap, Indianapolis, IN
NOV 9: The Loft at Skyway Theatre, Minneapolis, MN
NOV 10: Soundcheck, Washington, DC
NOV 15: Cypress, Reno, NV
NOV 16: The Independent, San Francisco, CA
NOV 17: Neumos, Seattle, WA
NOV 30: Elevation 27, Virginia Beach, VA
DEC 1: Royale, Boston, MA
DEC 2: Republic NOLA, New Orleans, LA
DEC 7: Higher Ground Ballroom, South Burlington, VT
DEC 8: Webster Hall, New York, NY
DEC 9: Miramar Theatre, Milwaukee, WI