Porter Robinson's U.S. Nurture tour kicked off last night at Cuthbert Amphitheater in Eugene, Oregon. The autumn sun had set early by the time the 29-year-old producer took the stage.
"I think Eugene, Oregon is one of the prettiest places I've ever seen," he baited the crowd. "I guess we can just cancel the tour now because I might have to move here."
High off the success of his flagship festival Second Sky Festival in the Bay area, the artist's latest U.S. Tour will span both the East and West coasts over two months.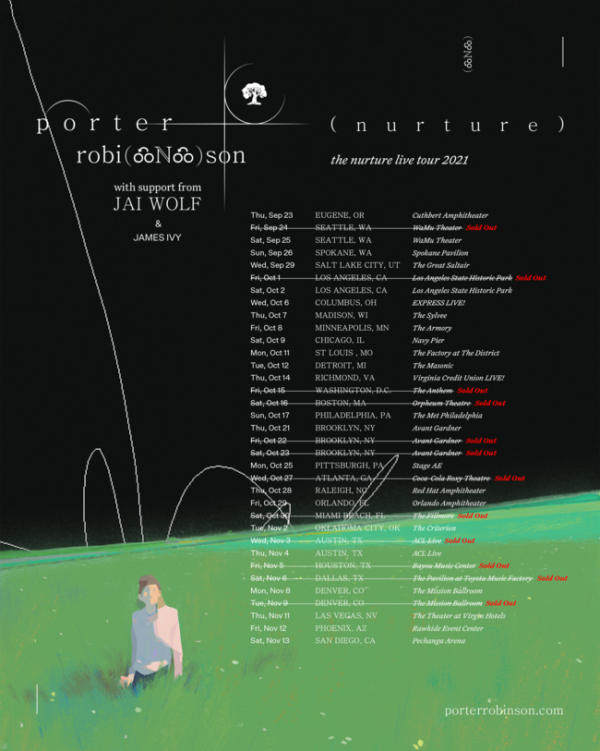 It's a triumphant return for the artist after the release of his widely acclaimed new album Nurture from earlier this year. Jai Wolf, Toro y Moi, WAVEDASH and James Ivy will perform at back-to-back Los Angeles shows, with Jai Wolf and James Ivy supporting throughout the tour.
Always a unique voice in the sea of electronic music, Porter's entrance to the Cuthbert Amphitheater wasn't like anything you'd expect from a headlining EDM artist. His iconic artwork ballooned onto the LED backscreen. The crowd roared as a rumbling bassline traveled through the crowd. It was the level of bass that travels up through your feet, settling somewhere in your chest before coming out with a cheer.
The bass crescendoed, and the stopped. Porter Robinson emerged subtly onto the stage. He took a brief wave to the crowd before sitting down at a grand piano. The backing music cut out, and all your could hear was his soft, virtuosic piano playing.
It's an intimate, vulnerable, and somehow cozy ambiance that the artist keeps throughout his entire set. He returns to the piano and his voice as his musical foundations, while the performance of his latest album paying homage to the struggles that pushed him to grow. It's a candy-colored blending of live instruments, digital synths, artificially pitched vocals, chopped samples, and a "vibey" ambiance.
Nurture is Porter's long-awaited second LP and his first in seven years. The album debuted at #2 on Spotify's Top U.S. Albums and #1 on Billboard's Current Electronic Albums. After the raging success of 2014's Worlds, the North Carolina-based producer has created a cult following with his iconic electro-house voice.
While this is his first album in nearly a decade, the artist has been hard at work creating imaginative experiences for his fans.
Porter's Livestream festival Secret Sky returned for a second installment in April, featuring sets from Porter, Baauer, Boys Noize, Kero Kero Bonito, No Rome, Rezz, and more. The Livestream was trending at #1 in the U.S. and #8 worldwide on Twitter. Not only that, but it took place on custom, digital, VR-optimized festival grounds Porter created. To pull it off, he partnered with Active Theory and used state-of-the-art Dreamwave technology. Secret Sky would also be the first time Porter performed music from Nurture.
Porter's Nurture tour is welcoming, giddy, and vulnerable. It begins the journey away from Porter, the obscure dubstep newbie, to Porter – the victorious pop artist.
---
Follow River Beats to stay up to date on your favorite artists and EVENTS.
featured images via Sacks and Co.