Editor's Note: Porter Robinson officially changed the name of his festival to Second Sky Festival.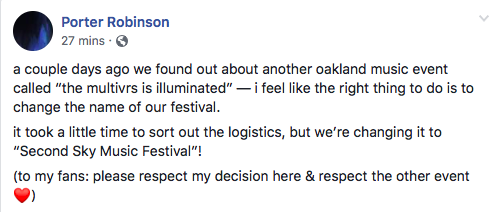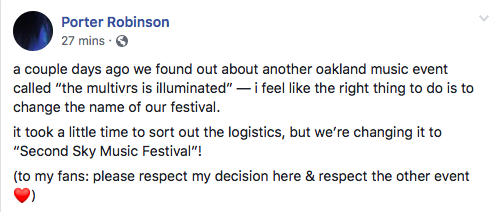 Porter Robinson has been at the hands of many Internet trolls since the announcement of his own curated festival: Multiverse. Those upset are involved with another festival in Oakland with a similar name: the Multivrs is Illuminated. Since then, hundreds of people have flocked to Instagram, Twitter, and Facebook to spew hate under all of Porter's photos and posts, and those that support him. Other artists on the lineup have also found themselves under fire from the Multivrs is Illuminated supporters.
Yesterday, the two owners of the Multivers is Illuminated took to Instagram to demand that Porter change the name of the festival, and "demanded" a money donation, public apology, and name change. They addressed the letter to Porter and Goldenvoice, the promoters helping him to make the festival happen.
Both festivals are located in Oakland, which does create an issue with two similar festival names. The two festivals, however, have different demographics and music genres.
Check out the letter from the Multivers is Illuminated below:
According to a representative of Porter's Multiverse Festival, they announced that they have been "made aware of the Multiverse is Illuminated" and are looking into changing the name of Porter's festival. KQED reported this announcement, but no official word from Porter Robinson and his team yet.
Stay tuned to see what Porter and Goldenvoice figure out.
Featured image via artist.