River Beats launches their Pay It Forward initiative in conjunction with Warped horizon to raise awareness and charitable contributions for Musicians without Borders. Enter below to win two GA weekend passes to Warped Horizon, the South's premier bass festival featuring G Jones, Mija and Paper Diamond, just to name a few.
Throughout November and December (from Thanksgiving to Christmas), we are giving fans a chance to win merchandise, festival tickets, and tickets to your favorite shows. Prizes will be donated to the Pay It Forward campaign by the event organizers; as well as various financial donations from fans and brands alike.
Warped Horizon is the collective gathering of some of the South's most passionate Bass Music event production specialists including Sweet Science Radio, C4 Productions, SOMA Entertainment, Pass the Good Festival, and Zen Awakening Festival.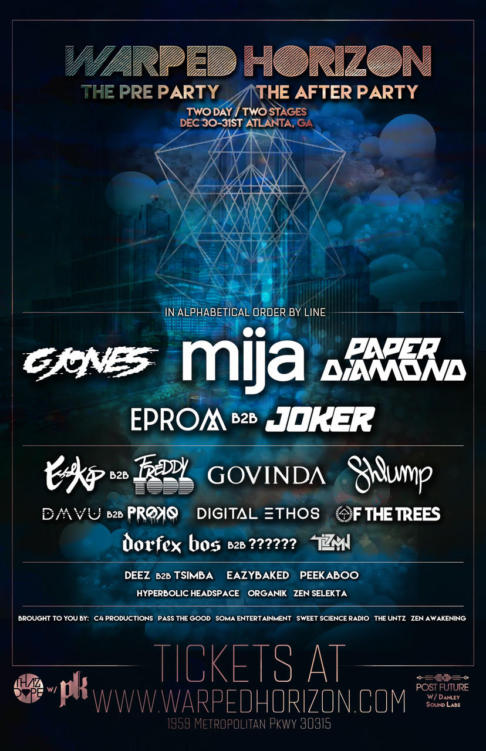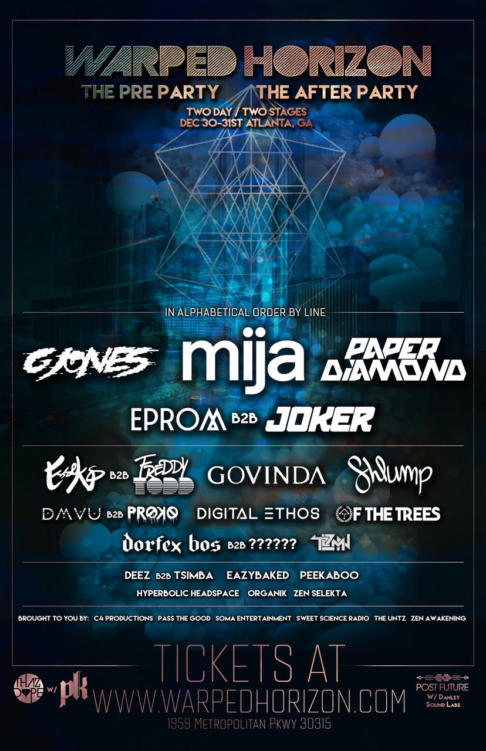 This event marks a two-day celebration at the end of the year and the beginning of new experiences. Warped Horizon is now entering its third year, and the team has come together to deliver the biggest event to date.
Warped Horizon 2017 will include a creatively curated line up featuring some of the biggest names in bass music, as well as an absolutely stacked undercard highlighting the essence of the underground scene.
Notorious for their manipulation of unconventional spaces, collusion with some of the most inspirational visual artists in the game, and over the top VIP merchandise provisions, the Warped Horizon team assures ticket holders that this year will absolutely up the anti from what can already be considered one of the region's
top-tier NYE pre and after parties. Get tickets here.
Winners must LIKE River Beats on Facebook to enter and win. The contest will run from November 30, 2017, to December 13, 2017. Winners will be chosen and notified by December 14th, 2017 via Facebook and/or e-mail.
Head to our Facebook page HERE and follow the directions to win 2 GA Weekend Passes to Warped Horizon in Atlanta, GA!
For even MORE entries please enter our widget below! And to benefit our cause, we would love to see a small donation to our GoFundMe below! Good luck!
Win 2 Tickets to Warped Horizon in ATL

Musicians Without Borders uses the power of music to bridge divides, connect communities, and heal the wounds of war. Their long-term commitment allows participants the time to develop skills and talents, process grief and loss, and build bridges of reconciliation in societies divided by recent or ongoing conflict. The professional trainers are specialized in running community music projects with people dealing with trauma, fear, and isolation as a result of war and conflict. You can learn more by visiting www.musicianswithoutborders.org.
Please donate to help our Pay It Forward initiative to Musicians without Borders! Remember every dollar counts!
In partnership with multiple event organizers, River Beats announces the launch of the Pay it Forward campaign to benefit nonprofit organization Musicians Without Borders. Pay It Forward is a charitable initiative in which River Beats will host giveaways for merchandise, concert tickets, and fes…