Get ready to add another enticing lineup to your summer festival bucket list. The San Fransisco super festival Outside Lands just announced its 2023 lineup, and it's star-studded. The event, set to take place from August 11 – 13 at Golden Gate Park, promises to be a spectacular showcase of some of the biggest names in the music industry.
Headlining the festival will be Kendrick Lamar, Foo Fighters, and Odesza, all renowned for their electrifying performances and high-energy crowds. Joining them will be a host of other talented artists, such as Zedd, Lana Del Rey, Megan Thee Stallion, the 1975, Janelle Monáe, Ethel Cain, Alvvays, Interpol, Father John Misty, Lil Yachty, Alex G, Soccer Mommy, Cuco, Yaya Bey, and even the legendary basketball player Shaquille O'Neal as DJ Diesel.
Sitting atop the lineup is dance music superstars Odesza and ZEDD. Odesza, the electronic music duo hailing from Seattle, has become one of the most beloved acts in the dance music scene. Their music is known for its dreamy, atmospheric soundscapes and use of live instrumentation. ZEDD, the German-Russian DJ and producer, is another exciting addition to the festival's lineup. Known for his chart-topping hits, including "Clarity" and "The Middle," ZEDD has become a staple in the dance music world. It's been a while since we've seen ZEDD on any lineups, so this is an exciting addition.
See the full Outside Lands 2023 lineup below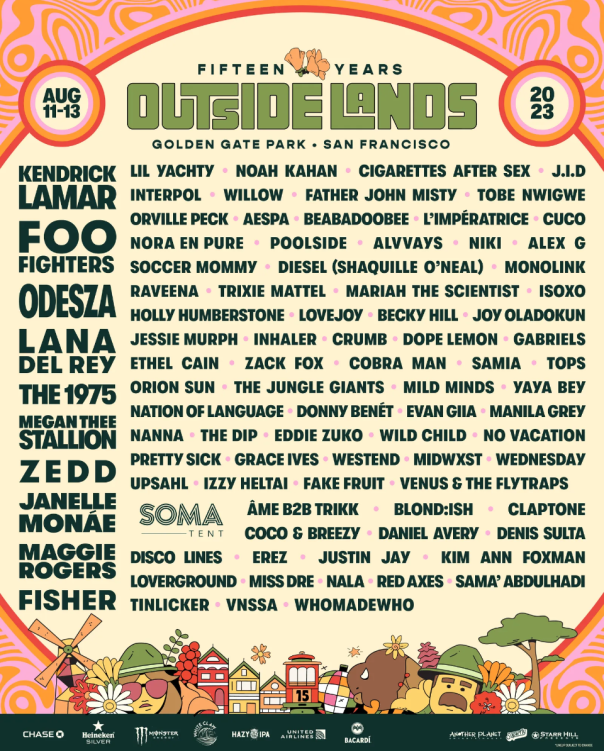 In addition to the incredible music lineup, the festival is also known for its art installations and eco-friendly initiatives. Overall, the announcement of the Outside Lands Festival 2023 has been met with enthusiasm and excitement. The festival promises to be a memorable event, bringing together music lovers from all over to enjoy a weekend of incredible performances, art, and community.