Well, hot damn and good morning. Okeechobee Music & Arts Festival has risen from the ashes and dropped a bomb on us all with their 2022 lineup, taking place March 3 – 6, 2022. Celebrating their 5 year anniversary, OMF has announced over 125 artists set to take over Sunshine Grove with four days of music, art, camping, yoga, food, wellness, and workshops. Tickets will be available for purchase starting this Thursday, 10/7, at 10am EST.
OMF has always been a well-balanced festival with diverse musical selections, and 2022 is no different. There's something for everyone including rock, jam, hip-hop, and plenty of electronic music favorites including Porter Robinson, GRiZ, REZZ, and more. And don't forget about the epic POWOW! superstar mashup, which in year's past has included mashups from Snoop Dogg and The Roots to Miguel and Win Butler from Arcade Fire.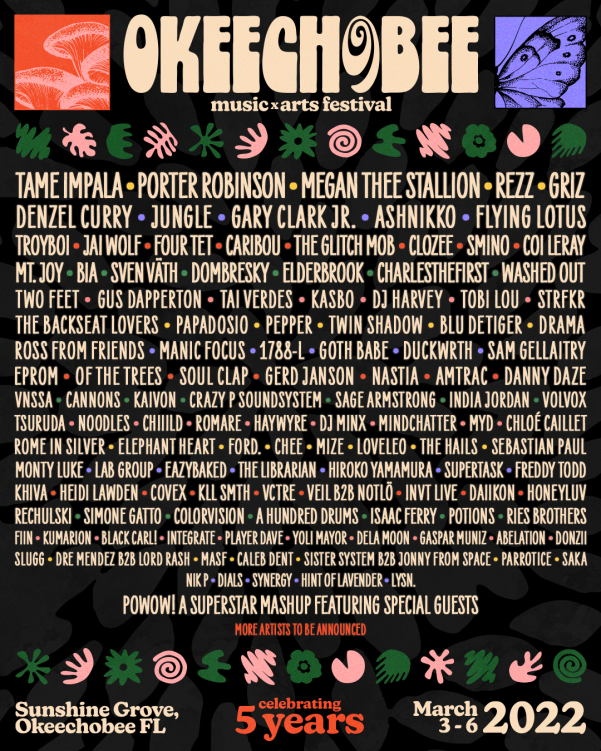 The festival's three main stages – Be, Here, and Now – will be set amongst the expansive tropical pine and palmetto forests and lush meadowlands that have become the signature backdrop of the festival. All day beachside music and swimming oasis Aquachobee will return, as will Sheik 'N' Beik's Jungle 51 dusk-till-dawn party, and the fiery late night performances of Incendia.
You don't want to miss one of the first festival's of the 2022 season. Set your alarms to get your tickets this Thursday!