One of our favorite festivals is back and with an amazing lineup to match! Okeechobee Music & Arts Festival debuted on the festival scene back in 2015 and saw 3 amazing years before forced to take a break. However, Insomniac came to the rescue and purchased Okeechobee from past owners Soundslinger to bring the festival back from the graveyard. Something that many people didn't believe would actually happen but boy, are we glad it did!
Okeechobee is a completely immersive experience that forces you to live in the moment, or rather "Be Here Now" per their stage names. Back in 2015, the inaugural year for the fest saw performances from Kendrick Lamar, Mac Miller, Skrillex, RL Grime, Mumford and Sons and other top names. 2016 followed a similar suit of combining a variety of genres ranging from folk, to rap, to electronic. No matter what you were there for, you could find something that you liked.
Following this trend of past years, Insomniac continued the love of musical diversity with a lineup that embraces all sorts of genres in music.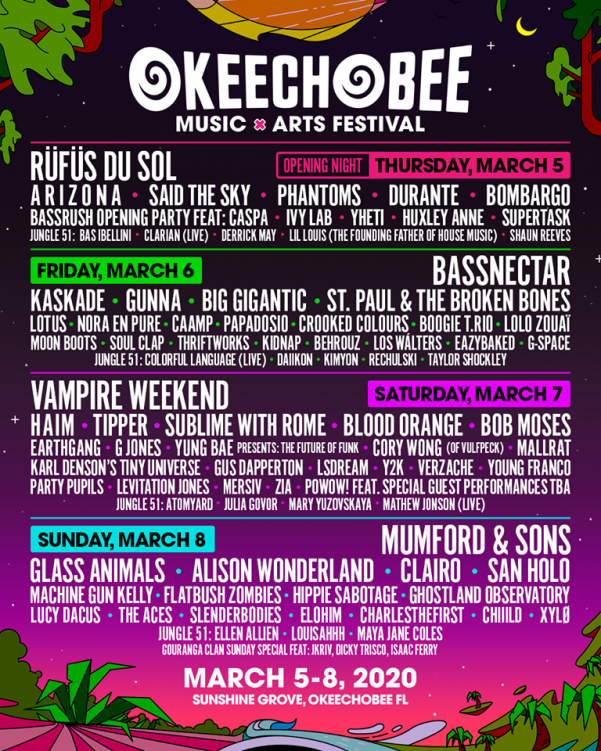 This year's lineup includes 4 nights of magic with headlining performances from Rufus du Sol, Bassnectar, Vampire Weekend, and Mumford & Sons. The undercard is equally as balanced with bands, DJ's, groups, and everything in between. There truly is something for everyone.
Featured image via festival.