If you live on the east coast, There's a good chance you have noticed a venue called the Envy'd Lounge pop up on your favorite artist's tour schedule. And if you've Googled it, you also know that it's impossible to locate. Good news – River Beats found it.
The exclusively inclusive venue belongs to blossoming Charlotte label NV'D Records. Known for their intimate house parties, the NV'D family is successfully creating something in the scene that is truly unique. Thrown by label owner Kory Sasnett in a fully renovated room in his North Carolina home, the monthly events at the 'Envy'd Lounge' and summer lake parties have been host to notable artists like Destructo, Doorly, Mija, and many others.
The growing label is also behind Shipfam Island, a private festival that happened in Croatia early last year. The exclusive event featured house music mainstays Claude VonStroke, Walker & Royce, Billy Kenny and more.
---
Watch the Official Recap Video for Shipfam Island:
---
Most recently, the NV'D crew hit the high seas to host their very own stage on Holy Ship 13.0. With an impressive set list that included Subset, VNSSA, and Hot Pot, and a surprise B2B from Steve Darko and Papa Claude, the label's "Spaced Out" takeover seemed like a killer party.
Following Holy Ship, River Beats chatted with imprint owner Kory Sasnett about the origins of NV'D Records, the exclusive Envy'd Lounge, Shipfam Island and more. Read the full interview below!
---
RB: Tell me about how NV'D began. (Where the idea came from, when it started, etc.)
Kory: "It really goes back to 2015 when I was browsing vacation rentals and randomly found a specialty Boy's Camp in the Appalachian mountains of North Carolina that slept 200 people and offered over 100 acres of beautiful land. I posted online and asked my friends if they'd go if I rented the camp for a private party in May 2016. Over 500 people immediately said yes to an idea that was just to get people together in a remote location, with no sponsors, no promoters, and no budget for a lineup – all thrown by people with relatively little event experience. People trusted that we, as a collective group of people, could make anything amazing.
Through networking, I was able to enlist, without agents or fees, the talents of Doorly, Bijou, Astronomar, Bones, Subset, Gina Turner, Mark Starr, Aylen, Eyes Everywhere, Gerry Gonza, KT Caustic, Lux Groove, and Walker & Royce!"
---
Watch the Camp Shipfam After Movie:
"After Camp, we realized that a private event with just your friends is by far more intimate than any experience with the public. That Fall, I decided to transform an empty area in my house into a private club – a safe place where we could attempt to harness the intimacy of that festival into a smaller, monthly truly unique experience. From there, the rest is history."
The lounge is a very unique experience. I'm sure it took tons of time to develop such a dope spot for the label's private shows. And you've brought some incredible and impressive names – Billy Kenny, Bijou, Sage Armstrong, and many others. Tell me a little bit about the story behind your exclusive venue.
"I started building the lounge in September of 2016, and I finished it at the beginning of December that year. We held the first-ever Envy'd Lounge show on December 12th, 2016 with Lux Groove, my close friend Marc Trokanowski who had joined us for Camp Shipfam earlier in the year. The lounge was a simple set-up back then, running rented cdj's, two par lights, and a home theater audio set-up. It has since grown into a full-blown rig that could contend with any club within 300 miles."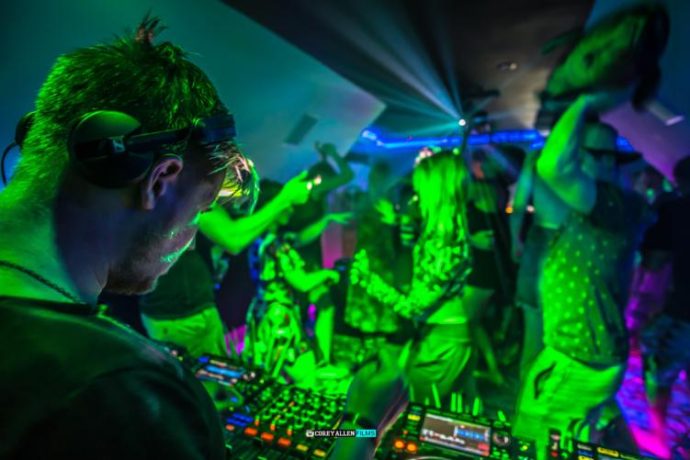 With having your own venue and picking your favorite artists to play, who would you say was your favorite booking and why?
"My favorite would have to be Destructo, mainly because if it wasn't for Gary, shipfam wouldn't even exist. His show was two parts: the first was a day party on a floating stage I built for our summer island lake parties, and the second at night in Envy'd Lounge. I doubt anything will top that weekend for me."
---
Watch the recap video from the Destructo weekend:
---
Even though the label is fairly new, you have already accomplished unreal feats (Shipfam Island Croatia, hosting big names at the lounge, etc.). Can you elaborate on how you reached those goals?
"Everyone involved with NV'D Records is equal and we all contribute our personal skill sets and extra time to seeing the label prosper. No one draws an income – the label is a pure passion project. So, many of our friends are producers and we just want to give them an outlet to be successful. Because of the way NV'D operates, we avoid the greed that surrounds the bigger labels in the industry and are able to pay artists high royalties – maybe even the highest in the industry."
Speaking of Shipfam Island…It's still unreal to me that you hosted some of house music's current biggest names at a festival you threw just for your friends. Can you tell me a little bit more about how that vision became a reality?
"I have to give credit where it is due, and in this situation, it is due to my close friend Martin Doorly. When he played at Envy'd Lounge in March of 2017, he had heard I had been looking for an island to rent. He knew of one in Croatia and gave me their contact info – I reached out, and we made a deal.
I used the same idea as Camp and pitched it to everyone, it got an amazing response from attendees and a ton of producers that wanted to join our cause. The more artists that joined, the more their fellow producers wanted to come as well. We got lucky with Claude, as he was playing in Europe already and he typically supports shipfam. I think he had fun."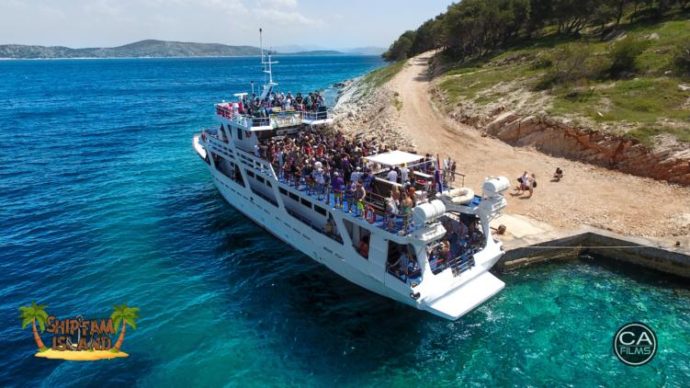 You also just hosted a stage on Holy Ship. Tell me about that experience.
"It was amazing – truly felt like we have come full circle! Crazy to think it all started on ship in 2012 as a wide eyed shipfam virgin, to 2019 actually working on the ship and having my own artists play for everyone."
I'm sure reaching these goals took hard work from the NV'D crew. Who is on your core team and what are their positions?
"My core team is Faren Strnad (Label Manager), Craig Jones (Co-Creator & Creative Designer) and Hilary duPont (Marketing). We manage most of the day to day projects between the four of us. When it comes to throwing big events like Camp Shipfam and Shipfam Island, the team grows to include volunteering key players (who are also paying attendees!).
I'd love to give credit to, as I couldn't have done it without them, a few others: Scott Perry-VJ (Lighting), Blake Belluschi & Carl DiClementi & Jeff Espinoza (Web Design/Spreadsheets/Coding), Mark Martinez (Artist Connections & Stage Management), Annie Rinsky & Corey Allen (Videography/Photography), and more than 20 others that help with anything I ask during the events."
What is your overall vision for the label?
"Stay focused on creating a way for events to be about the vibe more than the money. Push the envelope when it comes to new and interesting locations. As well as create a unique sound that gets us to stand out as an independent label."
What is one or two main goals you hope to reach within the label over the next couple of years?
"We are working on a major project for 2020 that is going to be the next step up from Shipfam Island. So far we've been successful at spacing our festivals out bi-yearly, and we're really excited for 2020."
Who is your dream booking?
"My favorite producer right now would be someone I booked for the island: Kyle Watson. He will get to the lounge soon enough."
Tell me what fans can look forward to in the near future from the label?
"We have some great music that's being released very soon. Look out over the next couple of months. Also, be on the lookout for our lake parties, which will be back starting in May!"
Are there any specific past releases that you'd like to Highlight?
"I am proud of Hot Pot, Warung, Two Tails, and Teknicoz – they were all great selections."
---
---
Is there a particular sound that NV'D is looking for when signing tracks?
"I am asked this pretty often, and it's hard for me to describe what I want in my releases. Usually, it's something that catches the attention of my A/R team and fits the vibe that I want NV'D to represent and then makes it to me to finalize. The real kicker, to be honest, is I like to get to know the artists I sign personally – it creates a stronger, more beneficial relationship that way."
Is there anything at all that you'd like to add?
"I suppose you could ask what a lot of people usually want to know – if all my events are private, how do people not in my group get to come? It's true that they're private, but the deal is really that a friend can bring you in.
"I just want to know you, and know that you'll understand the vibe that we are going for with everything we do. In fact, I've met a ton of people through my events – I trust my friends and always open spots to friends of friends – that's how we're continuing to build our amazing community."
---
Connect with NV'D Records:
Facebook | Soundcloud | Website
Featured image via NV'D.