Northern Nights Music Festival is unlike anything we've seen before. Let's relive the magical weekend under the redwoods together! 
Traveling North
We drove up through San Francisco, crossing a picturesque fog-filled Golden Gate Bridge. The drive up to Cooks Valley Campground quickly changes from a vast valley filled with that summer grass (um…yellow and dead) to vibrant green, giant redwood trees. Highway 101 turns into a winding forest drive that is an absolutely breathtaking experience. After an hour drive into the redwood forest, we arrived to our remote destination.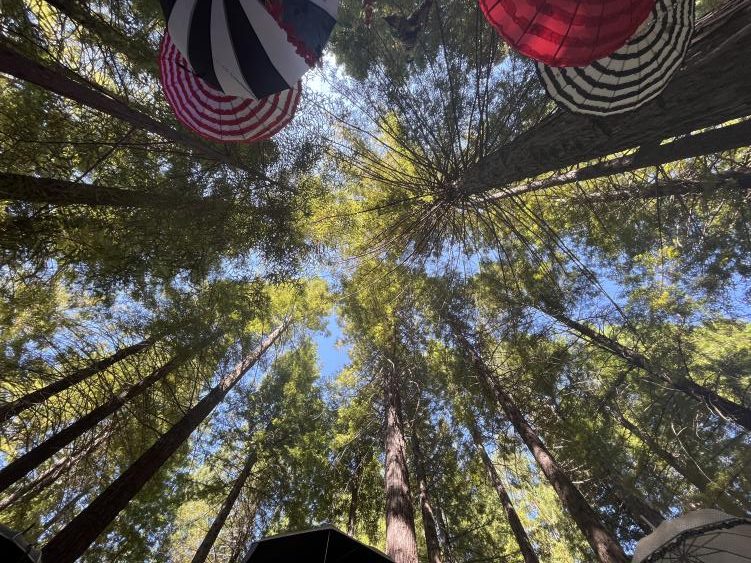 Arrival
Four rangers and four wooks welcomed us in and pointed us in the right direction, shouting "just down the yellow brick road." Immediately entering the campground is a trip, as you keep driving in a spiral formation, but there's friends to guide you the entire way. Eventually, we made our way to what was seemingly our camping security checkpoint. The security guard came up to our window and asked, "Did y'all bring and drugs or explosives?" Bewildered by this encounter, we said no. To our surprise, that was all that was required and we were sent on our way.
We were directed up to the persimmons grove camping site, which is just one of the many  options available. Each camping group has a team available to them for the entirety of the weekend (think camp counselors.) When we arrived, Queen Persimmons directed us to our designated site by zig-zagging us through all of the other walk-in campers and limbo-ing through the trees. We were able to snag a small persimmons tree for some shade (which was vital in the 100 degree heat.)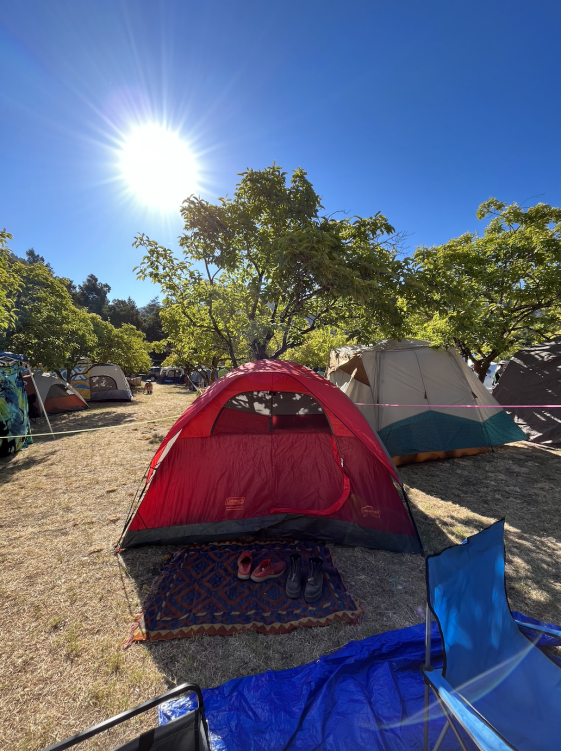 Exploring the Fest – Day One
Once we were set up, it was time to go get exploring! We hiked down the trail to the fest  (which was ridiculously close by btw.) We quickly noticed that there was something unique about NNMF; there is not one main security checkpoint, rather you check in to each stage individually.
To kick things off, we decided to head over to the legendary redwood grove stage which is the home to movement medicine all weekend long. The grove stage is every bit as breathtaking as you hear. The theme this year was Alice in Wonderland. What exactly does that entail, you ask? A giant tea party under the trees, a mega caterpillar smoking a hookah, and a mushroom tree house with a caterpillar slide to zoom down.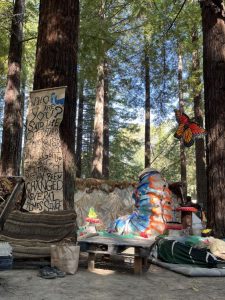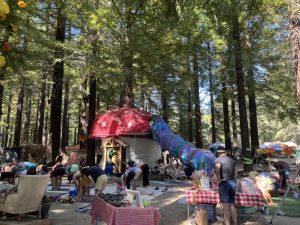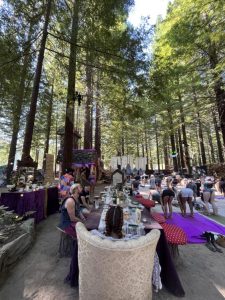 After a cup of tea with the Mad Hatter, we headed to the main stage where we saw Netsky drop dnb bangers into psytrance (with an unfortunate troll appearance from country riddim.) Shortly after that, the king G Jones came out and served an hour of his certified hard-hitting sauce featuring black and white fruit ninja visuals.
Eventually, we made our way back to camp where we found Notlö performing a super secret set at our neighbor's tent. It was a vibe, but the news didn't travel fast enough making it an ultra secret set for a select persimmons camp squad.
Exploring the Fest – Day Two
Bright and early Saturday morning, we woke up to some wild wooks singing "Shake that monkey," which made it clear it was time to get the party started. We popped on over to the VIP outpost where they had breakfast and coffee (OMG!)
From there, we headed into the grove for a moving meditation & morning tarot reading. It was a vibe to say the least. Once we wrapped up our morning intention setting, we decided to finally scope out the legendary river stage. Now the river stage is truly a unique place because unlike any other fest that promises music on the water, NNMF really means it. You can literally float in your tube, see the stage, and feel the music.
Saturday was the hottest day of the weekend. The literal peak of the heat wave. This meant everyone was spending the day in the river.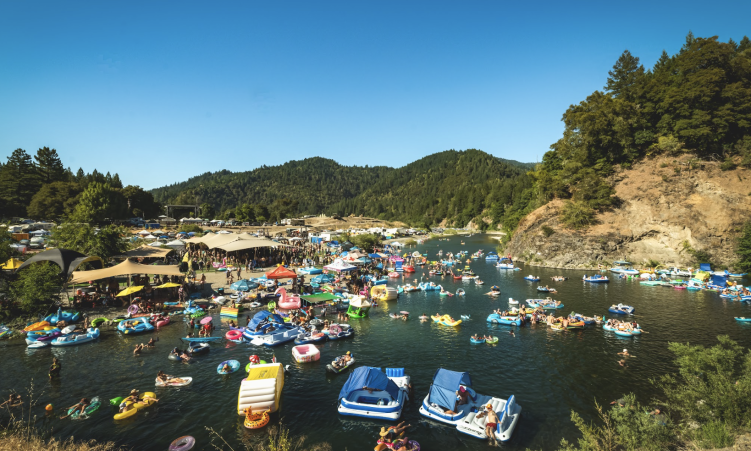 While the main stage, grove, and river stage are technically NNMF's sanctioned stages, the fest also has a series of "friend stages." One of these friend stages is known as the Octopus Garden which you get to starting at the river stage, hopping in your tube, and floating down for about half an hour. Obviously, we had to do this, so we rode the cascades all the way down.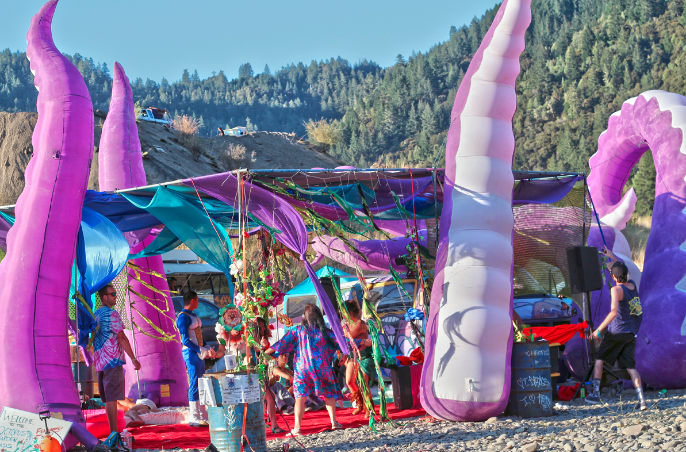 After vibing at the Octopus Garden for a bit, we made our way back to camp to get ready for a series of legends at the River Stage — Mary Droppinz' and Eazybaked.
After a couple of hours of certified wubs, it was time to wash off that swamp juice, so we headed to the luxury VIP showers. Another major Northern Nights W is that we didn't see a single shower line all weekend long. The sun had finally gone down, the stars were out full shine and the air finally became cool. Unfortunately, this magical trifecta set us up for an immediate shlump success which lead us to miss the legend, Daily Bread.
Exploring the Fest – Day Three
Sunday morning, we woke up refreshed and rejuvenated (10 hours of sleep will do that to you LOL.) We grabbed our coffee and headed down to the movement medicine epicenter — The Grove. We vibed out with Mr. Justin Kerson's dreamstate handpan healing performance. Shortly after that, Emily Benvie took over with a slow yoga flow . We greatly appreciated the gentle yoga rather than some hardcore power to end the weekend off.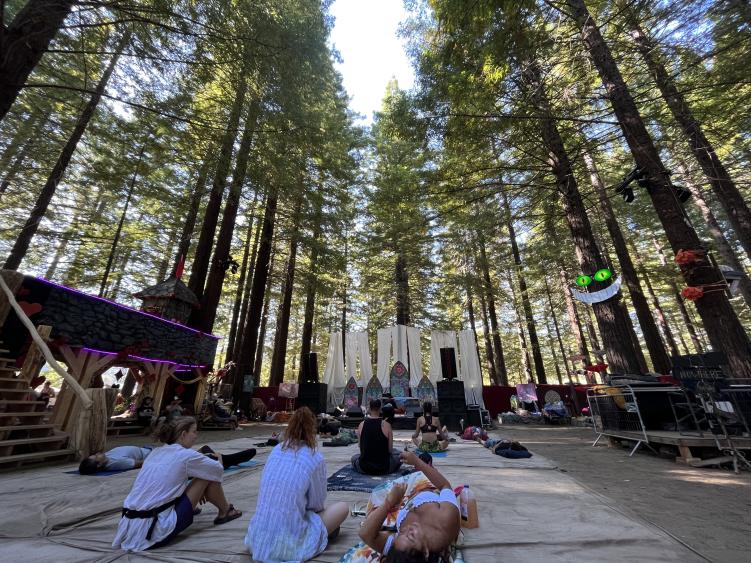 We spent our final hours basking in the sun and the magic of the weekend. Taking our final laps, everyone full of smiles and good vibes. We packed up camp before heading out for the weekend and heading out to the Avenue of the Giants.
Shoutout to the Northern Nights fam for having us out this weekend. We can't wait to see y'all again next year!
Keep Up With Northern Nights